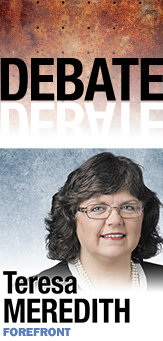 Question: A proposal by The Mind Trust, an Indianapolis-based education think tank, calls for shifting control of Indianapolis Public Schools to the Mayor's Office and dramatically shrinking the central office and distributing the resources to individual schools. Should the plan be considered for other districts in the Indianapolis area or in the state?

Answer: The Mind Trust, an Indianapolis-based not-for-profit that promotes education reform, released a proposal in December to remake Indianapolis Public Schools. The plan includes giving more money to qualified teachers and principals to keep them in the district. It examines issues like free preschool, deep cuts in central office spending, more autonomy for schools, and freedom for families to choose any school.

Yet the program eliminates the voice of the voter by abolishing the local school board and puts immeasurable power in the hands of the mayor. Indiana policymakers should not disregard the democratic will of the public in an attempt to push the reform efforts statewide.

Initial estimates say The Mind Trust plan was produced at a cost of $700,000 by a North Carolina consulting firm. Reports show that more than $500,000 of that funding came from the Indiana Department of Education—a lot of taxpayer dollars when education funding has been drastically reduced the last few years.

The plan eliminates the IPS school board and turns control of the district over to the Indianapolis mayor and City-County Council, which would mean voters who live in IPS would be the only constituents in the state not allowed to elect their own school board members.

Yet the city of Indianapolis and IPS cover very different geographical areas. The mayor and City-County Council are elected by voters from throughout Marion County, but IPS is one of only 11 school districts in the county.

And The Mind Trust's plan barely makes mention of the challenges that poverty presents for any reform efforts, even though more than 80 percent of IPS students qualify for free or reduced-price school lunches. No other public school district in Indiana comes close to that level of poverty, except for some districts in Lake County.

The plan proposes to convert IPS schools into opportunity schools, with the freedom and flexibility that are usually associated with charter schools. All would be schools of choice and parents could send their kids to any school in the district.

Does that mean the opportunity school will thrive and the failing schools will close for lack of enrollment? Similar concepts in Chicago; New York; Washington, D.C.; and New Orleans have not shown positive results.

The Mind Trust also claims it will be possible to reallocate 80 percent of IPS administrative costs to the schools, leaving the district's central office to be a mere provider of services. Would principals be responsible for hiring and firing teachers, establishing curriculum, selecting textbooks, arranging for school meals, lining up transportation, securing special-education services, handling funding?
IBJ.COM EXTRA
Click here to read Dale Chu's answer to this question.
Promoters say that because other charter-type schools are allowed to operate without the overhead of a large central office and with less funding that opportunity schools will be able to do the same. Yet charter school performance in Indiana has been criticized for its lack of academic gains and lack of diversity in comparison to traditional public schools. In 2009, 12 of the 21 charter schools in Indianapolis scored lower than IPS schools even though the charters had much lower proportions of special ed and non-English-speaking students.

Indianapolis Public Schools has dedicated, hard-working teachers who battle the front lines in urban settings every day. They know the system is not perfect but they do not see the answer in a plan that takes students out of their classrooms and takes the public out of the decision-making process.

While well-intentioned, The Mind Trust plan appears to be a program that undermines our sense of democracy by removing the public from electing its school board members, which is contrary to our country's tradition and history of civic engagement. Our students and Indiana's voters deserve more.•

__________

Meredith is vice president of the Indiana State Teachers Association and has taught for more than 18 years in Indiana schools. Send comments on this column to ibjedit@ibj.com.