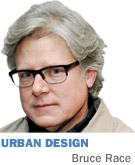 The Monon Trail, running from 10th Street and Massachusetts Avenue all the way north to Carmel, has created a mini real estate boom. By providing high-quality walking and biking connections that intersect with traditional neighborhood business corners, the Monon has provided a new layer of investment opportunities.

Broad Ripple's Monon Coffee Co., Good Morning Mama's at 54th Street, and the Monon and the Trailside mixed-use development on Massachusetts Avenue are examples of businesses and developments that have sprung up in the trail's shadow. The Indianapolis Cultural Trail promises similar benefits for Fountain Square and other areas of downtown.

So, why do walking and biking trails influence real estate? Because many of them intersect with transitional areas young urbanites are drawn to. They are associated with good design and sustainability, both of which matter to the bottom line, and because, put simply, walkable neighborhoods are in demand.

Consider the findings of Walk Score, a national organization that advocates walking as a primary mode of travel. The organization has developed a way of measuring the quality of the walking environment quantifying the number of destinations (businesses, parks and schools) an area has and its connectivity, which is determined by intersection density and block length.

Indianapolis has an overall (and unremarkable) Walk Score of 37 out of 100 points, making us the 45th-most-walkable major U.S. city.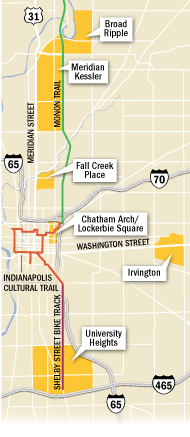 Within Indianapolis, the ZIP codes with good walking scores are downtown and on the near-north side, the College Avenue corridor up to Broad Ripple, and East Washington Street to Irvington.

If you consider local Walk Scores in relation to fourth-quarter 2011 home values as listed at Trulia.com, you'll find:

The average per-square-foot sale price in Chatham Arch (Walk Score close to 90) was $124, 72 percent higher than the average price in Fishers ($72 and a Walk Score of 29) and 25 percent more than Carmel's ($94 and a Walk Score of 27).

Other Indy hot-spot walking neighborhoods include Lockerbie Square, with an average per-square-foot sale price of $124, University Heights at $89, Fall Creek Place at $78, and Irvington at $77. All these compare with the city average of $58 per square foot.

In Carmel, the walkable downtown Arts District ZIP code has the town's highest average listing prices and sale prices, at $99 per square foot.

Other neighborhoods are poised to seize the walkability mantel. The industrial sites that once benefited from their adjacency to the Monon rail line are now poised for transition to commercial and residential redevelopment courtesy of the trail that took the rail line's place.

The young and the restless, downsizers and savvy developers are all looking for the next big thing and might find it along the trail. These are not the people interested in suburban fringe land with large lots, cheap houses and long drives. They want walkable, diverse, social and job-dense neighborhoods and access to cultural amenities. They are foodies who would rather spend money on culinary adventure than gassing up a second large car.

A decade of trail building has aligned with the demographics of boomers and their offspring looking for a fresh start.

Now it's up to those developers and communities to hire the best design talent to deliver memorable, sustainable and attractive places that weave together the familiar and the new.

Increasingly, global competition for resources will give rehabilitating existing buildings and repositioning land already served by public infrastructure and accessible by walking and transit an economic advantage.

Indianapolis can put to work our awakening asset base in real estate and supporting infrastructure to create contemporary places of economic significance. We need urban design strategies for these redeveloping districts so they are not missed opportunities of piecemeal speculation.•

__________

Bruce Race, FAIA, AICP, is an award-winning architect and urban planner and owner of RACESTUDIO. He lives in a historic Indianapolis neighborhood and teaches urban design at Ball State University's Downtown Indianapolis Center. His column appears monthly. He can be reached at br@racestudio.com.