The presidential election is still a long way off, but large numbers of Indianapolis-area gun owners seem to think Barack Obama is a surefire bet for a second term.

Indeed, uneasiness over his re-election (and fear that he might push for strict gun control laws) has sparked a massive run on weapons and ammunition.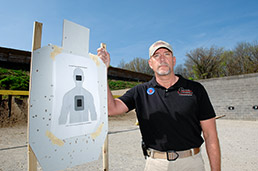 An explosion of gun sales has driven novice owners to Guy Relford's shooting range, Tactical Firearms Training. (IBJ Photo/ Perry Reichanadter)
This isn't the first Obama-inspired rush to the gun racks. It happened once before, during the first quarter of 2009, when he took office. But this election-year buying spree began earlier and has ramped up far more rapidly than the last one.

"We're starting to get shortages of stuff again, so it's pushed people into a supply-and-demand situation," said Jason Elmore, owner/manager of Elmore's Firearms in Greenwood. "They're just buying whatever they can buy right now."

Never mind that many experts consider a big federal second-term gun-control push highly unlikely. Florida's Trayvon Martin case might inspire changes in various states, but none of that would involve the Obama administration, which will have other fish to fry.

"The economy would be first and foremost, and also international affairs, particularly with Iran and North Korea and Afghanistan," said Terri Jett, associate professor of political science at Butler University. "There's far too many other issues going on. Gun control is way down on the list."

One could make the case that Obama is the best thing that ever happened to the arms industry. The president's entire first term has been a period of high-caliber sales.

In 2007, the waning days of the Bush administration, the FBI received 186,864 inquiries from Indiana gun sellers running criminal background checks on potential buyers. That number rose to 273,803 in 2009, 345,650 in 2010, then rocketed to a record-beating 359,840 in 2011—almost double pre-Obama levels.

The surge is far from over. This February saw 45,553 requests for background checks—up from 32,083 in the same month a year earlier.

Some of the biggest sellers are a class of weapons that enthusiasts think would come under the most scrutiny during a notional Obama second term—assault rifles.

That name is actually something of a misnomer, because only a rifle that can be switched from semiautomatic (in which the shooter must squeeze the trigger to fire each individual bullet) to automatic (in which the shooter achieves a continuous stream of fire simply by holding the trigger down) is a true "assault rifle." In almost all cases, it's illegal to sell "full auto" models to civilians, but semiautomatic versions of weapons such as the AR-15 and AK-47 are in high demand.

"People want those because, when Democrats get in office, they like to push assault-rifle bans and stuff like that," Elmore said. "So [gun purchasers] want to buy what people want to take away from them."

Politics isn't only reason for spike

Guy A. Relford, a private attorney who also owns Tactical Firearms Training LLC, said the spike in sales has brought an influx of novice owners showing up for his training programs.

While he agrees that nervousness over the presidential election has boosted gun sales, he said the popularity of gun-centric reality shows such as "Top Shot" and "Sons of Guns" also is driving up business.

Indiana's relatively new "lifetime" gun-carrying license is another factor, because it rids potential gun owners of the fear that they'll forget to renew their license and get busted for packing heat without the proper paperwork.

Then, of course, there's good old one-upmanship and envy. Someone sees a gun at the range, falls in love with it, and wants his or her own.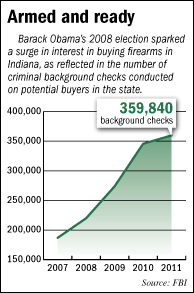 "The people that I see consistently at the range don't have just one gun," Relford said. "Kind of like a golfer doesn't have just one driver."

One of the biggest non-election factors driving the gun-buying frenzy, he believes, is women. His "ladies only" classes are pretty much always booked.

"A lot more women are feeling empowered in a way that makes them feel more comfortable buying a gun," Relford said. "And they're also much more likely to take training. A man thinks that if he's ever seen a Clint Eastwood movie, he already knows how to shoot."

Among the tricks Relford teaches his female clientele is how to rapidly extricate a firearm from a purse and put several rounds quickly on target. He spent two days teaching himself the maneuver, using a practice bag.

"I couldn't find one that matched my shoes, which kind of upset me," Relford quipped.

The management at Indy Gun Safety—a firearms training firm that operates its own retail outlet, Fishers Gun Shop—sees things pretty much the same. Its bread and butter is pistols for concealed carry and home defense. And they're selling briskly.

"A lot of our customers talk about the state of our nation," CEO Randall DeWitt said. "People are concerned about where the country is going. A gun is kind of like a fire extinguisher. You hope you never need it, but it's good to have one if you do."

While DeWitt thinks business might drop off if Obama doesn't get a second term, he believes healthy sales are the new normal. A lot of folks are scared about crime, he says, and that won't change no matter who's in office.

"Reasonable people are going to take steps to protect themselves and their families, so I think this uptick is going to be more permanent," DeWitt said.

Gun bubble could burst

Bob Cheek, owner of Plainfield Shooting Supplies, isn't quite so sanguine. He thinks this year's rush to buy could prove damaging to the gun industry's long-term prospects.

Cheek has sold firearms for decades, and this isn't the first (or second, or even fourth) time he's seen gun-control legislation, or the mere rumor of it, trigger panic buying.

Figuring this election year would set off another display-case-clearing frenzy, he made sure to top off his already deep inventory. Cheek's store keeps 700 to 800 guns in stock, and sells perhaps 70 daily.

"I've been kind of preparing for this," he said. "But I didn't figure it would start so early this year. Thank God I pre-planned. Because right now the industry is starting to run out of guns."

Not just stores, but manufacturers themselves. On March 23, Connecticut-based firearms maker Sturm Ruger & Co. announced that it wouldn't take any new retail orders until May. It needed the respite to catch up on the 1.1 million backorders it was struggling to fill. To put that in perspective, Sturm Ruger normally sells about 1.4 million weapons a year.

Cheek thinks that pretty much the only thing that could prevent 2012 from becoming the biggest gun-selling year in Indiana and U.S. history would be if manufacturers can't meet demand and the pipeline dries up. Which just might happen. During the last election cycle, everything from certain types of guns to certain types of ammunition became hen's-teeth scarce.

"But if we continue to get guns like we've been getting them, it won't stop," he said.

Which poses a problem all its own. Cheek has seen plenty of runs on guns, and he's also seen what happens when the bubble bursts. Panic-induced frenzies goose sales for a while, but eventually everybody who wants a gun gets one. Or two. Or 10. Which can suppress retail sales for years afterward.

"These are great times for somebody that's in the business for the short term," Cheek said. "But in the long term, it's going to kill them."•