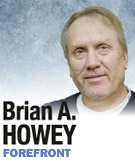 Gov. Mitch Daniels appeared to be a transformative figure when it came to bringing Indiana out of its 19th century form of local government. It was a topic Daniels readily engaged in from 2002, when his gubernatorial flirtation began, to 2007, when he convinced former Gov. Joe Kernan and Chief Justice Randall T. Shepard to head the Indiana Commission on Local Government Reform.

In their December 2007 report, Kernan and Shepard observed, "Our commission's proposals encompass just a few basic ideas. County governments should be led by a single county executive and a stronger county council, to whom professionally qualified administrators should report and be accountable.

"The services presently performed by township personnel should be transferred to the county governments," they continued. "Only elected officials should have the power to levy taxes. All spending, including school spending, should be subject to more rigorous examination by elected officials. And Indiana's school districts should be large enough to gather sufficient resources to educate our children for twenty-first century life."

When the dust settled on Daniels' final legislative session, only eight of the 27 Kernan-Shepard recommendations had been passed, and none of the big ones—such as a single county executive, creation of countywide public safety commissions, transferring township duties to counties, and creating countywide library systems to serve the 400,000 Hoosiers living outside a current district. Another was consolidating school corporations with fewer than 2,000 students.

At his post-sine die presser early this month, Daniels acknowledged much of the agenda will be unfulfilled when he leaves office.

"My biggest regret is that we only achieved two of the local government reforms that we sought, but still that marks forward progress and I hope a foundation for future improvements," Daniels said.

Daniels has signed into law:

No. 4: Retain a local government role for property tax assessment under a county assessor who is required to meet professional qualifications and appointed by the county executive. Passed in 2008, it prompted a ballot question that year on whether townships should keep their 1,008 assessors. Voters in 12 townships voted against consolidation.

No. 6: Consolidate emergency public safety dispatch by county or multi-county region.

No. 8: Move funding of child welfare from counties to state.

No. 12: Require that school corporation bonds be approved by the fiscal body of the municipal or county government containing the greatest proportion of assessed value in the school district.

No. 13: Prompt joint purchasing by schools.

No. 19: Require that the budgets and bonds of library and all other special districts be approved by the fiscal body of the municipal or county government containing the greatest proportion of assessed value in the unit seeking approval.

No. 21: Expand voluntary coordination and consolidation of units and services. Strengthen the power of voters to compel consolidation.

Approved this past session and awaiting Daniels' signature is No. 24: Prohibit employees of a local government unit from serving as elected officials within the same local government unit.

The forces aligned against government reform crossed both political parties and permeated the General Assembly.

"I'll make no comment about Democrats all voting against reform, but when it comes to two members of my party, I'm disappointed in them and embarrassed for them," Daniels said.

Two decisions during this process hastened the demise of most of Kernan-Shepard. In the fall of 2008, Daniels and the GOP opted not to inject massive funding into GOP House races. Most of the polls in September and October showed Daniels with huge leads over Democrat Jill Long Thompson. But two polls showing Thompson within the margin of error appeared to have frozen the Daniels campaign into pushing resources toward his re-election instead of regaining the House. Daniels ended up with a 58-percent win.

The second came in late 2011 when House Speaker Brian Bosma and Senate President Pro Tem David Long announced that right-to-work would be their No. 1 priority. Daniels signed on and signed it into law.

It's hard to see the government-reform window opening again.•

• Howey is a third-generation Hoosier journalist who publishes Howey Politics Indiana. Send comments on this column to ibjedit@ibj.com.