New federal mercury-reduction regulations may force Indianapolis Power & Light to spend nearly $1 billion to upgrade its coal-fired electric plants scattered around Indiana. Duke Energy, another big utility in the state that expects to be affected, is mulling everything from plant upgrades to shutting down older units.

The new regulations will hit Indiana harder than any other state because of its heavy reliance on pollution-belching, coal-fired plants. That dependence on low-cost coal has long allowed Indiana to have among the lowest electric rates in the nation. However, the investments needed to cut emissions could narrow the gap.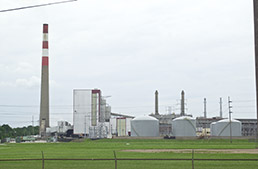 IPL's Harding Street plant generates 25 percent of the utility's power, with its plant in Petersburg accounting for 68 percent of the utility's generation. The plants could receive the bulk of the $500 million to $900 million IPL plans to spend to meet new regulations.(IBJ file photo)
The fallout from the regulations hit IPL on April 18 when Fitch Ratings downgraded the utility's credit, noting that IPL may need to spend up to $900 million between now and 2016 to comply with the new Environmental Protection Agency mandates.

IPL is still working on its plan, although it likely will include installing new devices at its Harding Street and Petersburg coal-powered generating stations.

The pollution-control measures could mean annual rate increases of 2 percent to 3 percent for residential customers over the next several years, IPL spokeswoman Crystal Livers-Powers said.

It's unclear at this point to what degree large industrial ratepayers will get hit by price increases. Their rates are hammered out before the Indiana Utility Regulatory Commission.

IPL is not alone. Duke Energy is looking at everything from plant upgrades to shutting down older units to buying a portion of its electricity from other providers. Around the state, Indiana's coal-fired electric utilities will spend billions of dollars not only to comply with the new mercury measures but to contend with a parade of proposed rules that include further cuts in sulfur and nitrogen emissions.

Recently finalized and proposed EPA regulations prompted the State Utility Forecasting Group at Purdue University earlier this year to raise its projected increase in the price of electricity in Indiana over the next decade another 14 percent. That's on top of the 20-percent jump it forecast last year.

Ahead of the tougher federal regulations, the state's electric utilities in the last few years have succeeded at the Indiana General Assembly in getting new laws to help them more easily pass on environmental costs to ratepayers.

One measure, Senate Bill 251, dubbed the "Christmas tree wish list" for utilities, was passed last year. It allows utilities to pass on costs of certain clean-energy and EPA-compliance projects during the construction phase rather than after project completion.

Indeed, Fitch said the environmental costs' negative effects on IPL's credit metrics should be temporary, allowing it to recover by 2015. The utility principally serving Marion County will face other pressures on its credit, such as tepid growth in retail sales, lower wholesale pricing environment and high pension costs.

IPL said it spent $62 million last year on environmental expenditures—and $600 million over the last decade, including pollution devices for its Harding Street generating station, south of downtown.

Fitch's downgrade, from BBB- to BB+, involves about $1.8 billion in debt.

The projected $500 million to $900 million in new capital spending is likely to consist of 55 percent debt and 45 percent equity, according to Fitch. IPL is owned by Virginia-based AES Corp.



"The combination of existing and expected environmental regulations make it likely that we will temporarily or permanently retire several of our existing coal-fired, smaller and older generating units within the next several years," IPL said in its most recent filing with the Securities and Exchange Commission.

These generating plants represent about 15 percent of IPL's generating capacity and include older, smaller units such as IPL's Eagle Valley station in Martinsville.

"We are continuing to evaluate available options for replacing this generation, which include modifying one or more of the units to natural gas as the fuel source, building new units, purchasing existing units, joint ownership of generating units, purchasing electricity in the wholesale market, or some combination of these options," states IPL in the filing.

Duke Energy, which serves the outer portion of the metro area and is the largest electric provider in the state, is still weighing options and rate impacts, said spokeswoman Angeline Protogere.

"That includes plant retrofits and possible plant retirements," she said.

The company previously said it plans to retire units it owns at the Wabash River Station in West Terre Haute.

Duke Energy has invested more than $1.75 billion in its Indiana operations to cut pollution over the last decade, Protogere added.

That utilities should be spending so much in ratepayer money to keep coal a viable fuel amid tightening mercury and carbon regulations doesn't sit well with environmental activists.

There likely won't be new coal plants constructed in this environment, and a number of plants should be retired rather than retrofitted, said Dave Menzer, campaign representative of the Sierra Club's "Beyond Coal" campaign in Indiana.

That money instead could be invested in energy-efficiency measures and renewable energy generation, Menzer said. "Statewide, ratepayers are looking at billions in dollars in cost" to perpetuate coal, he said.

Other states have outpaced Indiana in regulatory incentives for utilities to deploy more renewable energy sources, such as wind, said Kerwin Olson, executive director of Citizens Action Coalition.

"Planning for the future and dealing with regulations doesn't necessarily have to come at a long-term cost for ratepayers," Olson said.•