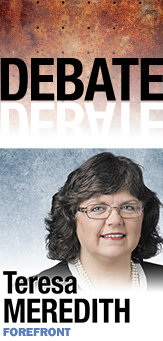 QUESTION: How do you grade the results of charter schools operating in Indiana?

ANSWER: Charter schools in Indiana were created in 2002 to provide educational choices for students and parents. Indiana's first charters promised to be held accountable for results although they are exempt from many state and school district regulations. With 10 years of findings, what grade might be given to the results of charter schools?

The Indiana Department of Education says Indiana charter schools must meet state and federal accountability requirements in addition to meeting requirements set by their individual charters and sponsors. Yet according to ISTEP data released by the department, in almost all cases charter schools score lower than traditional public schools even though charters enroll a lower proportion of limited-English-speaking and special-education students than traditional public schools in nearby areas.

According to department statistics:

• In 2010 third-grade ISTEP scores for charter and public schools, 21 of the 25 lowest-performing schools in the state were charters.

• When comparing third- through eighth-grade ISTEP scores for 2010, only 28 percent, or 13 of 46 charter schools, had 70 percent or more of their students passing ISTEP.

• Nine of the 12 lowest-performing charters in Marion County did not have a single limited-English-speaking student enrolled in 2009 while 11 percent of Indianapolis Public Schools students speak limited English.

• Eleven of the 12 lowest-performing charters in Marion County enrolled fewer special-education students than IPS and sometimes one-third fewer special-ed students compared with IPS.

• In Lake County, seven of the eight charter schools within the boundaries of Gary Public Schools have fewer students passing ISTEP than Gary Public Schools. All but one of the Gary charters enrolled half or less of the proportion of special education students in Gary Public Schools.

State law says an individual charter school is considered its own local educational agency, which means it is treated as an autonomous entity that is independent from a school district. Yet, as the department statistics demonstrate, most Indiana charter schools are underperforming.

Why shouldn't charter schools be held to the same level of accountability as their neighboring public school peers? After all, isn't a successful school a successful school? Wouldn't there be parallels to what makes them great? If charter schools are as successful as they profess to be, why aren't they required to meet the same percentages of special-ed and limited-English-speaking students as the public school next door?

Equally important, we must question the ethics. Should there be some judgment made on the profiteering of a charter school and how it invests those profits? Should charters be required to invest their profits back into the school?

And finally, what about the staff of charter schools? Not all charter school teachers are certified. Some are in the process of obtaining a license to teach through the transition-to-teaching program. For those in the program, licenses must be obtained within three years of beginning to teach at a charter.
Charters are touted as giving Hoosiers more choice. Charters are allowed to have more choice in their student population, allowed to have more leeway in their levels of performance, allowed to have different licensing requirements for their teaching staff.

If charters are really about providing quality education to students, I cannot believe parents would choose to have their children in schools that hire under-qualified teachers or are not required to accept all students or produce the same levels of performance.

In order to achieve true education reform and to do what is best for students, charter schools must be graded with the same high standards as traditional public schools.

Let's make the choice clear about what is best for Indiana's students.•

• Meredith is vice president of the Indiana State Teachers Association and has taught for more than 18 years in Indiana schools. Send comments on this column to ibjedit@ibj.com.