In all of literature is there any other character whose very name has become as much a plot spoiler as that of Oedipus?
Visit Hamlet or Othello and there are likely to be some folks in the audience who don't know the fates of these iconic characters. But I'm guessing few at a production of "Oedipus Rex" are in the dark as to what the king did with what relative. It almost seems insulting to write "Spoiler Alert."
Still, theatrical surprise isn't everything. There's another kind of pleasure to be experienced when watching the ill-fated king confidently try to solve a murder in an investigation that will ultimately implicate him.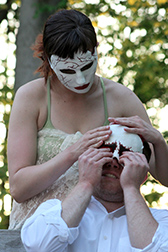 The eyes have it. The King gouges in "Oedipus Rex," performed on the IMA grounds. (Photo Courtesy of No Exit Performance)
And beyond the traditional pleasures, No Exit Performance and Paper Strangers have found some new ones in their offering of "Oedipus Rex." (As of press time, I hadn't seen what they are bringing to the rest of Sophocles' trilogy—"Oedipus at Colonus" and "Antigone"—in their ambitious triple play staged on the Indianapolis Art Museum grounds.)
For "Oedipus Rex," the audiences met at the fountain and were led by a two-person chorus to the front of the stately Lilly House where, in the distance, a fight was in progress.
Soon, masked figures were dancing, the plague struck, and we were witness to the king's vow to find out why the gods were angry with Thebes.
There's so much that's fresh in this "Oedipus" (at least, for Indy), that I'm hesitant to write about its flaws. But it would be misleading if I didn't report that the power of the piece diminishes as the dialogue increases. The center stretch cries out for something as visually exciting as the early plague sequence. And the decision to impose a rape into the narrative—compounded by its trivialization by the narrators—only serves to misdirect. (If anyone is raping in this story, it's the gods.) The haphazard use of the chorus doesn't help matters and an explanation of their behavior in the program doesn't jibe with what was presented.
But such issues are to be expected in an ambitious effort without big money behind it. It's still thrilling to see work this gutsy played out in such glorious and appropriate surroundings. The way the wind in the trees seemed to punctuate the drama—and the spectacular way the sunset light showed through a single window of the Lilly House as we left the grounds—gave me pause.
In elements under more artistic control, I appreciated the way Director Michael Burke provided interesting angles on the action, sometimes turning the audience into a Theban crowd, other times having us look down onto the action below.
Among the cast members, Michael Hosp stood out as the unjustly accused Creon, desperate to have his brother-in-law look squarely at facts. As Jocasta, Georgeanna Smith was cryptically distant through much of the piece, but broke down painfully and believably when the truth set in. In the title role, Ryan Ruckman seemed more shop foreman than royalty (the golf-jacket costuming didn't help) but managed to capture the confusion and stubbornness of the king.
And the final image is a stunning one, leaving me looking forward to the next two chapters in this ageless saga. I hope to catch both.
FYI: "Antigone" runs May 17-19. All three plays will run sequentially May 31, June 1 and June 2. Details at www.noexitperformance.org/.
Indianapolis Opera didn't seem to be holding back anything in its stunningly designed, beautifully played and strongly acted production of "Faust" (May 4, 6), so I won't either: This was the finest overall production I've seen in my years of attending IO.
Sure, the beard on old Faust didn't pass muster even from my seat on the mezzanine—and the singers didn't always seem to be operating on full power—but I'll take that when given such a smartly realized show.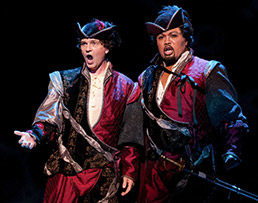 Gran Wilson and Kevin Short anchored a marginal "Faust" for Indianapolis Opera. (Photo Courtesy of Denis Ryan Kelly Jr.)
Of course, let's give credit to Charles Gounod, first, for writing a broad spectrum of music, from passionate arias to a rousing drinking song with a solid military tune. Credit, too, the players in the pit, who never let the audience forget that, for all the shape-shifting computerized set magic, opera is anchored in music. And the cast, with the engaging Gran Wilson in the title role, Kevin Short effectively segueing from comic to demonic as Mephistopheles, Maureen O'Flynn beguiling as Marguerite and a robust Sean Anderson as her brother, Valentin.
But the devil, of course, is in the details. And in this "Faust," those details are brought together magically, particularly at the climax of the seduction scene, when designers, actors, musicians and technical crew combined to give emotional weight and visual power, raising an already dramatic moment to stunning heights.
Very little of the revue "I Love You, You're Perfect, Now Change" is as clever as its title—and it doesn't have much to say about dating and marriage that hasn't already been said by third-tier stand-up comics.
Still, the show manages to deliver its simple goods in Actors Theatre of Indiana's production, thanks to a quartet of professional singing actors who understand they can't coast on the material. When given a bit of substance in Act II to work with—particularly in a divorced woman's first dating video and in a meeting of a pair of seniors at a viewing—the company gives it a richness that's refreshing.
The show runs through May 20 at the Studio Theatre at the Center for the Performing Arts. Details at www.actorstheatreofindiana.com.•
__________
This column appears weekly. Send information on upcoming arts and entertainment events to [email protected]
Please enable JavaScript to view this content.