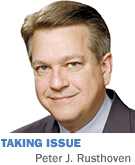 Don't get involved in politics unless you're prepared at times to have your heart broken. For those who've known and worked with Dick Lugar during his extraordinary service to our city, state and nation, his defeat this month was as heartbreaking as it gets.
It was also, as one of my Reagan White House colleagues told me afterward, less a loss for the senator than a loss for all Americans. In addition to being the most outstanding statesman in Indiana history, Lugar has also long been the nation's best U.S. senator.
There are few of whom one can say, without hyperbole, that they have made the world a safer place. Lugar is one, responsible (with Sam Nunn) for keeping thousands of nuclear weapons out of the hands of terrorists and rogue regimes.
A very small number of Americans are known and respected by leaders around the globe, leaders whose decisions will all affect our security, our future, the safety of the world our children and grandchildren will inhabit. Lugar is one.
In an age of rampant cynicism, an increasingly small number of public officials are models of character and integrity, who never embarrass their constituents. Lugar is one.
An ever-shrinking number of people in public life are faithful to their convictions, but treat opponents with civility and command respect and admiration across the political spectrum. Lugar is one.
And please, don't tell those of us who actually knew and worked for Ronald Reagan—including folks like Peggy Noonan—that Lugar wasn't "really" conservative. He supported Reagan more than any other senator. If all senators matched his overall voting record on taxes and spending, economic conservatives would be thrilled. The same is true on pro-life issues vital to social conservatives.
Even on a simple "party support" scale, Lugar's rating remained in the 80-percent range. Yet this is the record blasted by Lugar's primary opponent, in an e-mail the day before the primary, as a 35-year career of supporting "liberal" policies.
Today, as at times in the past, voter anger and frustration are high. Many of the reasons are justified. The same is not true of some targets selected by the angriest, or of some trying to ride the wave of anger to electoral success.
Among those celebrating Lugar's defeat at the challenger's election night party was a prominent Tea Party activist—employed by a Christian college, no less—who had vowed she and others would "get our knuckles bloody" bringing Lugar down.
Another celebrant, wearing a tri-corner hat and other colonial regalia, styles himself "Patriot Paul." Paul, whose costume is a magnet for TV cameras, observed he was glad Lugar "will now get a home in Indiana—a retirement home." Classy.
For his part, Lugar's concession expressed undiminished faith in the America he served so faithfully and well, all the while inspiring countless others to service.
"I believe," he said, "that people of good will—regardless of party—can work together for the benefit of the country."
It is a comment on my party that some now waving its banner would dispute that statement. It is further commentary that many Hoosier Republicans now deem Lugar not good enough.
Somehow, I don't think most Hoosiers and other Americans will agree, or will conclude my party just "traded up" on the senatorial qualifications front.
One thing I learned working for Lugar and then Ronald Reagan was that it is better to fall short in an honorable cause than to prevail in one less worthy. I remain among those proud to have backed Dick Lugar, who remains—until next January—America's best senator.•
__________
Rusthoven, an Indianapolis attorney and graduate of Harvard College and Harvard Law School, was associate counsel to President Reagan. Send comments on this column to ibjedit@ibj.com.
Please enable JavaScript to view this content.