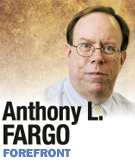 There are certain advantages to working in an environment in which you are constantly surrounded by 20-year-olds.
Because of what I've learned from my students, I probably was less surprised than some members of my generation about the latest example of print media's decline. I am still bullish on the future of journalism, even if I may have to adjust to reading the "paper" without the paper sooner than I'd like.
The New Orleans Times-Picayune and three major papers in Alabama recently announced they would cut back on publishing print editions to three days a week. They join several other papers in the United States and Canada that have decided to print on the most lucrative advertising days while publishing only online on the other days. In this way, the newspapers hope to straddle the divide between readers who still like to feel newsprint in their hands and those who prefer to read the news on computer screens or tablets.
I fall somewhere in the middle. I still get two wads of newsprint thrown on my driveway every day, but I also scan three other papers online while I shave and eat breakfast. I don't find the crossword puzzle satisfying online, but I can't check the print edition in an hour to see if a breaking story has been updated.
The newspaper industry made some horrendous decisions in the early days of the World Wide Web, such as providing content free online and assuming it would drive people to buy the print edition. Now some newspapers are trying to reverse the error by building pay walls online. Both my students and I are dubious about making people pay for something they have been getting free for years. But it worked for bottled water, so who knows?
My guess is that all news media will be solely digital seven days a week in another generation or so. Newspapers will reap the benefits of no longer having to buy paper, printing presses, ink and gas-guzzling delivery trucks. They'll still have to pay news staffs, however, and there is still a lot of doubt in my mind about whether online advertising will ever be as profitable as print advertising.
I also believe that accountability journalism is vitally necessary and will continue to exist even if print media do not. But I also believe digital versions of the newspapers will still be necessary to flush information out, for the simple reason that it often takes an institution to worm information out of another institution. I don't think many lone-wolf bloggers would have the resources or the tenacity to fight for months, as The Indianapolis Star recently did, to pry documents about the Edwardsport power plant loose from Duke Energy.
But what about television? Brace yourselves, my fellow baby boomers. I asked my students this spring how many of them subscribed to cable. A couple of hands went up. I asked about satellite—same response. Then I asked how many got all or most of their video entertainment and news online. Most of the other hands went up. One informed me, in that bored tone that people of a certain age have mastered when talking to my generation: "Oh, no one watches live TV anymore, except for sports."
My students have told me enough about what they need and want from the media and how they want it delivered to make me less apprehensive than I might otherwise be about the future of journalism, even as I grieve for the jobs being lost during the transition to digital media.
I feel blessed that I work in an atmosphere where I'm in daily contact with the future, even though I sometimes feel like changes are coming so rapidly now that all I can do is catch up with last year's hot new thing and hope it isn't already obsolete.
By the way, does anyone want to buy a VCR? Cheap?•
__________
Fargo is an Indiana University journalism professor and member of the Indiana Coalition for Open Government. Send comments on this column to ibjedit@ibj.com.
Please enable JavaScript to view this content.