In late 2010, George Evans wasn't sure the Indianapolis advertising agency he founded in 2006 was going to survive the year. An internal dust-up between him and a pair of then-partners and a pending lawsuit threatened to bring the agency, known for its online acumen and branding savvy, to its knees.
"I had never been through anything quite like that," said Evans, 52, who had worked for various ad agencies in Pittsburgh before moving to Indianapolis in 2000 to work for ASA Productions.
 
Evans
Evans, citing terms of the settlement agreement that put that chapter of the company in the past, declined to discuss specifics of those events.
But by the end of 2010, he had bought out his former BrandWidth partners and pleaded with clients for patience as the company reorganized and fortified the staff with several new hires. To accommodate anticipated growth, BrandWidth this year moved to a new office at 8465 Keystone Crossing Blvd.
Now, Evans, along with his wife, Karen Evans Moratz, a flute player in the Indianapolis Symphony Orchestra, are sole owners of the agency.
Less than two years after it nearly crashed and burned, BrandWidth has rebounded, and should bring in nearly $2 million in revenue this year along with a low-six-figure profit, Evans said.
Aiding the firm's resurgence is a string of new accounts, including Connecticut-based EasySeat Tickets and Florida-based Transition Opticals, along with Ultra Ankle and Guardhouse Security Services, both of Indianapolis.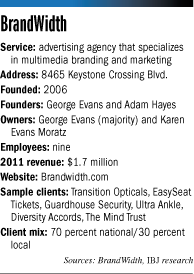 BrandWidth isn't your typical ad agency. Three of its nine staffers are dedicated computer programmers, and there is no dedicated sales staff. BrandWidth's staff is an eclectic bunch, including a graffiti artist, a T-shirt designer and an avid craft-beer brewer.
The company has made its mark through website development, interactive videos and social media. But Evans, an industry vet with more than 27 years of experience, also has helped his clients with traditional billboard, direct-mail, and radio and television spots.
He's the firm's one-man sales staff, with BrandWidth Client Services Manager Adrienne Clodfelter and Client Services Specialist Jill Thixton handling incoming calls and account services and support.
The approach seems to be working, as the firm's revenue is inching up during a difficult time for ad agencies. Seventy percent of BrandWidth's business is national, while 30 percent is local.
"When you think of Indianapolis agencies bringing in national work, you always think it's the biggest [local] firms getting those accounts," Evans said. "Right now, we're one of the few agencies bringing national work in this market, and we've done it by competing against some of the largest agencies in the world."
BrandWidth has recently outbid ad behemoths such as Florida-based FKQ Advertising, New York-based Saatchi & Saatchi and Chicago-based Euro Rsgc for projects, Evans said.
By listening to its business goals and challenges, BrandWidth came up with several marketing ideas for Guardhouse Security, said Guardhouse co-owner Mike Tuttle.
In addition to designing a new logo and a direct marketing campaign for the rebranded Guardhouse, BrandWidth helped build a website for the firm that designs and installs security systems for homes and small businesses. One of the key features to the interactive site, Tuttle said, is a component that allows users to input dimensions and features of their home or business. The site then prints out recommended security features.
"That's not just gee-whiz technology," Tuttle said. "That's been a very useful tool for our clients.
"For a company its size, BrandWidth has a huge core competency," he said. "Some of their websites are among the best I've seen."•
Please enable JavaScript to view this content.