Critics of the Edwardsport coal gas-generating plant are questioning whether Duke Energy is maneuvering to charge ratepayers more money related to its construction—above and beyond a proposed $2.6 billion cap on their share.

Citizens Action Coalition, Sierra Club Inc., Save the Valley Inc. and Valley Watch were expected to file testimony with regulators June 29 opposing the cap Duke reached under a settlement with industrial customers and the Office of Utility Consumer Counselor.

Approval of the settlement reached in April is pending before the Indiana Utility Regulatory Commission. A hearing is scheduled for mid-July.

CAC and its fellow interveners accuse Duke of gross mismanagement in the construction of the Knox County plant and want the utility's shareholders to shoulder more of the overruns.

Duke originally projected the plant would cost $2 billion. But after design changes and delays, the electric generating plant is now pushing $3.3 billion.

With a proposed ratepayer cap of $2.6 billion, Duke shareholders would eat $700 million.

The high-tech plant is undergoing testing and certification and is expected to begin commercial operation late this year or early next.

CAC, which has been parsing the settlement language and the testimony utility executives filed in support of it, said it appears Duke is attempting to speed the date on which the plant is deemed to be in-service. After that date, outages requiring maintenance associated with the testing, validation and commissioning schedule could be recovered by the utility outside of the $2.6 billion cap, the group says.

"It appears to us that Duke is attempting to accelerate the declaration of 'in-service' and the inclusion of the entire plant rate base at an earlier date," said CAC Executive Director Kerwin Olson.

Duke said there's no merit to such a claim.

"In fact, we just made a filing in which we advised state regulators that we don't expect to place the plant in service until the end of this year and possibly early next year," said Duke spokeswoman Angeline Protogere.

Originally, the in-service date was projected to be in September.

Protogere said Duke wants to perform thorough testing to ensure the plant is successful and "all of this is being done at shareholder expense because of the settlement agreement's hard cap."

The proposed settlement does not cap ratepayer costs incurred after the plant goes into service for normal operating and maintenance costs.

Olson points to portions of the settlement that would appear to allow the utility to claim, after the plant's in-service date, certain costs identified during startup, testing and commissioning to reach final completion.

But Timothy Stewart, a Lewis & Kappes attorney who helped strike the settlement on behalf of Duke's industrial customers, said CAC either doesn't understand the settlement or is purposely trying to cast doubt on an agreement to which it was not a party.

Stewart noted that, if anything, Duke has been pushing the in-service date further out.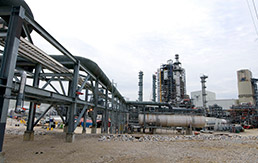 Costs for Duke Energy's Edwardsport plant have exceeded $3 billion. (Photo courtesy of Bloomberg)
Given the scrutiny Duke has faced as the result of cost overruns and a scandal in which the utility's executives improperly communicated with former IURC Chairman David Hardy, "they know everybody is watching them through a microscope," Stewart said.

The OUCC said the scenarios the CAC is attempting to imagine are "virtually impossible" given the agreement's language. Duke is also under intense scrutiny from numerous parties, including OUCC and other consumer groups that are part of the settlement, said agency spokesman Anthony Swinger.

If approved, the settlement capping ratepayer obligations at $2.6 billion would limit the increase in customer rates to pay for Edwardsport's construction to 14 percent, from 22 percent had they borne their full share of a plant price tag now estimated at $3.3 billion.

The 618-megawatt plant will convert coal to synthetic gas, which produces fewer emissions when burned to power steam turbines than does coal.

Edwardsport has been touted as the largest gasification plant in North America. Some of the construction delays and cost overruns have been blamed on the sheer complexity of the General Electric technology; others on poor project management and squabbles with contractors.

The controversial project has also been racked by an influence scandal that brought down former IURC chairman Hardy. E-mails revealed Hardy, a former Duke employee, was cozy with Duke executives and helped an IURC administrative law judge handling Duke cases get a job with the utility.

The former IURC judge and a top Indiana Duke executive were later terminated by the utility.

The case embarrassed Gov. Mitch Daniels' administration and presented a raw look into what's long been regarded as a revolving door between Indiana utility regulators and the companies they oversee.•