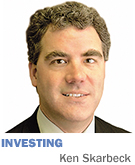 One of the most successful financial products in recent history has been the exchange-traded fund, or ETF. The first fund was developed in 1993 with the introduction of Standard and Poor's Depository Receipts, also known as "Spiders." Traded under ticker symbol SPY, it is the largest ETF, with $96 billion in assets that track the S&P 500 index.
At the end of 2011, over 1,300 exchange-traded funds held $1.1 trillion in assets, including 22 with more than $10 billion in assets and 157 over $1 billion.
The original concept of the ETF was to offer investors a liquid basket of securities to track an index or industry sector. Such funds proclaimed an advantage over the standard open-end mutual fund in that they could be traded during market hours on the exchange just like shares of stock. In addition, costs and fees claim to be less than competing mutual funds, with a standard ETF charging an annual fee of around 0.4 percent, increasing to 1 percent for more complex funds. In contrast, the average no-load mutual fund may have fees that total 1.4 percent annually.
The industry has exploded, with multiple firms offering a variety of ETF strategies in stocks, bonds, currencies, real estate and commodities. For example, the gold fund—ticker symbol GLD—was popular during the run-up in gold prices.
There are hundreds of more-exotic exchange-traded funds whose price trades inverse to a particular index or sector, allowing an investor to bet against a wide variety of assets. With ETFs, investors can effectively short-sell long-term Treasury bonds, oil, Swiss francs, the Dow Jones, emerging markets—you name it.
And for the true gambler, there are leveraged funds that seek to double or triple the movement of their holdings. For example, the Direxion Semiconductor Bull 3X ETF seeks daily investment results of 300 percent of the performance of the Philadelphia semiconductor index. And for the extreme semiconductor bear, there is an inverse fund that shorts the index by 300 percent.
Now, actively traded ETFs are being formed that seek to outperform an index or market sector—achieving "alpha," as they say in this business. This development has the old guard in the staid mutual fund industry nervous as exchange-traded funds encroach on the $7.8 trillion market of actively traded open-end mutual funds.
About 155 ETFs holding $12 billion blur the lines between active and passive investing (indexing). Exchange-traded funds even have been formed in an attempt to replicate various hedge fund strategies.
This is a dynamic field with new funds regularly being formed and, conversely, ones that fail to gain investors are closed. Already in 2012, 129 new ETFs have been listed for trading. Launches are often centered on current investing themes. Last week, for instance, the firm ProShares announced a new Short Euro ETF. Its price will correspond to the inverse of the daily performance of the U.S. dollar price of the euro. Funds that seek to hedge volatility also have been popular.
One criticism of ETFs is that they encourage short-term speculation, and certainly a buyer of the leverage exchange-traded fund is rolling the dice. Yet overall, the funds have provided a reasonably priced vehicle for investors to gain exposure to a wide variety of investments.•
__________
Skarbeck is managing partner of Indianapolis-based Aldebaran Capital LLC, a money management firm. His column appears every other week. Views expressed are his own. He can be reached at 818-7827 or ken@aldebarancapital.com.
Please enable JavaScript to view this content.