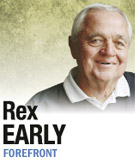 I would hope the pity parties taking place because of Sen. Lugar's defeat are over.
Lugar has served his state and his country well and faithfully but it is time to move on.
Lugar said, "For the time being, I don't plan on any active campaign." The senator has also said he wants Mourdock to win because we need him in the Senate. That's good enough for me.
Hey, it's hard to get your heart into actively supporting someone who beats you in a tough campaign. When I got beat for governor by Steve Goldsmith, I think I said I would campaign for him. As I remember, I didn't knock myself out.
I contend that Lugar's defeat was not caused by any one thing, although his support for the Brady bill and his vote for the two liberal nominees for the Supreme Court didn't help him.
Lugar's defeat can be attributed to how Congress has changed since 1976 when Lugar was first elected.
The gap between those who believe in Big Government and those who want smaller and less intrusive government has widened. Every year, it seems that every issue becomes more and more partisan. Every year, the gap gets wider.
This is not Lugar's cup of tea. I think that's why Evan Bayh decided not to run again; he, too, is not a no-holds-barred person.
Congress has gone from "the world's most exclusive club" to a bunch of people in a cat fight.
It started in 1984 right here in Indiana when Democratic Speaker of the House Tip O'Neill seated Frank McCloskey over Republican Rick McIntyre for the 8th District congressional seat. When the vote count got to 116,645 for McCloskey and 116,641 for McIntyre, McCloskey was declared the winner, even though 20 absentee ballots were left on the table not counted.
Sixteen of these ballots voted Republican. The Democrats refused to count them. McIntyre won the election, but he was not seated by O'Neill even though O'Neill already had a double-digit majority.
Two years later, Republican Newt Gingrich took after Jim Wright, a 34-year Democratic congressman who succeeded Tip O'Neill as speaker. Wright was charged with taking speaking fees in excess of the maximum allowed. Wright was forced to resign from Congress. This infuriated the Democrats.
A third thing happened in 1986 when Democratic Sen. Teddy "can I drive you home" Kennedy led the charge against Robert Bork's appointment to the Supreme Court. The Republicans thought he went overboard with back-alley allegations. Bork was not appointed and this certainly widened the rift.
In 2001, George W. Bush nominated Miguel Estrada for the D.C. circuit court. That was looked upon as the first step in having a Hispanic Supreme Court nominee someday. Sen. Tom Daschle, the Democratic Senate majority leader, led a filibuster for the first time ever to kill a federal judicial opponent. That was looked on by most of the Republicans as an act of war.
The days of friendship and respect between the parties seem to be over. If you want a friend on the other side of the aisle, you'd better bring your dog and send him over there.
The days of Lugar's sitting down with the Harry Reids, the Chuck Schumers and the John Kerrys is long gone. Their idea of compromise is to get the Republicans to surrender.
I like the analogy that, if they want us to swallow a spoonful of arsenic, are we going to compromise and just swallow a half spoonful? I don't think so.
I think the Indiana Republicans sent a signal that we want someone to stand up and fight.
Remember, Gov. Walker from Wisconsin didn't compromise; Mourdock is cut out of the same mold.
The Marquis of Queensberry days are over. You don't come to a gun fight with a knife, and I hope our newly elected Republicans congressmen realize this. I know Mourdock realizes it.•
__________
Early served in the Indiana House and as a Republican state chairman, as well as on the Republican National Committee. Send comments on this column to ibjedit@ibj.com.
Please enable JavaScript to view this content.