Working as an independent filmmaker must be something akin to being a Flying Wallenda. Like that famed wire-walking family, movie makers require a combination of balance, originality and tradition in order to satisfy audiences.
No surprise, then, that one of the better films on display at this year's Indianapolis International Film Festival (July 19-29) is "The Show Must Go On," a documentary about the Wallenda clan.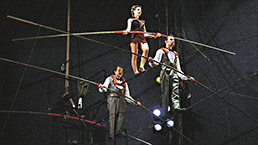 "The Show Must Go On" reveals the humanity behind the extraordinary. (Photo courtesy of Indianapolis International Film Festival)
The Wallendas have been both masters of the high wire and the Kennedy family of circus life—with tragedies killing or paralyzing family members. But filmmaker Paula Froehle wisely doesn't milk those tragic moments. Instead, she uses them to lay the groundwork for a more recent set of issues—specifically how the latest patriarch, Tino Wallenda-Zoppe, tries to deal with being one wire-walker short of the family's signature seven-person pyramid. And how a newcomer's weakness brings a crisis of confidence to Tino.
The move that pays the most dividends, however, is Froehle's decision to have Tino wear a mic while up on the wire, turning a stunt that seems, from the ground, to be performed
with confidence into a nerve-wracking, second-by-second survival walk.
Those with extraordinary powers are also the subject of the documentary "Wonder Women! The Untold Story of American Superheroines." A timely look at the depiction—or lack thereof—of powerful women in comic book culture, it's packed with historic tidbits (including the way even the iconic Wonder Woman was devalued and reduced in power post-World War II).
I'm thankful to say the filmmakers have the perspective and humor to appreciate the mixed messages of buxom, fetishized heroines becoming symbols of feminism. Of course, Lindsay "Bionic Woman" Wagner and Lynda "Wonder Woman" Carter make appearances.
Some films are stronger when seen in pairs. "Brothers on the Line" tells the story of the rise of the American labor movement through the stories of the Reuther brothers, who led the United Auto Workers. When a film is narrated by Martin Sheen, though, you shouldn't go in looking for a multi-sided portrait. The fact that this one is directed by a grandson of one of the subjects is also worthy of note. Still, it's a rare lesson about an important time in American history—one with strong ramifications today.
Another Detroit-focused doc, "Detropia," tells of a more contemporary city in crisis. And while the filmmakers seem to have fallen in love with footage that should be trimmed, it provides a strong bookend to "Brothers on the Line." The pair of documentaries is greater than the sum of the two parts.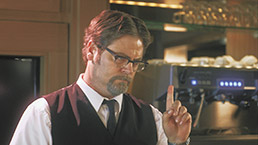 In a lesser film, Nick Offerman's off-beat performance might stick out. But it fits perfectly in the one-of-a-kind comedy "Someone Up There Likes Me." (Photo courtesy of Indianapolis International Film Festival)
After screening a few too many fiction films about people I had no interest in whose problems weren't particularly interesting and didn't resolve in satisfying ways, I was thrilled to find "Someone Up There Likes Me."
Taking its main character on five-year leaps through his bumbling life—without ever aging the lead actor—Bob Byington's film might seem at first like just another "Juno"-esque quirk-fest. But there is much more going on here. I can't recall a film-fest flick I've seen in recent years that left me both this satisfied and with a strong desire to see it again almost immediately.
It's certainly a plus that Byington has such a strong cast to carry out his loopy vision. Keith Poulson is dead-on as the hapless hero. Jess Weixler and Stephanie Hunt shine from their first screen moments as the women in his life. And Nick Offerman of "Parks and Recreation" gives a performance that, in a just world, would achieve the cult status of John Goodman's turn in "The Big Lebowski."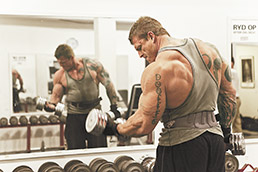 Kim Kold is ideal as the gentle giant in "Teddy Bear." (Photo courtesy of Indianapolis International Film Festival)
I was also won over—for very different reasons—by the terribly titled "Teddy Bear." I'm just happy the script wasn't written 20 years ago and acquired by Arnold Schwarzenegger.
Actually, the American movie its capsuled plot description most resembles is the John Candy vehicle "Only the Lonely," which also focused on a big guy hiding his love life from his controlling mother. But "Teddy Bear" never goes for obvious laughs or cheap sentiment. It concerns a low-key bodybuilder who goes to Thailand with thoughts of finding a for-hire bride. The film takes a clear-eyed view of the sex trade in Thailand without ever being exploitative itself or losing track of its core, character-focused story.
While time will tell whether Kim Kold has acting chops beyond this tailor-made role, he's ideal as the gentle giant. And Lamaiporn Hougaard is fresh and truthful as a woman he eventually meets.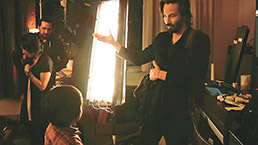 Keanu Reeves is the curious host choice for the documentary "Side by Side," focusing on the film to digital transition. (Photo courtesy of Indianapolis International Film Festival)
There's pleasure, too, in "Tilt," a romance between a small-scale Belgian criminal and a police officer's daughter; "Late Summer," a gentle film about the impending separation of a mother and daughter who are also best friends; and "Side by Side," a look at the transition of film to digital as the standard format for moviemaking. Interesting questions abound in "Side by Side," particularly for film buffs. What are we gaining in the phasing out of celluloid? What are we losing? And how did Keanu Reeves become the interviewer for a documentary on the subject?
Tradition at IBJ is for me to invite other news staffers here to screen some of the films I don't have time to get to. This time, the only one with a strong recommendation came from intern Ellen Kobe, who found "The Woman in the Septic Tank" to be a "witty, sarcastic film depicting the stark contrast between the rich and the poor in a Filipino satire about three struggling indie filmmakers depicting slum life through a dull documentary, a soap opera-like drama and a musical. If you can keep up with the quick and difficult-to-read subtitles, you're in for some big laughs."
For showtimes and a full schedule, visit www.indyfilmfest.org.•
__________
This column appears weekly. Send information on upcoming arts and entertainment events to lharry@ibj.com.
Please enable JavaScript to view this content.