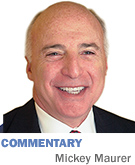 It is no longer subject to debate that institutionally provided early childhood education benefits at-risk children. Social entrepreneur Jim McClelland has trumped this fact by adopting a program that begins even earlier—shortly after the father-to-be says, "You're what?" It's called Nurse-Family Partnership.
Connie Sherman, executive director of St. Mary's Child Center, knows that toddlers provided early education are less likely to repeat grades, enter special education or be incarcerated. She cites research showing that children who do not reach minimal social competence by age 6 are likely to have difficulties in school and throughout life. And conversely, it shows that those who are involved in high-quality programs have significantly more positive outcomes.
But according to McClelland, CEO of Goodwill Industries of Central Indiana, preschool programs like St. Mary's may come too late for some children to reach their full potential. He believes the most influential period of long-term cognitive development occurs even earlier in a child's life—and any problems or stressors in the child's environment during this critical period of growth can create lasting barriers.
McClelland and his fellow Goodwill executives have proven adept at overcoming barriers and spanning social breaches. They have created a diversified organization in industrial and commercial operations with a strong entrepreneurial culture. The team has a track record over decades that combines a handsome bottom line with a strong social conscience. Pursuant to its not-for-profit mission, Goodwill has coached many of the most vulnerable in our society into productive citizens.
In the arena in which Goodwill dwells, many of the social indicators have gotten worse instead of better over the last 40 years. Communities are spending more on income-security programs, but the plight of families is getting worse. Although society is spending more than twice as much per pupil in K-12 education than in 1969, education attainment levels have fallen.
Faced with the data, McClelland said to his research staff, "What is going on? We're not doing something right here, people." Goodwill's team members concluded that if they were going to effectively reduce generational poverty and reverse these trends, they had to start with babies, especially with first-time mothers in poverty.
The Nurse-Family Partnership is a nurse home-visitation program created in the '70s that is now serving clients in 40 states. It has three goals: improve pregnancy outcomes, improve child health and development and improve the economic self-sufficiency of the family.
Registered nurses visit the mothers regularly throughout the program, educating them about proper care of the child and monitoring the child's development. The relationship ends when the child turns 2, but the long-term impact is measured when that child is 15 years old.
In 2005, the Rand Corp. found a net benefit of $34,148 per high-risk family served, equating to a $5.70 return per dollar invested in Nurse-Family Partnership.
Goodwill is implementing the Nurse-Family Partnership program this year in a unique public-private partnership with the Indiana State Department of Health. The initial budget of $3.2 million per year was funded by a federal grant.
The program will run for four years and is projected to serve up to 600 moms and babies. During that time, Goodwill will fashion a financially sustainable plan to ramp up and perpetuate the program. It already has enrolled 153 expectant moms to whom 20 babies have been born. "Ten years ago if you had told me we'd be hiring registered nurses, I'd have said you were nuts," McClelland said.
Hopefully, after the Nurse-Family Partnership program is completed, the children will attend an early childhood program like that offered at St. Mary's. Tinker to Evers to Chance—and a whole new ballgame of healthier children with predicted higher IQ and education attainment. And who better to jump start these kids than McClelland, a man who has dedicated his career to our community.•
__________
Maurer is a shareholder in IBJ Corp., which owns Indianapolis Business Journal. His column appears every other week. To comment on this column, send e-mail to mmaurer@ibj.com.
Please enable JavaScript to view this content.