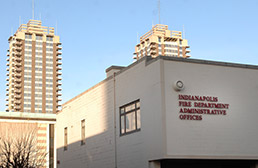 The Massachusetts Avenue fire station was set to be redeveloped through an expansion of the downtown tax increment financing district. A standoff in the City-County Council has put that project, and others, on hold. (IBJ file photo)
Redevelopment of the Massachusetts Avenue fire station could remain in limbo for the foreseeable future, as Mayor Greg Ballard and council Democrats enter a standoff over tax increment financing districts.
The fire station, downtown apartments anchored by a new Marsh grocery, and creation of a high-tech corridor along West 16th Street are all projects Ballard is trying to advance by expanding the downtown TIF. The mayor's team believes the expansion is essential to getting those projects done, but a proposal allowing it has lingered before the City-County Council for eight months.
Steve Talley, the Democrat who chairs the Metropolitan and Economic Development Committee, said he won't give the proposal a hearing until the city adopts a new set of policies on TIF districts. Ballard's top deputies say those policies would make the city less nimble in responding to development opportunities, and the mayor won't approve them.
Chief of Staff Ryan Vaughn, who was council president before Democrats won control of the chamber in the last election, said he's frustrated because neighborhood groups and some council Democrats previously expressed support for expanding the downtown TIF.
"No one is telling me this is bad for their neighborhood," Vaughn said. "The only place I'm hearing this is the second floor," where the council meets.
TIF districts capture growth in assessed value, and thus increased property-tax revenue, to cover the cost of new infrastructure or other government spending. TIF skeptics say continuing to make TIF districts the tool of choice for economic development will choke off revenue that's already declined since Indiana capped property-tax rates in 2009.

Mahern
Because of the change in tax structure, Democratic Councilor Brian Mahern believes the city needs to be more cautious about deploying TIFs.
"It's not something you immediately run up and break the glass and use," he said. "It has long-term implications."
The policies in question would mirror a host of recommendations on TIFs that were adopted in June by a study commission, created by Mahern and chaired by Talley. Talley said he plans to package the recommendations into three proposals for introduction on Aug. 13.
The recommendations include putting a sunset date on the downtown TIF and requiring a cost-benefit analysis as part of all TIF project applications. Another recommendation is to create a comprehensive plan on economic development and infrastructure.
Developing that plan would be a "huge undertaking," which would probably take a year or more, Talley said. He wouldn't favor putting off new TIFs for that long, but said he would like to set the ball rolling on the plan.
Mahern acknowledged that certain neighborhoods are counting on new TIF districts to pay for streets, sidewalks and other infrastructure improvements.
Expanding the downtown TIF to the northwest around Bush Stadium would pay for a host of needs at Indiana Avenue and 16th Street. Likewise, midtown neighborhoods are hoping for a new TIF, which would be anchored by locally based Keystone Construction's retail-parking garage project in Broad Ripple.
But those aren't the only sections of the city where people want new infrastructure and amenities, Mahern said.
"What do we tell those people who don't have a TIF proposal now?" he asked. "How are we taking care of those folks?"
Deputy Mayor of Economic Development Michael Huber said that, while Mahern tries to come up with a better solution, deals are in danger of falling apart.
Five development teams submitted bids in November for the Massachusetts Avenue fire station and headquarters, and all of them say the project wouldn't be profitable without a subsidy, which would be financed by the expanded downtown TIF, Huber said.
The cost of relocating fire facilities drives the developers' need for a subsidy to build in the heart of a high-property-value district, Huber said. The city narrowed the field to three finalists this spring but has declined to release their specific proposals until a winner is chosen.
The downtown TIF expansion also would capture part of locally based Flaherty & Collins' planned $85 million retail-apartment project, which would cover a block and a half of surface parking owned by OneAmerica Financial Partners Inc.
The project, dubbed Block 400, is on properties bounded by Michigan Street, Capitol Avenue, Vermont Street and Indiana Avenue.
Part of the deal is to build a new garage for OneAmerica's employees, and construction needs to start this season, said Deron Kintner, executive director of the Indianapolis Bond Bank.
Mahern is unapologetic about delaying TIF proposals that were in the works before the study commission got under way in March.
"Maybe the more expedited option would be trying to do private development without TIF," he said.
Mahern added that Ballard's team has played a role in the delay by refusing to even document the need for a TIF district on Massachusetts Avenue.
Responses to the city's request for bids remain under seal, he noted.
"If all the developers have said TIF is necessary, why aren't the plans public?" he asked. "Where is the justification?"
Vaughn said he has talked to other councilors who support expanding the downtown TIF, plus creating a new TIF in the depressed neighborhood of Avondale Meadows, northeast of 38th Street and Keystone Avenue.
Kintner, who sat on the commission, accused the council Democrats of setting up "false hurdles," by promising the downtown TIF expansion would move along after the TIF study commission wrapped up its work in June.
Before becoming chief of staff in May, Vaughn also was on the commission. Republican Councilor Jeff Cardwell served on the panel as well, as did City Controller Jeff Spalding.
Vaughn said he's done playing along and expects neighborhood groups will apply the pressure needed to push through the TIF expansion.
"Just give us a hearing for crying out loud," he said.•
Please enable JavaScript to view this content.