Self-proclaimed "foodie" Sherri Campbell knew she was onto something when she started making frozen treats for her three dogs, but even she didn't expect to win the inaugural Hottest Kitchen Entrepreneur Challenge.
Three (human) judges nevertheless chose her Charlie's Chillers gourmet goodies after a June taste test, giving the middle school science teacher something to keep her busy during summer vacation.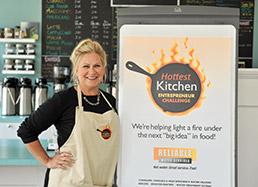 Sherri Campbell won the inaugural Indiana's Hottest Kitchen Entrepreneur Challenge. (Photo courtesy of Jim Moy)
Campbell, 53, also is a registered veterinary nurse who owns Northside Pet Services and shares her Indianapolis home with terrier mix Charlie; Australian Labradoodles Marley and Lilly; and a cat, Skim.
Since she likes to leave treats for clients at the end of a pet-sitting or dog-walking visit, Campbell started making her own.
Her dogs love chewing ice cubes, which Campbell says isn't good for their teeth. Her solution: premium popsicles (sans stick) shaped like paws and bones.
Available in five flavors—pumpkin, blueberry, peanut butter banana, chicken and Sloppy Joe—Charlie's Chillers are made with human-grade ingredients, organic whenever possible.
"We love our pets like family," Campbell said. "They deserve the same high-quality food we do."
Campbell was one of about 60 aspiring entrepreneurs who entered the contest, sponsored by food-business incubator Indy's Kitchen and Reliable Water Services.
She won $2,500 in cash, plus $500 of professional cookware and $500 in consulting services. She also has lined up an angel investor who is offering both financial support and business advice.
Please enable JavaScript to view this content.