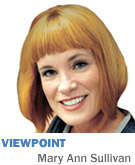 The U.S. Department of Labor recently announced that Indiana is eligible for more than $2 million to implement a program known as "work-share."
Unfortunately, the Indiana Department of Workforce Development announced earlier this month that it would not participate.
Work-share is a voluntary unemployment insurance program that preserves jobs by giving employers an alternative to layoffs during times of decreased demand.
Typically, if a firm sees a 20-percent drop in demand, it will lay off 20 percent of its work force.
Under work-sharing, the employer has the option of decreasing pay for a particular line or department within the firm by 20 percent for a short period, usually about six months.
The 20-percent loss incurred by the employee is partially made up by the state—usually half. So under work-share, an employee normally earning $600 per week would receive $480 in wages from her employer (80 percent of $600). She'd then receive $60 in work-share benefits (half of the 20 percent employee loss). Plus, she'd keep her job and benefits, and avoid the unemployment rolls.
Research on work-share programs shows that they help decrease unemployment while encouraging growth and maintaining productivity. Because employers use work-share in lieu of traditional unemployment insurance, the program is used only when the employer faces a layoff due to reduced demand.
Work-share also helps employers avoid high recruitment costs when demand returns. As Indiana employers find it more difficult to attract properly skilled employees, work-share is a double win. In fact, retaining skilled workers was the reason Michigan Gov. Rick Snyder, a Republican, signed work-share legislation in July.
I introduced a bipartisan work-share bill in the 2012 Indiana General Assembly. The state's non-partisan Legislative Services Agency performed a fiscal impact analysis estimating zero cost to Indiana's unemployment insurance trust fund.
In fact, should an employer choose to participate in the work-share program, the cost to the trust fund for five work-share participants is the same as one participant under traditional unemployment insurance.
What's more, because the federal grant now provides 100-percent reimbursement rates to the unemployment insurance trust fund for up to three years, each job saved equals savings to the trust fund. According to the Center for Economic Policy Research, those savings could be significant.
Work-share has helped save more than 55,000 jobs this year alone. At its peak in 2009, it helped save more than 165,000 jobs—in fewer than half the states.
Aggressive marketing is critical to the program's success. It's the main way employers learn about the program. That's why the Department of Labor has allocated two-thirds of Indiana's grant money towards outreach.
Work-share offers Indiana a unique opportunity to strengthen its economy by letting Hoosier employers retain valued workers through times of temporary downsizing.
I urge the Department of Workforce Development to reconsider its decision, and to accept these federal funds. They are, after all, tax dollars Hoosiers have paid in and Hoosier workers and employers should reap the benefit.
In a time of tight budgets, work-share would save Indiana money and benefit Indiana employers and workers alike.•
__________
Sullivan, a Democrat, represents the 97th District. Send comments on this column to ibjedit@ibj.com.
Please enable JavaScript to view this content.