What's new this year?
Well, when it comes to the arts, everything is new, whether it's a new work, a new cast, a new interpretation, or a new exhibition. As you'll see here, central Indiana has a lineup of both home-grown and touring A&E offerings and more is being added throughout the year (particularly in visual arts, which don't tend to follow the same seasonal structure as performing arts).
How to make the most of IBJ's arts coverage? First, pick a few events from this opinionated selection to make long-term plans. What would make a great date night? A solo outing? An evening with friends? Buy tickets and look forward.
Then hang onto the guide to help you make last-minute decisions when an evening or afternoon opens up. I hope I can help there, too, with my Thursday morning reports on Fox 59, Friday previews on WIBC, and weekly A&E e-blasts (subscribe for free at www.ibj.com/arts).
In addition to the e-blast, you can also follow my A&E blog from www.ibj.com/arts and chime in with your thoughts, win tickets, and more. Track my tweets at Twitter: IBJARTS for more coverage.
And this year, there's more. Mixed into the choices in these pages, you'll also find some new IBJ efforts to open doors to the arts, including three IBJ A&E Road Trips and a free IBJ A&E Preview event at Butler University, offering a sampling of events to look forward to this season. Plus, you'll get an idea of what the Indy arts world is talking about courtesy of "Talking Points" by IBJ reporter Dan Human.
Whatever your approach, try to get out to at least a few more events than you did last year. You won't regret it.
And say hello when you see me there.
–Lou Harry
____________
Dan Wakefield
Sept. 6
Indy Reads Books
On the short list of high-profile Indianapolis-anchored writers, Dan Wakefield burst onto the literary scene in 1970 with his novel "Going All the Way." Let's ignore the terrible film version (the adaptation of his "Starting Over"—and the TV show he created, "James at 15"—worked better). Instead, let's just look forward to hearing what he has to say about books, recovery and life when he visits the new Indy Reads Books. Details at www.indyreads.org.
"Quest for the West"
Sept. 7-9
Eiteljorg Museum
The annual show and sale connects buyers with 50 artists (including a trio of newcomers) from around the country. Go to the gala … or just check out the exhibition, which runs through Oct. 7. Details at www.eiteljorg.org.
"Gypsy"
Sept. 7-30
Studio Theatre
With great songs and unforgettable characters, "Gypsy" is about as good as musicals get. But it requires strong talent to pull off, which is probably why we don't see it often. Here's hoping the combination of the talented Actors Theatre of Indiana company and the intimate setting of the Studio Theatre at the Center for the Performing Arts will make this one a knockout for newcomers and fresh enough to thrill the hardcore musical theater fans it will no doubt attract. Details at www.actorstheatreorindiana.org.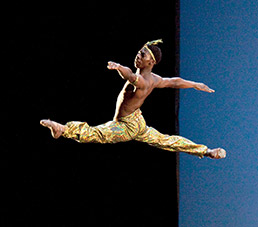 Brooklyn Mack. "Evening with the Stars" (Stanislav Belyaevsky. © 2009)
"Evening with the Stars"
Sept. 8
Murat Theatre
Do you believe me yet? For the past three years, I've enthusiastically previewed this benefit for the Indianapolis City Ballet and, afterward, even more enthusiastically praised the amazing talent gathered from ballet companies around the world. There's no reason to think this year will be any different, especially with American Ballet Theatre principal dancers Julie Kent and Herman Cornejo and many more already booked. Details at www.indianapoliscityballet.org.
Indy Jazz Fest
Sept. 10-16
Various locations
It's hard to imagine the Indy jazz scene without journalist, radio host and all-around jazz champion Chuck Workman, who died in March. So it stands to reason that the Indy Jazz Fest will celebrate the man and his legacy by devoting a program to him. And an impressive program it is, with back-to-back-to-back performances by Brian Culbertson, Gerald Albright and Brian Simpson with Maysa. That's just part of the fest, though, which includes two days of concerts at OptiPark and performances at other venues leading up to the outdoor gathering. Details at www.indyjazzfest.net.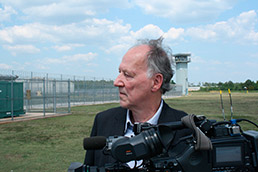 Werner Herzog (Photo/CDTV.  A Sundance Selects release.)
Werner Herzog
Sept. 11-14
IU Cinema/Whittenberger Auditorium
Indiana University's first-class screening room has been the hub for all sorts of cinematic activity. This month, acclaimed—and intense—director Werner Herzog visits for a pair of lectures, "The Search for Ecstatic Truth" and "The Transformative Role of Music in Film" as well as screenings of, among others, the world premieres of digitally restored versions of "Fitzcarraldo," "Nosferatu the Vampyre" and "Aguirre, The Wrath of God." Details at www.cinema.indiana.edu.
Margaret Atwood
Sept. 12
Butler University Reilly Room
The best-selling author of "The Handmaid's Tale" is also a poet and non-fiction writer. Her recent work includes the poetry collection, "The Door," and the socio-economic-themed "Payback: Debt and the Shadow Side of Wealth." Clearly, there will be a lot for her to talk about when she comes to the Vivian S. Delbrook Visiting Writers Series. Details at www.butler.edu.
IBJ A&E Season Preview event
Sept. 19
Butler University
Want a sampler of what's in store this season? I'll be hosting this free event featuring performances, on-stage interviews, prize giveaways and more. Details at www.butler.edu/calendar.
Fall Equinox: "Hungry Ghosts"
Sept. 20
100 Acres Art & Nature Park/IMA
What exactly is a "waterbourne concert"? Well, this is. It features members of the Butler University Jordan College of Fine Arts Composers Orchestra and Seattle composer Nat Evans in boats on the 100 Acres Lake with the shore-bound audience releasing lanterns at dusk. Details at www.imamuseum.org.
"Ain't Misbehavin'"
Sept. 20-30
Athenaeum
You can blame this celebration of the music of Fats Waller for decades of "jukebox musicals" on Broadway—shows with little script but packed with lots of familiar songs. But why knock the show that actually did it right, helping bring attention back to a great songwriter in what can be a wildly entertaining show? This production comes by way of director Brenda Williams, who certainly knows the ins and outs of performing on the Athenaeum stage. Details at ipacindy.org.
"Bloody Bloody Andrew Jackson"
Sept. 20-Oct. 21
Phoenix Theatre
Hot off the success of "Avenue Q" and "Spring Awakening," Phoenix Theatre dives into another edgy musical—one that feels like an oddly perfect one for election season. It's a twisted, anachronism-filled take on the life of the ninth president that, supported by a terrific score, explores populism (yea! yea!) at its most robust. Sample lyrics: "You can compromise all you want/they're still drunk and smell like pee/Do you really want America run by a man from Tennessee?" Details at www.phoenixtheatre.org.
Earth, Wind and Fire
Sept. 26
Murat Theatre
Yes, they've played here before. No, I'm not expecting anything different. But, come on, it's Earth Wind and Fire. Details at www.oldnationalcentre.com.
Indiana Author Fair
Sept. 29
Central Library
There will be lots of other authors there. But the Indiana author rock star of the moment is John Green, winner of this year's Eugene and Marilyn Glick Indiana Authors Award for National Writer. With a pile of best-selling young adult novels that have effectively crossed over into adult hands, Green is likely to be the big draw for a day of activity leading up to the awards program. Details at www.imcpl.org and www.indianaauthorsaward.org.
Avett Brothers
Sept. 30
Lawn at White River State Park
The summer winds down with the sounds of standup bass, acoustic guitar and banjo. Details at www.inwhiteriver.wrsp.in.gov.
Ben Folds Five
Oct. 3
Murat Theatre
Last year, he knocked out a Hilbert Circle Theatre crowd with a show with the Indianapolis Symphony Orchestra. This time, Ben Folds is back on more familiar terrain with his combo. Expect the same can't-stop-singing-along crowd and an equal amount of in-the-moment energy from the "Sing-off" host. Details at www.oldnationalcentre.com.
Ballet Folklorico de Mexico 
Oct. 5
Clowes Hall
Fear that a show such as this means just a feature-length, good-for-you exhibition of what you'd see at an average street festival? Rest assured it's more, says The New York Times critic Roslyn Sulcas, commenting on the "captivating spectacle" of Ballet Folklorico de Mexico. "Any reservations about an excess of bright costumes and swirling skirts are resoundingly allayed." Details at www.cloweshall.org.
"Anthology: Repertoire by Request"
Tarkington
Oct. 5-6
I haven't yet heard how the voting turned out, but patrons of Gregory Hancock Dance Theatre had a chance to pick from among their favorite Hancock pieces—over 150 of them—to create this program. The fact that the company has so much to choose from speaks to the durability and popularity of Hancock and his dancers. Details at www.gregoryhancockdancetheatre.org.
Kalichstein Laredo Robinson Trio
Oct. 10
Indiana History Center
The Ensemble Music Society and the International Violin Competition of Indianapolis present a world-class trio—pianist Joseph Kalichstein, violinist Jaime Laredo and cellist Sharon Robinson—that debuted at the White House about 35 years ago. Details at www.violin.org.
Ghost Stories
Oct. 13
Crown Hill Cemetery
Bring a picnic, a blanket and the arm of a friend or family member to clutch when Storytelling Arts takes its tale-tellers to Crown Hill Cemetery. The earlier stories should be suitable for the kids, but as the evening darkens, so do the plots. An early V.I.P. option includes music and refreshments in the Gothic Chapel and a graveyard tour. Details at storytellingarts.org.
David Alan Grier
Oct. 18-20
Crackers Comedy Club, Broad Ripple
Here's a sentence you don't often get a chance to say: See a star of Broadway's "Porgy and Bess" live … and in a comedy club. But that's the case when the multi-talented David Alan Grier hits the road after playing Sportin' Life. He's no stranger to comedy, though, having made his name as a cast member of "In Living Color." Details at www.crackerscomedy.com.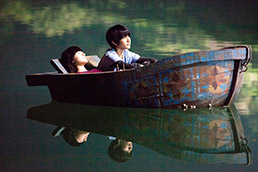 "Starry, Starry Night" Heartland Film Festival (Photo courtesy of Heartland Film Festival)
Heartland Film Festival
Oct. 18-27
Various locations
Most of the films haven't been announced as of press time, but as a jury member for this year's festival, I did already see some of them and will use this bully pulpit to encourage you to see "Starry, Starry Night." In it, a young girl's parents are separating, her grandfather is dying, and the world is a great big, puzzling place. Yet the film is never maudlin. Instead, it's consistently surprising in truly moving ways. This Taiwanese film could teach Hollywood a thing or two about how magical special effects can be when used with some restraint. Details at www.heartlandfilmfest.org.
IBJ A&E Road Trip: "Sunday in the Park with George"
Oct. 20
Chicago
Chicago Shakespeare's Courtyard Theatre will become a life-size masterpiece for Stephen Sondheim's landmark musical "Sunday in the Park with George," inspired by Georges Seurat's most famous work. And you can join me in experiencing it as part of the first IBJ A&E Road Trip in October.
Not only will you see the show—which is rarely staged because of its technical and talent requirements—but you'll also get a backstage tour of Chicago Shakespeare, winner of the 2008 Tony Award for Best Regional Theatre in the country.
Before the show, you'll see the painting that inspired the musical: "A Sunday Afternoon on the Island of La Grande Jatte"–1884 at the Art Institute of Chicago. You'll also have free time to enjoy the museum and have lunch on your own.
And that's not all: There will be prize giveaways, trivia quizzes and more on the ride as well as a box supper served en route home—all in the company of fellow IBJ A&E readers. For more information on the trip, call Interlude Tours at (317) 913-0387 or e-mail reservations@interludetours.com.
Savion Glover
Oct. 20
Palladium
Following Savion Glover's previous performance here, I wrote "Glover explored, celebrated and challenged assumptions about tap, connecting with the audience first through his feet, then through his body, then, eventually, allowing the light to hit his beatific face. By the end, he seemed able to tap on water." If you want to see tap that's innovative while honoring its history, this is a must. Details at www.centerfortheperformingarts.org.
Delia Ephron
Oct. 24
JCC
The first time Delia Ephron had me laughing was when someone shared with me a copy of her 1979 book "How to Eat Like a Child." Since then, Ephron (sister of the late Nora Ephron) has written screenplays for "You've Got Mail" and "The Sisterhood of the Traveling Pants," was a producer on "Sleepless in Seattle," and has written many books, including this year's "The Lion is In." I suspect she's got lots of stories to tell when she visits town to kick off the 14th Annual Ann Katz Festival of Books. Details at www.jccindy.org.
"The Second City: Laughing Matters"
Oct. 25
Warren Performing Arts Center
Since the 1960s, Chicago's Second City has been boot camp for improvisation-developed sketch comedy. Here's a chance to catch one of the SC touring companies without paying for Chi-town parking. Details at www.warrenpac.org.
Dave Attell
Oct. 26-27
Morty's Comedy Joint
The Comedy Central regular and "Insomniac" star returns to town. Probably best not to bring your grandmother to this one. Details at www.mortyscomedy.com.
"Night of the Living Dead II"
Oct. 26-Nov. 4
Wheeler Art Center
One of the unexpected surprises of last season was the intense straight-faced gore fest, stage production of "Night of the Living Dead" offered by newcomer Acting Up Productions. This year, in addition to a full season of more conventional fare, such as "Our Town" and "Twelfth Night," the group returns for a follow-up not for the squeamish. Details at www.actingup-productions.com.
"Classically Contemporary"
Oct. 27
Christel DeHaan Performing Arts Center
Composer William Bolcom's credits include writing the operas "McTeague," "A Wedding" and "A View from the Bridge," a Grammy-winning song cycle based on poems by William Blake, nine symphonies and a song called "Lime Jello Marshmallow Cottage Cheese Surprise." The Pulitzer-Prize winner's visiting composer stint at the University of Indianapolis is celebrated in this Indianapolis Chamber Orchestra concert, which Bolcom is expected to attend. The concert will include his Symphony No. 3. Details at www.icomusic.org.
Bachtoberfest
Oct. 27-29
Various locations
The Indianapolis Baroque Orchestra and a quartet of guest singers take on Bach's Lutheran Mass in A major at a trio of locations. Details at www.indybaroquemusic.org.
"Bali Dream"
Oct. 31-Nov. 1
Butler University
Each year, a different Christel DeHaan Visiting International Artist comes to Butler University to teach and push the boundaries of theatrical expectations. Those of us not privy to the classroom experience benefit because the Visiting Artist always offers work to the public, using student and local talent. This year, Shakespeare is the starting point for this work, inspired by "A Midsummer Night's Dream," directed by Ida Nyoman Sedena. Expect masks, spectacle and Balinese shadow puppets. Details at www.butler.edu.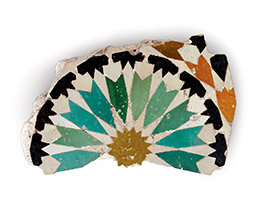 156. Tile Mosaic Fragment (Alicatado)  (Photo © Victoria and Albert Museum, London)
"Beauty and Belief: Crossing Bridges with the Arts of Islamic Culture"
Nov. 2-Jan. 13
Indianapolis Museum of Art
With work spanning from the seventh century to yesterday, this special exhibition includes more than 250 objects, including a 26-foot scroll. Think figurative representation doesn't exist in Islamic art? You'll think again after seeing this one, which was launched at Brigham Young University's Museum of Art. It travels to Newark and Portland after it leaves here. Details at www.imamuseum.org.
Jim Gaffigan
Nov. 3
Murat Theatre
The pride of Chesterton, Jim Gaffigan may have stretched in recent years—including a dramatic Broadway stint in "That Championship Season"—but his bread and butter has been, well … foods, which dominate his stand-up act. Have a Hot Pocket before you go. Details at www.oldnationalcentre.com.
"Intergalactic Nemesis"
Nov. 3
Clowes Hall
I told you about this one last year, when the tour came through Ball State University. Now it's closer, bringing its unique live comic book to Clowes Hall. The multimedia event includes projections, sound effects, actors and live musicians. Details—and a look at the "Intergalactic Nemesis" appearance on Conan O'Brien's show—visit www.intergalacticnemesis.com.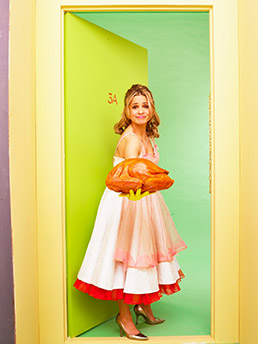 Amy Sedaris (Photo courtesy of No Exit Performance)
"An Evening with Amy Sedaris"
Nov. 8
Madame Walker Theatre Center
"Art of the Matter" host Travis DiNicola conducts a live interview with the funny lady, whose credits include the TV show "Strangers with Candy" and the book "Simple Times: Crafts for Poor People." Details at amysedaris.brownpapertickets.com.
"Billy Elliot"
Nov. 13-18
Murat Theatre
Anchoring what has the potential to be the strongest Broadway in Indianapolis season in recent years is this Tony-winning stage adaptation of the hit film about a British boy who's gotta dance. It features music by Elton John. Details at www.indianapolisbroadway.com.
"Stormy Weather: The Lena Horne Project"
Nov. 15
Madame Walker Theatre Center
Former member of the Supremes Mary Wilson stars in this tribute to Lena Horne, which is narrated by her biographer, James Gavin. Details at www.walkertheatre.com.
Tonic Ball
Nov. 16
Multiple Fountain Square locations
This year, the annual multi-stage music bash benefit for Second Helpings features the music of U2, the Kinks and Stevie Wonder interpreted by Indy bands. Details at www.tonicindy.com.
"Victoria Clark: Glorious Days"
Nov. 16
Cabaret at the Columbia Club
On her way to the Broadway production of "Rodgers & Hammerstein's Cinderella," the Tony winner for "The Light in the Piazza" pays a visit to the Cabaret. Details at www.thecabaret.org.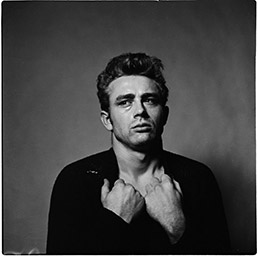 James Dean (James Dean(R) is a trademark of James Dean Inc., licensed by CMG Worldwide Inc.)
"Eternal James Dean"
Nov. 23-June 2
Indiana State Museum
The fact that James Dean made only three movies makes it even more remarkable that he has achieved American iconic status alongside Marilyn Monroe and Elvis Presley. This show celebrates perhaps the most famous Hoosier in the world with a little help from CMG Worldwide, which licenses his image. Details at www.indianamuseum.org.
Robert Pinsky
Nov. 28
Butler University Reilly Room
The founder of the Favorite Poem Project and a former poet laureate of the United States pays a visit as part of the Vivian S. Delbrook Visiting Writers Series. Details at www.butler.edu.
"Yuletide Celebration"
Nov. 30-Dec. 23
Hilbert Circle Theatre
Just another year for Yuletide? I doubt that, when powerhouse opera star Angela Brown becomes the first born-and-raised Indianapolis native to host the annual holiday show. The Metropolitan Opera star won't be doing it alone. Her co-host will be Ben Crawford, a frequent singer with the Indianapolis Symphony Orchestra, who played Javert on Broadway in "Les Miserables." Details at www.indianapolissymphony.org.
"Buddy Valestro Live! The Cake Boss"
Dec. 5
Murat Theatre
Cooking as live entertainment? I wouldn't have thought so. But Valestro's show includes audience participation contests, a question and answer session, and decorating demonstrations, which should make this more than a sweet culinary lecture. Details at www.muratheatre.org.
"Old Blue Eyes: Frank Sinatra and the Rat Pack"
Dec. 6-16
Indiana Repertory Theatre Upperstage
Rat Pack style meets Dance Kaleidoscope moves in this concert featuring new choreography by David Hochoy and Cynthia Pratt. The show goes on the road for January shows in Portland, Ind., and at Brown County Playhouse in Nashville. Details at www.dancekal.org.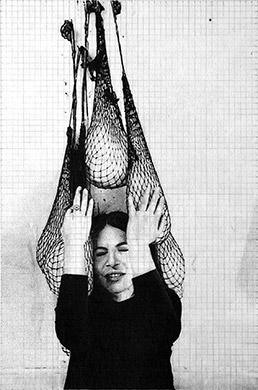 Dan Fischer's "Eva Hesse" from the IMA's "Graphite." (Photo courtesy of Dan Fischer and Derek Eller Gallery, New York)
"Graphite"
Dec. 7-April 7
Indianapolis Museum of Art
Yes, it's the stuff in pencils. And it's used in sculptures. And in this first-of-its-kind exhibition, it's also a prime medium for artists from France, Austria, England and the United States. Details at www.imamuseum.org.
"Jersey Boys"
Jan. 9-27
Murat Theatre
The boys are back in town as the hit musical about the rise and split of the Four Seasons gets a replay. Jukebox musicals don't get much better than this. Details at www.indianapolis.broadway.com.
"Hairspray in Concert"
Jan. 11
Hilbert Circle Theatre
In symphonic concert versions of musicals, the actors carry abridged scripts, which are read to give the whole piece a coherent narrative. Done well—as the Indianapolis Symphony Orchestra has in the past—it doesn't come across as an on-book rehearsal but, rather, as a delightful hybrid of concert and play. In the past, the ISO's choices have been old-school classics "Guys and Dolls" and "Hello, Dolly!" This time, we have one of more recent vintage: "Hairspray." John Waters, who wrote and directed the original film, narrates for a cast that includes Micky Dolenz. Details at www.indianapolissymphony.org.
Mummenschanz
Jan. 12-13
Tarkington
Emerging in the 1970s, this Swiss group became an unexpected hot property for its blend of crazy masks and props combined with non-verbal, music-free action. A Broadway run, lengthy world tours, and a spot on "The Muppet Show" helped seal the deal. Now celebrating its 40th year in the business, Mummenschanz has influenced many a contemporary performance art company but has still maintained its core "What-did-I-just-see?" charms. Details at www.thecenterfortheperformingarts.org.
Purdue University Varsity Glee Club
Jan. 13
Indiana University Singing Hoosiers
Feb. 2
Warren Performing Arts Center
Given the fierce loyalty and rivalry, I suspect there won't be many people going to both of these performances. And I'm not about to state a preference. Details at www.thewarrenpac.org.
"A Little Night Music"
Indiana Repertory Theatre
Jan. 23-Feb. 17
The anchoring theaters in most cities (The Walnut Street Theatre in Philly, the Goodman in Chicago, La Jolla Playhouse in San Diego, etc.) usually have at least one musical as part of their annual schedule. But our own IRT has gotten tuneful only twice this decade, and neither of those came close to the challenge of Stephen Sondheim/Hugh Wheeler's "A Little Night Music." Known by many only for its song "Send in the Clowns," it's a delightfully adult comedy about romance, sex and missed connections. It will be anchored here by opera star Sylvia McNair, better known to audiences at the Metropolitan Opera than to those in here in Indiana, where she teaches at Indiana University. Details at www.irtlive.org.
"Next to Normal"
Jan. 24-Feb. 24
Phoenix Theatre
Plan a musical-theater-with-strong-female-characters weekend by pairing the IRT's "A Little Night Music" with this more recent award-winner about a bipolar mother and the impact of her illness on her family. Details at www.phoenixtheatre.org.
"Who's Afraid of Virginia Woolf?"
Jan.25-Feb. 9
The Rose Firebay at the Ivy Tech Community College John Waldron Arts Center, Bloomington
One of the region's finest actresses, Diane Kondrat, is moving west. So expect some tears among audience members thrilled to see her in this dream role but sad to see her go. Details at www.ivytech.edu/bloomington/waldon.
"Blues at the Crossroads: Muddy and the Wolf"
Feb. 1
Clowes Hall
That's Muddy as in Muddy Waters and Wolf as in Howlin' Wolf, both key in the creation of Chicago Blues. Both are celebrated in this revue featuring The Fabulous Thunderbirds as the backup band. Details at www.cloweshall.org.
"Pigeons"
Feb. 13-23
Butler University Theatre
A new play by novelist—and Butler writing prof—Dan Barden ("John Wayne: A Novel," "The Next Right Thing") gets a world premiere. It concerns a popular Alcoholics Anonymous sponsor visited by the girl she gave up for adoption 15 years earlier. Details at www.butler/edu/theatre.
"Masters of Illusion Live"
Feb. 23
Clowes Hall
A rotating-performance cast keeps this prestidigitation showcase fresh. But it keeps me from telling you who in the company will be here in February. Indy Magic Monthly offers a fun monthly showcase at Theatre on the Square, but this is a rare opportunity to see large-scale magic by some of the tops in the field. Details at www.cloweshall.org.
Renee Fleming
Feb. 24
Palladium
Did you know this opera great was born in Indiana? Unfortunately (for us), that's Indiana, Pennsylvania. Nevertheless, I'm thrilled we're going to get a visit from this world-class singer. She's as comfortable with a show tune as she is with an operatic aria. Details at www.thecenterfortheperformingarts.org.
Joffrey Ballet
Feb. 28
Elliott Hall of Music, Lafayette
I was knocked out by choreographer Christopher Wheeldon's "After the Rain" when it was presented by dancers from the San Francisco Ballet at last year's "Evening with the Stars" event. The fact that the piece is on the bill of this program is enough to get me in the car to head up Interstate 65 to West Lafayette. That it's being performed by one of the leading ballet companies in the world makes it even more of a worthwhile trek. Also on the bill: "Age of Innocence" and "Le Sacre du Printemps." Details at www.convocations.org.
"Guitars"
March 9-Aug. 4
Eiteljorg Museum
After success showcasing motorcycles, the Eiteljorg finds another popular item that loyalists trick out for their own artistic ends. This show looks at guitars from the late 1700s to the present, with pieces from collections around the country—including dobros, of course, since this is the Eiteljorg. Also on hand: guitars owned by Jimi Hendrix, Woody Guthrie, Hank Williams, Gene Autry and more. Of course there will be concerts as well. Details soon at www.eiteljorg.org.
"The Whipping Man"
March 5-24
Indiana Repertory Theatre
Think there's nothing new to say about race in America? Well, consider this play set just after the Civil War during a Passover meal between two former slaves and their former master. My colleagues in other cities who have seen the show say brace yourself for the amputation scene. www.irtlive.com.
Anne-Sophie Mutter
March 8
Palladium
A longtime champion of contemporary composers, world-renown violinist Anne-Sophie Mutter offers a program mixing Schubert and Saint-Saens with Witold Lutoslawski and her ex-husband, Andre Previn. Details at www.thecenterfortheperformingarts.org.
"Akhnaten"
March 8
Clowes Hall
Here's a mixed-feelings event if there ever was one. On one hand, I'm saddened that Indianapolis Opera has the means to offer only two of its own productions in the 2012-2013 season. On the other hand, with this partnership, I'm excited that Indianapolis music fans will get a chance to appreciate this work by IU Opera Theatre. And that IU's opera students will find a bigger stage and new audiences. (Now, how about bringing more IU faculty recitals, theater productions and dance performances up to Indy—or am I just being greedy?) For those unfamiliar (which should be just about everyone), "Akhnaten" is Philip Glass' 1984 opera about an Egyptian pharaoh. Details at www.indyopera.org.
The Silk Road Ensemble with Yo-Yo Ma
March 18
IU Auditorium
Some background: The Silk Road Project was founded by cellist Yo-Yo Ma in 1998 using the famed Eurasian Silk Road of yesteryear as a metaphor for cross-cultural sharing. The Silk Road Ensemble is the international touring arm of that group, featuring artists from about 20 countries, that approaches music with a spirit of collaboration, risk and experimentation. Details at www.iuauditorium.com.
Alvin Ailey American Dance Theater (Photo courtesy of Andrew Eccles)
Alvin Ailey American Dance Theater
March 19
Clowes Hall
Few names are as synonymous with modern dance as Alvin Ailey, who founded his company in 1958. Now under its third leader, Robert Battle, it continues to inspire, awe and awaken audiences to the joys of movement. No word yet on which pieces in the company's extensive repertoire will be on the bill. Details at www.cloweshall.org.
Barbara Cook (Photo courtesy of Mike Martin – London)
Barbara Cook
March 23
Palladium
For years, Barbara Cook was on my bucket list. Last year, I finally saw her in New York, not realizing that this year she'd be back here on my turf. No complaint from me. Any chance to hear the magical soprano who wowed Broadway as the original Marian the Librarian in "The Music Man," created Cunegonde in "Candide," and survived the original production of the musical "Carrie," should be seen and heard whenever possible. Here, she'll share the stage with host Michael Feinstein. I'll be the guy in the audience hoping she includes her amazing combo of "The House of the Rising Sun" and "Bye Bye Blackbird." Details at www.thecenterfortheperformingarts.org.
"American Idiot"
April 2-7
Clowes Hall
First came the album, then the Broadway musical. That seemingly backward trajectory isn't anything new. The Who's "Tommy" and "Jesus Christ Superstar" both followed the same course. What was different was that Green Day vocalist Billie Joe Armstrong, who also co-wrote the show, would occasionally play one of the lead roles. Don't expect that to happen when the show comes to Clowes Hall. If you can't wait until April—and you are reading this hot off the presses—you can catch it Sept. 1-2 at Purdue University or Sept. 4-5 at Indiana University. Details at www.americanidiotthemusical.com.
IBJ A&E Road Trip: "War Horse"
April 6
Cincinnati
Join me on a bus run across the Ohio border to catch the not-playing-yet-in-Indy touring company of the acclaimed Lincoln Center production that inspired the stylistically very different Steven Spielberg film. We'll also get a backstage tour and more. For more information, call Interlude Tours at (317) 913-0387 or e-mail reservations@interludetours.com.
Kevin Kling's "Chicken Soup for the Chicken"
April 13
Basile Theatre, Indiana History Center
Kling's visits are always a highlight of the Storytelling Arts of Indiana season. In this case, the stories have to do with how stories helped Kling deal with a birth defect and a motorcycle accident. I should mention that Kling is very, very funny. Details at www.storytellingarts.org.
APA Classical Fellowship Awards
April 15-20
Various locations
It's time once again for some of the best young classical pianists from around the world to square off. Concerts will be held throughout the year, but the heat gets turned up in April when all are in town together for a variety of concerts. Details at www.americanpianists.org.
"Into the Woods"
April 26-May 11
Tarkington
"Shrek," "Mirror, Mirror," and other revisionist fairy tales owe a lot to Stephen Sondheim's fairy-tale-based musical. But none of these rethinks have come close to the combo of fun and introspection that makes "Into the Woods" so special. To close out its season, Booth Tarkington Civic Theatre tackles the challenging material, which should prove a field day for Civic's able designers. Details at www.civictheatre.org.
"Our Experiences During the First Days of Alligators"
April TBA
TBA
No Exit Performance offers up the world premiere of a play by Nuvo scribe David Hoppe and directed by Georgeanna Smith. With those credentials, I'm interested, plot unseen. Details at www.noexitperformance.org.
"The Flying Dutchman"
May 10, 12
Clowes Hall
Happy 200th birthday, Richard Wagner. And here's the present being wrapped by Indianapolis Opera: A full-scale production of his opera "The Flying Dutchman" with scenic design and direction by Joachim Schamberger, who was responsible for IO's knockout production of "Faust" last season. Details at www.indyopera.org.
"Barefoot Renegades"
May 16-19
Dance Kaleidoscope
Indiana Repertory Theatre
New blood is vital in a dance company, both among the dancers and the choreographers. For this concert, artistic director David Hochoy welcomes Chicago choreographer Brock Clawson into the fold. Details at www.dancekal.org.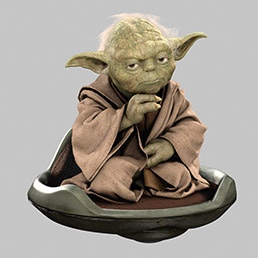 Cut line goes here. (credit )
"Star Wars: Where Science Meets Imagination"
May 25-Sept. 2
Indiana State Museum
See, there's this obscure movie that came out in the 1970s. And some people kind of like it. Details at www.indianamuseum.org.
Urbanski Conducts Gershwin
May 31-June 1
Hilbert Circle Theatre
The show is billed as a Gershwin celebration—and with "Rhapsody in Blue" and "An American in Paris" on the menu, that stands to reason. But the program also includes Leonard Bernstein's rousing "Overture to Candide" and the world premiere of William Bolcom's "Games and Challenges: Something Wonderful Right Away," written for the ISO's strings-in-residence trio Time for Three. For more Bolcom, see the Oct. 27 Indianapolis Chamber Orchestra concert. Details on the ISO performance at www.indianapolissymphony.org.
IBJ A&E Road Trip: Jungle Book
June 29
Chicago
And we hit the road again, with a trip to see Disney's "The Jungle Book" in its world premiere, surely-to-go-on-to-Broadway production at the Tony-winning Goodman Theatre. Directed by Mary Zimmerman, it promises a fusion of Indian rhythms and American swing, re-imagining the popular movie for the stage. And you'll be among the first to see it if you join this trip, which will include lots of extras both en route and once we get to Chicago. For more information, contact Interlude Tours at (317) 913-0387 or e-mail reservations@interludetours.com.
"Smoke on the Mountain"
July 5-Aug. 18
Beef & Boards Dinner Theatre
To bring us full circle to next fall, here's bright news for next summer. Beef & Boards Dinner Theatre is remounting one of its most joyful hits, in which the new pastor of a church invites a singing family to entertain churchgoers. Details at www.beefandboards.com.•
Please enable JavaScript to view this content.