Ever since seeing his first live National Football League game at Lucas Oil Stadium in 2009, Bill Simpson has been obsessed with designing and manufacturing a safer football helmet.
That obsession led to the recent launch of SGH Helmets, a company Simpson thinks can transform player safety across the spectrum—from the NFL to youth football.
Simpson, who has made helmets for 27 Indianapolis 500 winners, is so consumed with designing a football helmet to prevent concussions that he abandoned his 50-plus-year career in motorsports to focus on it.
"I'm in five motorsports hall of fames," said the 72-year-old Simpson. "I can't do anymore in that industry."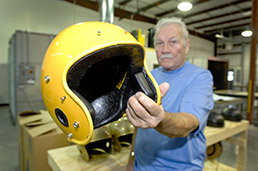 Bill Simpson is looking for land in central Indiana to build a 40,000-square-foot football helmet factory that he hopes will employ 150. (IBJ photo/Perry Reichanadter)
In December 2010, Simpson sold Impact Racing, a Brownsburg-based maker of auto-racing safety equipment, to San Diego-based Mastercraft Inc.
He's already made inroads into his new sport. In the past two seasons, Simpson won approval to offer helmets to NFL players and teams, then made helmets for several Indianapolis Colts. Former center Jeff Saturday was one; he still wears Simpson's helmet in Green Bay.
Now, players on other NFL teams are adopting the helmet, and this season SGH Helmets is entering the high school and college markets. Simpson plans to make what he describes as a radical new helmet for even younger players by early next year.
"It's real Buck Rogers stuff," Simpson said of his youth football prototype. "It's like nothing you've ever seen."
Everything about his football helmets is different, Simpson said, because he uses better materials and doesn't follow the decades-old blueprint of other helmet-makers.
Simpson, who has homes in Brownsburg and Mexico, said he's looking for land in central Indiana to build a 40,000-square-foot manufacturing facility where he plans to hire 150 employees within a few years.
Though he wouldn't disclose where he's looking, he said he's in discussions with several area municipalities.
Different by design
Simpson's well into assembling a veteran team to run SGH Helmets.
IndyCar Series team owner Chip Ganassi is a partner and is providing much of the financial muscle. Simpson recently hired Tim Bumps, a chief mechanic for IndyCar's Team Penske, as general manager. Auto racing engineer and mechanic Mike Bowron is assistant general manager, and longtime local sports marketer Todd Melloh is leading sales efforts.
Until a plant is up and running, Simpson is making a limited number of helmets—which sell for $398 each—from a temporary site. His helmets cost more than the competition's product. Simpson said that's because he uses expensive aerospace industry materials that other helmet makers don't.
One look at Simpson's helmet shows it's vastly different from those made by longtime manufacturers such as Riddell and Schutt. At 2 pounds 4 ounces, it's less than half the weight of other NFL-approved helmets.
It is made of the same composite fiber materials that form IndyCar and Formula One chassis. Most standard helmets are made of polycarbonate, a type of thermoplastic.
The lining of SGH's helmet appears to be a single, thick core designed to hug the head like a glove. Most other helmets are lined with a series of foam pads, straps, air holes and spaces designed to help cushion a blow.
Simpson said he removed all the air pockets in his helmet's interior because air is a "bad shock absorber." Instead, SGH's helmet interior mirrors that of a racing helmet. He won't identify the lining material.
"Every square inch" of the helmet is designed to absorb and diffuse shock from an impact, he said, minimizing the trauma transmitted to a player's head and neck.
Simpson is entering the football-helmet market at a time concussion awareness at all levels of football is at an all-time high. The NFL and NCAA have separately launched concussion guidelines in recent years.
The NFL is facing a class action lawsuit joined by retired players who say the league didn't do enough to protect them from brain injuries. And many states, including Indiana, have adopted laws that restrict school coaches from using players who have had concussions.
High barriers
While Simpson admits there's money to be made in football helmets, he insists that's not why he's joined the sport.
"I'd like to see the minimization of concussions and all that goes with them," Simpson said. "I'd like that to be my legacy when I drop dead—which could be any day."

It's not as if the barriers to entry are low. Besides engineering know-how and building a factory, succeeding in the sector also requires connections with those who run the sport at all levels.
Riddell is the official helmet sponsor of the NFL through 2014. The NFL allows players to wear any helmet that meets guidelines set by the National Operating Committee on Standards for Athletic Equipment, but only Riddell can display its logo on helmets.
Teams, coaches and player agents all have input on which helmet a player wears, and Simpson admits he has few contacts in those circles.
"There are a lot of established relationships in a sport like football and a number of those are financially motivated," said Bob McGee, editor of Sporting Goods Intelligence, a Pennsylvania-based trade publication.
"Anytime someone from outside the sport comes in, they're looked at skeptically," McGee said. "But if he's making significant improvements in football helmets, he'll get noticed."
Simpson is used to stiff competition. In the early days of making auto-racing helmets, he took on helmet-making behemoth Bell, and more than held his ground, said motorsports industry experts.
If the decision is about safety, it's a no-brainer, said Dr. Stephen Olvey, neurosurgeon and director of the Miami Project, one of the nation's leading research institutes on paralysis and brain injury. He said Simpson's helmet is a major advancement on the industry standard.
"What Bill Simpson has done is put 40 years of safety innovation in manufacturing motorsports helmets into the most modern and innovative football helmet made today," Olvey said.
Former Colts Offensive Coordinator Tom Moore, who met Simpson through a mutual friend in 2009 and introduced him to the NFL, has little doubt that, once players experience Simpson's helmets, he'll make significant inroads.
"One thing you can be sure of is that, if Bill Simpson puts his name on it, you can bet it will be quality," Moore said.
Gaining ground
Some players have been willing to take a chance on the newcomer. Among them were the Colts' Austin Collie and Pittsburgh Steelers safety Troy Polamalu. This year, Joe Montana's two sons, both of whom play quarterback in college, will wear Simpson's helmets.
Players for Noblesville High School, as well as high schools in California and Florida, also are giving them a try. And Simpson is in discussions with several colleges.
Atlanta Falcons rookie center Tyler Horn admits to being skeptical when first seeing an SGH Helmet this summer.
But Horn is glad he tried it. "After playing years of football, I had grown to expect a sore neck and slight headache during the first few hitting practices of the season. But with my SGH helmet, that neck pain and headache never came," he said.
Robin Miller, a longtime motorsports writer who's known Simpson for more than four decades, said there's no reason for skepticism when it comes to Simpson's products—no matter the sport.
"This is the guy who invented the parachute that stops drag cars after their race," Miller said. "His fire safety suits, shoes and gloves were the industry standard. His seat belts at one time were put in 90 percent of the race cars in North America. He's worked in midgets, sprint cars, open-wheel, NASCAR, motorcycles and Formula One. He's done more for racing safety than anyone else. There's no doubt, he's saved a lot of lives."
There's one more reason Miller thinks SGH will be successful.
"This is a guy who has never stopped thinking about safety," Miller said. "This is a guy who never stops thinking about what can be done next. He's absolutely relentless."•
Please enable JavaScript to view this content.