Don't read too much into a new map of the 315-acre former passenger terminal and parking lots at Indianapolis International Airport that shows four distinct parcels up for redevelopment.
Airport managers say they haven't given up hope that a single, mega-sized tenant could create an economic development boon at the site abandoned nearly four years ago when the midfield terminal opened.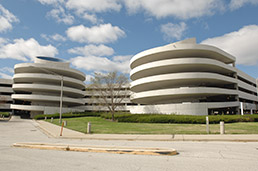 The 1,800-space parking garage at the former passenger terminal will be preserved. (IBJ file photo)
But the Indianapolis Airport Authority's latest listing of redevelopment sites shows the former terminal complex being marketed in pieces: 167 acres available where the old terminal building sits, 121 acres consisting of the former long-term parking lots, and two smaller plots totaling 27 acres at the northeast corner of the airport.
"You do not want [prospects] to discount the property because it's too large for them … . It's always easier to 'go up,'" said Eric Anderson, property director for the IAA.
Anderson said the former terminal generates more inquiries than any other site the IAA has for lease. The airport authority has begun demolishing parts of the former terminal to make it more shovel-ready to any number of potential clients. The terminal's 1,800-space parking garage is being preserved.
Anderson declined to identify current prospects, but said they come from industries ranging from aviation to advanced manufacturing to transportation.
Tantalizingly, Anderson said at least one inquiry has been about leasing the entire former terminal site. That would suggest a use dependent on direct access to the airfield.
"One entity taking the whole site would be a great boon to the city and the whole metropolitan area," he said.
Besides airfield access, one big selling point to the former terminal area is pre-existing gas/electric/water and telecommunications infrastructure, plus storm-water capture.
The airport's land use plan contemplates aviation-related, advanced manufacturing and logistics operations on the former terminal site.
But one drawback to the airport is that there's still ample land available near the airport in Marion County and to the west in Hendricks County, said Ross Reller, a commercial real estate broker at the local office of Seattle-based Colliers International.
"We have not seen users who require [airport] on-campus presence," Reller said.
Leasing land from the airport also invites questions about possible restrictions in terms of land use, questions about what can be built on airport land, and regulations inherent with a government-owned parcel, he added.
The IAA's Anderson agreed there is still an ample supply of development sites outside the airport but said he's not heard concerns that operating at the airport would be problematic.
He said the airport is concerned about making the most of its finite supply of land accessible to runways and that the airport has to fulfill its obligations under federal grants used to acquire property over the years.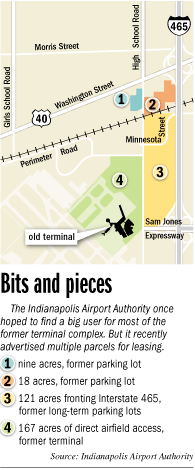 Michael Wells, president of the IAA board, said big-box warehouses might be an underutilization of the former terminal property. He remains bullish on an air-rail-truck intermodal facility. CSX's Avon rail yard is just a few miles to the west.
Other potential tenants are specialized air freight carriers, he said, pointing to how Cargolux operates trans-Atlantic flights into Indianapolis.
The airport could also build off its existing strengths in aircraft repair, Wells said, noting that AAR Corp. is going gangbusters repairing aircraft at the former United Airlines base on the west side of the airport. He wonders whether related companies, such as specialized aircraft component makers, would be ripe for the old terminal site and complement existing airport operations.
He said airport officials will explore trying to lure those manufacturers to Indianapolis.
One big draw for the vast sea of parking lots is that they border Interstate 465, allowing quick access to that highway and to Interstate 70.
Some have wondered if FedEx, which operates its second-largest U.S. air hub at Indianapolis, might find use for the old terminal space. FedEx has warned of slowing shipping growth ahead, however, as the economy remains tepid.
A fantasy tenant for the old terminal would be an air cargo operator the likes of UPS. That shipper already operates a bustling hub in Louisville, however.
The authority is also busy trying to fill other vacant space. The U.S. Postal Service is to end truck-based operation at its former air cargo hub at the airport by the end of the year. The building has direct airfield access.
It's also still trying to restore to full occupancy the former ATA Airlines campus at Washington Street and Girls School Road.
Ivy Tech Community College is converting part of the ATA space for an airport campus.•
Please enable JavaScript to view this content.