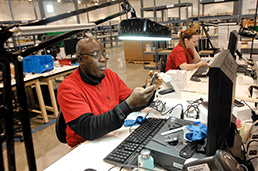 Cell phone distributor BrightPoint is one of the employers to benefit from the new IndyGo Plainfield route. (IBJ file photo)
A long-envisioned feeder bus from Indianapolis to Plainfield's warehouse and retail employers begins Oct. 1.
The Central Indiana Regional Transportation Authority won three-years' worth of federal funding for a bus that will pick up commuters at IndyGo's route 8, on Bridgeport Road, and take them to industrial parks and to Plainfield's Metropolis Mall.
Among stops on the 9-1/2-mile route are employers Amazon, BrightPoint, Ryder and Ozburn Hessey Logistics.
"I believe our current employees and an as-of-yet untapped source of warehouse and industrial talent in the area will take advantage of the shuttle," said Ryder's regional human resources manager, Norm Simard.
Major employers in the far-flung suburbs have long sought bus service to increase access to a larger pool of workers. Various shuttle bus services have been tried over the years. Earlier this year, CIRTA launched a reverse-commute express bus that takes Indianapolis-area residents to worksites in Carmel and Fishers.
For the last several years, an express bus service has run between Carmel and Fishers to downtown Indianapolis. One reason for that service was to reduce congestion on crowded north- and northeast-side highways.
The Plainfield-bound route ultimately connects to other IndyGo routes. The bus line's route 8 travels between downtown and Bridgeport Road via West Washington Street.
The cost to ride is $1 with a valid IndyGo pass, or $3 without one.
CIRTA is trying to address regional commuting needs with express bus service to counties outside of IndyGo's Marion County footprint.
The transportation organization also is pushing for light rail service, with the first route envisioned to run between downtown and Noblesville. However, transit interests have yet to secure legislation that would give residents of affected counties a vote on whether to OK a local transit funding mechanism.
 
Please enable JavaScript to view this content.