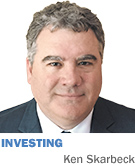 Investors are typically an opinionated lot and tend to develop their own beliefs on the economy and politics—even the current stock market outlook. Our "big-picture" views can be shaped and influenced by experiences, reading, television and other external media. We can even be persuaded by the opinions of others.

While having opinions is natural, investors can get into trouble when they develop strong viewpoints that drive their investment behavior. Bold statements can inhibit your rationality and cause you to do things that may hurt your financial nest egg.

Nearly every day, pundits—or people who call themselves professionals—are quoted saying things such as, "Europe is a mess and our economy is next," or "Our politicians are going to drag us over the fiscal cliff," or "If (insert your least-favorite presidential candidate) is (re-elected or elected), the stock market will crater," or "Ben Bernanke is turning the U.S. into Greece."

Investors driven to withdraw from the markets on the basis of these stark opinions are almost always making a mistake. Developing an obsession for a specific stock based on rumors and comments on message boards also can have disastrous results.

Not paying attention to the price-value relationship is dangerous to your wealth. A misguided confidence that you cannot lose in XYZ stock may result in a blow-up that leaves a large hole in your portfolio. Just ask investors who bought the IPOs of Groupon, Zynga and Facebook.

There is always uncertainty in investing. No one has a crystal ball.

Successful investors tend to step back from all the swirling conspiracies and manage their investments at a "micro" level, with solid, company-specific analysis that incorporates risk and probabilities. The investor also may have a broader long-term "macro" outlook based on overall market fundamentals and valuations.

Market volatility is actually beneficial to a long-term investor. There is downside risk in any investment that may be completely unrelated to the particular investment.

You may wake up one morning and a bank in Spain is teetering on the verge of collapse. The market sinks, and the stock you own in a company that manufactures turbine engines loses 5 percent. Over the next couple of months, lingering issues in the European banking sector drive your stocks lower. The turbine company's stock suffers a 20-percent decline, yet nothing has changed with its long-term fundamentals. So, are you prepared to buy more?

Today, investors who were voraciously buying stocks in 1999 at 30 times earnings are abandoning stocks priced at 12 times earnings. They are fleeing because of the uncertainty surrounding the election, Europe and the fiscal cliff.

Yet there are signs that the struggling U.S. economy is slowly improving. The stock market is forecasting better times ahead.

While we counsel that investors are better off ignoring market forecasts, I will make a prediction I believe has a high certainty of proving true: When the headlines read "Dow Jones industrial average crosses 14,200 for new all-time high," investors will once again begin to feel better about buying stocks.•

__________

Skarbeck is managing partner of Indianapolis-based Aldebaran Capital LLC, a money management firm. His column appears every other week. Views expressed are his own. He can be reached at 818-7827 or ken@aldebarancapital.com.