IndyCar Series officials insist the open-wheel circuit is on the right track despite a drop in its television ratings, tepid attendance and persistent rumors that it will be sold and its CEO will be fired.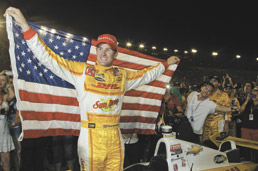 Though the IndyCar Series championship, won by Ryan Hunter-Reay, came down to the final race, the circuit had difficulty gaining fans. (AP photo)
CEO Randy Bernard this month announced that the series will expand from 15 to 19 races in 2013, and he's aiming for 22 in 2014.
The 2013 schedule includes new races at Pennsylvania's fan-popular Pocono Raceway and in Houston, just outside Reliant Stadium, in a market race sponsors think has huge potential.
Next year's schedule also includes a trio of weekend double-headers and a triple crown challenge involving oval races at Indianapolis, Pocono and Fontana, Calif., with a $1 million offer for the racer who can win all three.
Bernard had hoped to move the series into more markets, but was unable to conclude deals with several potential venues, including a street course
Even former open-wheel hotbeds such as Fontana, Calif., had numerous empty seats this year. (AP photo)
in Providence, R.I. But he's promising to add more markets and races next year to bring continuity to the seven-month schedule.
At least one former critic sees progress.
"This year, this series had some of the best racing I've seen in the last 25 years," said longtime racing journalist and TV commentator Robin Miller. "I think next year is going to be even better."
But daunting challenges persist.
During his first two years leading the IndyCar Series, Bernard has hit a number of potholes, and racing analysts said he won't easily outrun his—and the series'—troubles.
Chief among those troubles are TV ratings, which were down 27 percent on NBC Sports Network and 17 percent on ABC in 2012. Other than the Indianapolis 500, attendance at most other IndyCar races was weak.
"It's true that TV ratings across all sports are down," said Larry DeGaris, director of academic sports marketing programs at the University of Indianapolis. "But they can't use that as an excuse. They have a very serious problem with an aging demographic. They have to appeal to a younger audience."
The new schedule should start to reverse that trend, Bernard said.
"I think the most important thing we can do is build exposure, and we need to show we're the fastest, most versatile race car and race car driver in the world," he said.

Bernard
The series will work with race promoters to build attendance and its TV partners to increase viewership, he added.
"A lot of people want to blame everything on Randy, but the promoters and sponsors also have to stand up and do their part," said Zak Brown, president of locally based Just Marketing International, which represents some of the largest international sponsors in motorsports.
Brown admitted the IndyCar Series "is a difficult sell right now."
The series has been in the red since its founding in 1996. Sources within IndyCar said the Hulman-George family, which owns the series, has lost more than $250 million on it.
In recent years, with new races in Brazil and other key markets and with Izod as title sponsor, the series has inched closer to break-even. But industry sources said it will still lose $7 million this year. The cancellation of a race in Qingdao, China, this year cost the series $6 million, said sources with knowledge of the deal. Bernard has been unable to keep Izod officials happy, and now the company wants out. IndyCar officials are looking for a presenting sponsor that could take Izod's place within a couple of years.

Bernard also came under fire from team owners as he ushered in a new chassis and engine package this year. There were initial questions about the car's handling, and owners became upset about the cost of replacement parts and of proposed aero kits—which were supposed to be introduced in 2012 but have been delayed.
While Bernard was lauded for luring Chevrolet in as an engine manufacturer to compete with Honda, he was derided for bringing in financially troubled Lotus, which fielded slow cars and is departing only a year into its five-year contract.
Last month, a story surfaced that former Indianapolis Motor Speedway and IndyCar Series boss Tony George was leading an effort to buy the series and planned to fire Bernard. Some sources whispered that a number of influential owners—including Chip Ganassi and Roger Penske—supported George's efforts and were even willing to contribute financially.
Ganassi and Penske have stayed mum on any such plans. Just Marketing's Brown, who was said to be George's choice to replace Bernard, also declined to comment.
"It's a damn hard job Randy has stepped into," Brown said. "He stepped into a lot of pre-baked situations. … I'm balanced on Randy. He's done some good and some bad and some neutral things."
Brown said Bernard needs more support.
"I think there needs to be additional leadership. I'm not saying Randy lacks the depth to take the series forward, but he's one guy."
Indianapolis Motor Speedway CEO Jeff Belskus, whom Bernard answers to, said the IndyCar Series is not for sale and there are no plans for a management change. The IndyCar Series is essentially owned by the IMS. Both are controlled by the Hulman-George family.
Miller thinks the complaints about Bernard and the series are taking an unnecessary toll.
"The message that IndyCar is always in upheaval or needs a new direction is as damaging as it is inaccurate," Miller said.
Eric Timmerman, CEO of Indianapolis-based Fuzzy's Ultra Premium Vodka—a major IndyCar sponsor—agrees that recent unflattering portrayals of the series are inaccurate. Timmerman considers the series "a great value" in reaching the college-educated, high-earning men his company seeks.
"IndyCar racing has a very similar demographic to PGA golf," Timmerman said. "With the new schedule and all the other developments within the series, I think IndyCar racing is back, and back in a big way."•
Please enable JavaScript to view this content.