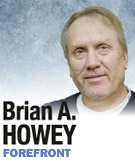 Last summer, when the conservative Americans for Prosperity dumped $700,000 into Indiana on a TV ad attacking Democratic U.S. Senate candidate Joe Donnelly, I posted a story on the Howey Politics Indiana website talking about how the Super PAC was running the ad "on behalf" of Republican Senate nominee Richard Mourdock.
AFP's Adam Nicholson called me out on this, challenging the phrase "on behalf" as erroneous. With an air of indignation, he said Americans for Prosperity was only spending $700,000 to urge Donnelly to change his voting habits, in this case on health care reform.
To which I thought, "Yeah, right."
What we are witnessing in Indiana this year is a wholesale nationalization and outsourcing of a U.S. Senate race. And this is not an attack on just the Republicans and their super PACs, or the Democrats. The entire system is so deeply flawed that I can sense a scandal brewing at some point.
As of late September, outside PACs have dumped more than $5 million in the general Indiana Senate race with dozens of ads aimed at Donnelly or Mourdock. A total of $10.3 million has been spent.
On Mourdock's "behalf," we've seen the Club For Growth cue up $792,000 against Donnelly, Crossroads GPS $966,000, and the National Republican Senatorial Committee $713,000. On Donnelly's "behalf," there has been $980,000 from the Democratic Senatorial Committee, $502,000 from Majority PAC, and $500,000 from Center Forward.
The candidates and their campaigns, surrogates and the Super PACs eye the heavens, halos appear above their heads, and in choirboy voices rising above the shattered cookie jar, they insist there is no coordination. The PACs just decide on their own when and how they will spend. Donnelly, Mourdock and their campaign teams learn of a Club For Growth or the Democratic front Center Forward TV ad only when it shows up during the 6 o'clock news.
If you believe that, I'll send the Tooth Fairy and Easter Bunny over to sell you a bridge in the Arizona desert.
Just a few election cycles ago, the majority of U.S. Senate or U.S. House campaign funds were accrued and spent by the campaigns themselves. They would file Federal Election Commission reports on a quarterly basis, and even a caveman could go to the Web, pull down the candidate or campaign report and file through the pages, seeing who donated to the campaign, what amount they contributed and when, and how the campaign spent the money.
Certainly, PAC spending on a congressional race has been around for decades. But in this election cycle, we are watching super PACs—many headquartered in New York or Washington—vastly outspending the candidates' campaigns.
If you could subpoena all the e-mails, texts, phone calls and Facebook messages between the candidates and their campaigns and these Super PACs, an investigative reporter probably wouldn't find direct communications. But what I believe is happening is, the candidate's campaign manager's third cousin's stepbrother may have the lines of communications open. The messages and strategies are being conveyed well below the surface.
Today, it's opaque obfuscation.
I went to the FEC site and spent several hours poring over 527 contributions. As a political writer who has done this many times over the years, I can tell you that figuring out who is donating to whom on these reports is vastly more complex than the traditional candidate/campaign FEC reports, which are relatively easy to figure out.
A caveman, let alone an average citizen, would be flummoxed by this reporting system. If you don't believe me, try it yourself.
An Indiana Senate seat is going to change hands. It may very well change parties by Nov. 6. And Hoosier voters are going to have very little data on who paid for it.•
• Howey is a third-generation Hoosier journalist who publishes Howey Politics Indiana. Send comments on this column to ibjedit@ibj.com.
Please enable JavaScript to view this content.