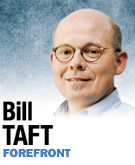 I am sitting on a plane with 90 representatives of Indianapolis returning from a leadership exchange to Portland, Ore., trying to puzzle out what we can learn from a city that is so different from our hometown. Portland is similar in size and has a blue-collar history like Indianapolis, but it followed a very different path the past 30 years.
While Indianapolis has created a vibrant downtown that equals Portland's, we have been completely outclassed in the vitality of surrounding city neighborhoods. Portland has implemented public policies designed to rebuild the existing city instead of inexorably sprawling into the countryside.
While most of us prefer the culture of Indianapolis to the weirdness of Portland, our group now recognizes how challenging and essential it is that we invest in the infrastructure to make our core urban neighborhoods livable. The rapid attraction of young professionals to Portland demonstrates how powerfully linked urban vitality is to economic growth.
The Arab oil embargo in 1973 served as a wake-up call for Portland to turn away from an auto-centric, sprawl-inducing habit of land use and transportation policy. Instead, to focus on creating more efficient and attractive urban places within the existing city. Portland developed a string of "20 minute neighborhoods" in which residents could walk to most daily needs, all strung together and linked to downtown through a robust transit system.
Unigov made us content to support sprawl until it filled Marion County; Portland leaders teamed with farmers to pass radical land use legislation that contained growth within a strict boundary. This created market pressure to infill and renovate neighborhoods rather than our pattern of moving farther out into more cornfields.
The impact of the boundary is amplified by Portland's massive investment in alternative transportation. Portland has literally reduced roadway used by cars and increased space designed for pedestrians, bikes, buses, streetcars and light rail. Almost 7 percent of Portlanders commute daily by bike, and a larger percentage combine walking and transit to reach work.
This has made their urban neighborhoods more attractive, quiet and safe, while giving residents the option of spending money on something other than a car.
The Portland transit system is so good that more than 80 percent of transit riders can afford a car but choose transit instead. This statistic is reversed in Indy, where almost 85 percent of our transit riders cannot afford a car.
The expansion of the Portland streetcar system was an intentional means of driving real estate redevelopment. An ugly warehouse and railroad yard that existed when I visited about 10 years ago was transformed into the vibrant and mixed-use Pearl District through routing a new streetcar line and creating small parks using tax-increment funding. Just think how this combination of tools could affect someplace like East Washington Street.
While Indy can't implement all the urban revitalization methods we saw in Portland, it must dramatically change its thinking about how we set our transportation and land use planning priorities if we are to compete for young talent. The time is now to gain legislative approval for the IndyConnect transit plan, to keep expanding our network of bicycle infrastructure, and to stop viewing urban neighborhoods as freeways.
We need to expand our tools and partnerships for urban neighborhood revitalization and create "20 minute neighborhoods" like Fountain Square and Fall Creek Place. The knowledge workers of the future will demand such places, and if we don't get going, we will continue to lose our best and brightest to places like Portland … even if it is weird!•
• Taft is Indianapolis executive director of Local Initiatives Support Corp., a not-for-profit that invests in neighborhood redevelopment projects. Send comments on this column to ibjedit@ibj.com.
Please enable JavaScript to view this content.