A new reporting requirement on local governments gives taxpayers unprecedented access to debt information, but the data is also likely to raise many questions.

The Indiana Department of Local Government Finance has compiled a ranking of total debt and per-capita debt for every taxing unit in the state. While Indianapolis International Airport and other Marion County entities have the largest totals, the highest burdens per person are found in rural communities, as well as a couple of wealthy Indianapolis suburbs.

Carmel Mayor James Brainard says debt report could mislead.
Carmel Mayor James Brainard, whose city shows up in the top 10 both for total debt and per-capita debt, criticized the rankings as misleading in a number of ways.

"It's easy to take one piece of information and draw an incorrect conclusion," he said.

Eric Bussis, director of data analysis at the Local Government Finance Department, hopes the overview will prompt taxpayers to dig into the detailed, custom reports available at the state's "Gateway" website, gateway.ifionline.org.

"Local government debt is something that hasn't received as much transparency as other aspects of a unit's finances," Bussis said.

Legislation this year requires all taxing units to report the obligations they hold directly and indirectly. That's supposed to include debt issued by redevelopment commissions and school building corporations, which are set up for debt issuance. The reporting includes any bond or lease, whether backed by property tax, or some other source of revenue.

The department compiled its report in September from data that was accurate as of Dec. 31.

Bussis admits that comparisons are difficult, especially among cities and towns because there's such variety in the scope of their services. Some cities, including Carmel, own utilities. That can drive up debt, but it doesn't necessarily mean residents are paying higher fees than customers of private-sector utilities.

Then there are special-purpose entities, such as the airport, and Marion County Health and Hospital Corp., owner of Eskenazi Health (the former Wishard Hospital). Neither has a comparable entity in the state.

In addition, some of Indianapolis' economic-development activity is carried out by the Capital Improvement Board of Marion County, which is classified as a special taxing unit and reports separately.

Bussis still thinks the report is useful because it's the first time all the information has come together in one place. Previously, many school districts opted not to report leases from building corporations, which are used to issuing debt without hitting the statutory limit, he said.

Zionsville Community School Corp. has the seventh-highest debt per capita in Indiana, $14,141, based on more than $344 million in principal and interest outstanding as of Dec. 31.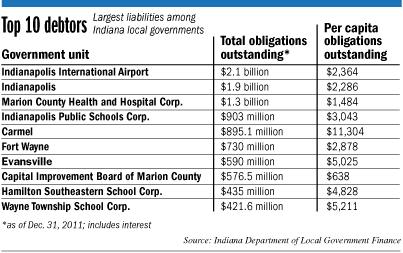 Superintendent Scott Robison had not looked at the state report, but he was concerned that it gives the impression current obligations will remain unchanged.

"Most government entities aggressively do refinance," Robinson said.

Zionsville schools refinanced about 9 percent of their debt early this year and plan to do so again in 2015 with about 60 percent of the debt, or $110 million, he said.

The Boone County district built schools to accommodate a growing bedroom community, but faced a major headwind after 2008. The introduction of property-tax caps and a new school-funding formula favored districts with a significant commercial-property tax base. In addition, the district's annual debt service payments were scheduled to rise just as the housing-market meltdown drove down tax revenue.

Last May, Zionsville voters approved a $4.7 million tax increase to avoid more teacher layoffs.

Debt is a hot topic in Carmel, where the city council is considering restructuring $183 million of the $267 million issued by the Carmel Redevelopment Commission.

The city's obligations, including interest, total $895 million, or $11,303 per person, according to the DLGF report. Brainard takes issue with the per-capita measurement because it doesn't matter to credit-rating agencies.

The bottom line is that Carmel's debt as a portion of assessed value remains very low, 3.2 percent, Brainard said.

"That's reflected in our tax rates, which are extremely low," he said.

A number of townships, library districts and special districts around the state reported having no debt, and that's something taxpayers should also question, said Drew Klacik, senior policy analyst at the Indiana University Public Policy Institute.

Zero debt could mean a community isn't investing in roads and sewer systems, or parks and libraries, which can draw future residents, Klacik said.

"The part of this that's missing is the perspective on the value that you're getting in return for this debt," he said.•