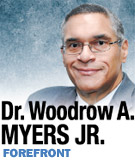 Indiana Black Expo recently issued its 2012 State of Our Black Youth report, the third in a series on key issues affecting quality of life for Indiana black youth.
A collaborative effort, the report—first issued in 2005 and again in 2007—points to gains in several areas, including high school graduation, passing ISTEP third grade math and English tests, and decreases in teen births and juvenile-delinquency case filings.
These modest gains were offset by increases in black families headed by single mothers in Indiana.
Single-parent families are at a significant economic disadvantage, and more black children in Indiana (42 percent) are living in poverty than are nationally (36 percent). These economic indicators correlate with negative health indicators analyzed in the report, including higher numbers of black infant deaths and higher rates of obesity and maltreatment.
For me, the most striking finding is the steady increase of black families headed by single mothers, from 55 percent in 2000 to 58 percent in 2010. Almost six in 10 black families do not have a father living at home.
Virtually every study points clearly to the benefits to the child of a two-parent home over a single-parent home. From health, safety, grades, risky behaviors—you name it—two-parent homes have the advantage.
With each generation, more of our young men suffer from the absence of a father in the home from whom they learn what it means to be a man. They also miss the opportunity to witness the right way to respect a woman and to care for their family.
No, the absence of a father is not an automatic life sentence to poverty, crime or misogyny. But we are wrong to assume the alternatives to a mother and a father working together are equally positive, or even close.
It is especially clear to me when I see young men walking around downtown with trousers that are too large and no belt and holding their pants up with one hand, copying a style that originated from prisoners, who for safety reason are denied belts while incarcerated.
This style is now reinforced in the popular culture because it is a distinguishing characteristic of a "shared" experience. It is similar to the advent of wearing basketball jerseys and caps of teams for whom one has never played and is not a real fan.
These young men are emulating their adopted male role models—the rappers, drug dealers and athletes—instead of a committed, working father teaching them at home what it really means to be, and look like, a man.
Their sisters are at an equal disadvantage, for they do not get to witness the love of a husband for a wife, nor do they get the boost in self-esteem from fathers who can make their daughter's day simply by complimenting them on how they look or on how they are doing in school, thus helping them create standards by which to judge potential suitors.
It is all connected—fathers, families, health, income, crime and success. The connections are not simple. They are biological, psychological, sociological and economic.
Some will argue that strong religious beliefs are the glue holding potentially conflicting forces together. Others will argue that education is the antidote. Some will assign government the job of creating and implementing solutions, while others will forcefully point to individual will as the only source of real change.
Of course, the right answer is all of the above.•
• Myers is a former chief medical officer for WellPoint Inc. and served as health commissioner for Indiana and New York City. Send comments on this column to ibjedit@ibj.com.
Please enable JavaScript to view this content.