Four words into its introduction, the Indiana Economic Development Corp. mentions on its website homepage that Indiana is a "right-to-work state."
The phrase, which refers to a law adopted last year that prevents mandatory union dues as a condition of employment, is right up there with the state's low corporate taxes and AAA credit rating in the sales pitch IEDC uses to lure companies to Indiana.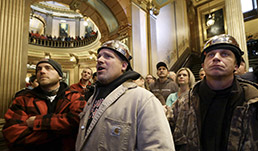 Michigan union members watch a televised vote on right-to-work. The change in labor law came less than a year after Indiana became the first Midwestern right-to-work state. (IBJ Photo/ Eric Learned)
But Michigan's rapid approval of a right-to-work law in early December—and the potential for a domino effect throughout the Midwest—means Indiana's law is becoming less powerful as a selling point, economic development experts say.
Indiana's general business climate had given it an advantage over other Midwestern states even before right-to-work, said Larry Gigerich, managing director at economic development consultant Ginovus LLC in Indianapolis. "Now you've got Michigan nipping at our heels."
The fact that the home state of United Auto Workers and the birthplace of assembly-line manufacturing passed a law unfavorable to unions has fostered speculation that other states will follow suit.
Greg Mourad, vice president for the Virginia-based National Right to Work Committee, said his organization is focusing on next getting the law passed in Ohio, Wisconsin, Pennsylvania and Missouri. The group is also working on Kentucky, New Hampshire and Maine.
Mourad said it can take as long as a decade of grass-roots organizing and lobbying to bring the issue to a vote.
But if other Midwestern states join the movement, which has its roots in the South and Southwest, Indiana will have to start addressing other concerns for prospective employers, such as work-force availability, and it will have to elevate its marketing, Gigerich said.
"Right-to-work is never going to be the silver bullet that, suddenly, you're going to win every economic development project you're working on in [largely unionized] manufacturing and logistics," he said. But it will bring more potential deals to the table, he said.
Top business groups in the state mostly agree that right-to-work, while frequently mentioned, is just one component of luring firms here.
"The IEDC often doesn't 'sell' Indiana's right-to-work status by itself to companies looking to expand in the Hoosier state," organization spokeswoman Katelyn Hancock said in an e-mail. "For Indiana, it's the icing on the cake."
Right-to-work supporters acknowledge they will face uphill battles in some of the states they are targeting.
They have continued to face opponents, including President Barack Obama, who have labeled the bill "right to work for less money."
Nancy Guyott, president of the AFL-CIO in Indiana, issued a statement the day after Michigan passed its law characterizing the state as the "latest to fall victim" to a bill that intends to increase corporate profits by lowering workers' wages.
"The playbook is largely the same," Guyott said in a prepared statement:
"Elect a governor who promises not to support this divisive and unnecessary legislation, only to go back on his word. Secure a legislature dominated by one party. Bring in out-of-state interest groups to spend wheelbarrows of money on advertising to confuse the issue. And, finally, shut the public out of the legislative process by barring public input, ignoring the independent research, and even locking the doors of the Statehouse."
Ohio's and Wisconsin's governors have stated multiple times that they have no intention of addressing the law, even though nearby Michigan now has it.
Both states have had recent labor battles.
Wisconsin's Senate Democrats walked out in 2011 after Gov. Scott Walker limited public employees' collective bargaining rights through what was described as a budget control measure. A circuit court judge this September struck down the bill, forcing its supporters to appeal the ruling.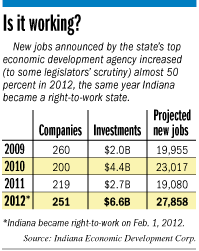 In Ohio, voters in November 2011 repealed restrictions for unionized government employees, which was a blow to Gov. John Kasich, who touted the law as an economic benefit.
Mourad said unions' "unpleasantness" over labor bills has convinced a lot of legislators to focus their attention elsewhere.
But intentions can change quickly. Michigan Gov. Rick Snyder told reporters as recently as April that right-to-work was not on his agenda because it was "divisive."
Snyder signed two right-to-work bills—one for government agencies, one for private companies—on Dec. 11, the same day Michigan's Legislature passed the laws.
The votes happened a month after union supporters lost a public referendum that would have guaranteed the right to unionize, including the right to collect dues. Fifty-eight percent of Michigan voters rejected Proposal 2, which many believe prompted the state's Republicans to propose right-to-work.
Despite the quick turnaround from Prop 2's failure to right-to-work's passage, supporters of the legislation were laying groundwork years before anyone filed a bill, Mourad said.
Passing right-to-work took almost 10 years even in more Republican Indiana.
"Usually, passage of a right-to-work law comes after eight to 10 years of work," Mourad said. "We are going in expecting long-term fights."
Cameron Carter, the Indiana Chamber of Commerce's vice president of small business and economic development, said Michigan's quick passage of right-to-work surprised the organization's leaders.
But he said it is too soon to predict how Indiana would adjust its economic development message if other neighboring states adopt right-to-work.
"We have thought about it a little bit," said Carter, whose group was one of the biggest supporters of right-to-work in Indiana.
One of the biggest criticisms of the law is whether it even has an effect.
A January 2012 report from Ball State University showed there were too many other variables affecting states' economies to determine if right-to-work states were any better off purely because of the law.
The IEDC, however, said right-to-work has helped it land jobs.
Commerce Secretary Dan Hasler boasted on Nov. 28 that right-to-work, combined with other perks such as a business-friendly tax climate, helped bring in 220 investments promising almost 21,000 jobs.
But legislators, most recently Carmel Republican Sen. Mike Delph, have questioned just how many of the jobs the IEDC announces ever materialize.
And for the companies that do come, right-to-work tends to be an afterthought for most, said Ginovus' Gigerich.
One-third to one-half of the manufacturing and logistics companies considering the state will rank the law as a top-five concern, but rarely No. 1, he said.
Transportation costs and a highly skilled work force are more important factors, said Mike Draper, an economic development consultant for BT ProjectPoint LLC in Indianapolis.
"Right-to-work is not everyone's hot-button issue," he said.•
Please enable JavaScript to view this content.