Persistence can go a long way toward wrapping up a unique project.
Three years after opening, the Indiana Design Center for all practical purposes has filled, thanks to a second proposal from, of all people, a residential real estate broker.
The center initially rebuffed Jimmy Dulin's offer to move his RE/MAX Ability Plus agency alongside such businesses as Julie O'Brien Design Group and Ferguson Bath, Kitchen & Lighting Gallery.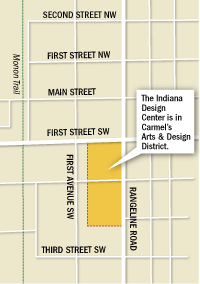 But Dulin countered that his idea wasn't such a stretch. His office not only could cross-sell to the consumers and design professionals who frequent the $25 million building, but his pioneering "real estate café" hospitality concept also would attract hundreds of additional customers to appreciation parties, as well as industry professionals to training and networking functions.
Now Dulin is building out 5,000 square feet in anticipation of a May opening.
Melissa Averitt, the Pedcor Cos. senior vice president in charge of leasing the building, said RE/MAX turned out to be a logical fit.
"That makes perfect sense for new homeowners to be in the building," Averitt said. "We can do joint marketing."
The RE/MAX lease is the 35th tenant in the 80,000-square-foot building in the heart of Carmel's Arts & Design District, a downtown redevelopment that has attracted more than $170 million in investment since its launch in 2003.
Designed, developed, owned and managed by Pedcor, the Indiana Design Center is one of about 20 design centers in the nation focused on gathering under one roof the upper crust of such interior trades as decorating, flooring and plumbing fixtures, as well as artists. The Merchandise Mart in Chicago is perhaps best known to Indianapolis-area designers.
Most such centers cater only to custom builders, interior designers and others working in the field. Carmel's is unusual for its addition of retail space—necessary, Averitt said, because the Indianapolis area has too few trades offering both sophistication and financial stability following the Great Recession to support such a center.
The Carmel center also is unusual for its location in an arts district. Most are in business parks or other places with less expensive leases.
The retail-oriented first floor, where Dulin is located, is targeted at homeowners and filled with shops specializing in flooring, design, kitchens and other interior considerations.
The second floor, where Dulin originally wanted to locate, caters only to professionals—interior designers and others looking for wall coverings, home automation and furniture.
With a nod to the creative class, the second floor also houses a software firm and a Web designer that handles the center's site.
Second-floor tenant Barry Lantz, who runs a namesake design and project management firm, wouldn't even make the drive to inspect the space when he was invited into the building in 2007.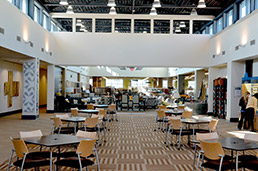 An area on the second floor is geared to attract small meetings. (IBJ Photo/Gene Herndon)
Then the recession induced him to right-size, and after repeated visits he moved from 5,000 square feet in Sycamore Springs Office Park on the northeast side into his current 334 square feet. He said he pays about $30 per square foot a month for the new space.
"The more you drink the water, the more you like the water," Lantz recalled. "It's a great collection of different businesses to create a design product. Everything is here."
Asked to place a dollar value on the prestige, convenience and proximity he said he has come to appreciate in the Indiana Design Center, Lantz put the figure above $10 a square foot.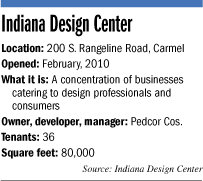 Leasing the center was no small feat during the recession and its aftermath, Averitt said.
A fall-back strategy would have been offices or another mixed use, she said. First-floor space leased for $22 to $26 per square foot, Averitt said, comparable to similar new construction in Carmel.
Bob Frist, a principal in Rowland Design Inc. in Indianapolis, said the center adds design credibility to the Indianapolis area, since most major cities have a center. It also will help elevate design locally, he predicted.
"It's a great resource," Frist said. Referring to the center's filling with tenants, he added, "I'm really pleased to see it matured as it has."•
Please enable JavaScript to view this content.