Are you a cattle-ranching fashionista? Or a poetry-writing race fan?
If the answer is yes, National Public Radio has an advertising campaign—the first in its 42-year history—targeted at you.
NPR is spending $750,000 on an aggressive push to boost its audience in four test cities, including Indianapolis, by pointing out the wide variety of people who listen to public radio. The other cities are Dallas, Orlando and San Diego. If the pilot campaign is successful, it's likely to expand.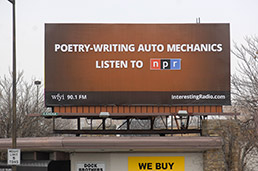 In February, National Public Radio bought space on six billboards along heavily traveled central Indiana roadways. NPR is promising to enhance its effort to grow WFYI's audience in the coming weeks. (IBJ photo/Perry Reichanadter)
NPR officials said the campaign, which is being paid for by a grant from the New York-based Ford Foundation, is aimed at increasing the awareness of its "varied and interesting" programming.
The initiative touts local affiliates, such as WFYI-FM 90.1 in Indianapolis, leading radio industry experts to conclude it's an effort to wrest market share from its commercial brethren.
"We're always looking for opportunities to grow our audience," said Emma Carrasco, NPR's chief marketing officer. "That's central to our mission. We are confident with this campaign, we'll be able to move the needle on audience growth."
NPR chose markets to launch the campaign where the public radio stations "were known as strong news providers but had room for growth in the key demographic," which is people age 25 to 44 with at least some college education, Carrasco said.

Miles
WFYI is the No. 2 news/talk station in central Indiana, behind WIBC-FM 93.1. On a weekly basis, WIBC, which ranked No. 6 in the market among all stations in January, has about 45 percent more listeners than WFYI, at No. 11, according to New York-based Arbitron.
But the gap narrows during the important morning and afternoon drive times. In the morning, WIBC ranked No. 7 in January and WFYI was No. 8. There are other news/talk stations in the market, but their audience size is a fraction of WIBC's and WFYI's.
While WFYI officials play down the competition with WIBC, they are clear about the campaign's objective: to increase revenue. While WFYI is a not-for-profit, station officials said it's still important to increase revenue to improve program quality.
"We live in a hybrid world," said Richard Miles, WFYI's vice president of interactive media and content strategy. "Most of our money comes from individual donations, and that takes awareness."
In its most recent fiscal year, 20 percent of WFYI's revenue came from corporate giving and program sponsorships, known as underwriting fees, while 33 percent came from individual gifts. The numbers include gifts to WFYI's companion television station.
When asked whether this campaign is aimed at converting listeners from commercial radio, NPR's Carrasco said: "We're simply looking for an audience that likes interesting content. That audience growth could come from multiple sources."
Charlie Morgan, market manager for Indianapolis-based Emmis Communications Corp., which owns WIBC, declined to comment for this story.
The goal of the campaign is to gain new listeners and turn those listeners into dues-paying station members, Carrasco and Miles said.
"This is about getting new listeners—and WFYI members—into the pipeline," Miles said.
Audience growth will have another important impact, advertising experts said.
"WFYI is already a really efficient way to reach high-income, executive-level decision-makers," said Bruce Bryant, president of locally based Promotus Advertising. "And if this campaign can grow their audience in a measurable way, it will increase what they can charge companies in underwriting fees."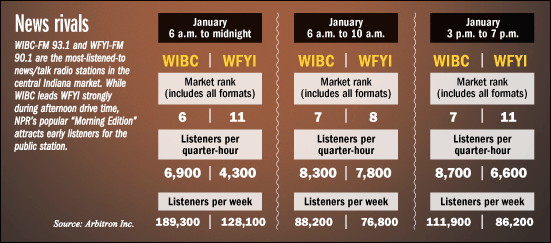 While public radio and television stations don't have advertisers, companies pay to underwrite programs. In exchange for that, they get their names and a brief description of their goods and services mentioned during broadcasts. But Federal Communications Commission policies limit the content of the message and the use of pitchmen.
"Underwriting is a way to brand your company or build an image. It's not a quick-hit call to action to buy goods and services," said Scott Uecker, general manager of public station WICR-FM 88.7 and communications instructor at the University of Indianapolis. "But make no mistake, audience size has a direct impact on underwriting fees."
The public radio listening audience has seen "slow growth over the last 15 years, but more recently started to plateau," WFYI's Miles said. "That prompted NPR to ask, 'Is this the totality of the NPR listening audience?' That's part of why there was the push for this campaign."
In Indianapolis, the NPR campaign was launched last month with six billboards along heavily traveled corridors. The campaign will run for four months, and will grow to include print and online ads as well as a social media component.
The NPR/WFYI ads are set to run on Facebook as well as local news websites and on WFYI's television station.
The timing of the campaign for WFYI couldn't be better. The not-for-profit this year used a $150,000 grant from the Allen Whitehill Clowes Charitable Foundation to pay for exterior signage and landscaping at its new headquarters at 1630 N. Meridian St. Miles calls the building sign "an important branding tool."
The billboards feature attention-grabbing and stereotype-breaking messages about who listens to NPR fare. The ads include messages such as "Skydiving algebra teachers listen to NPR."
The ads also include the local affiliates' call letters and radio dial position and the Web address InterestingRadio.com. On the website, people are encouraged to choose their likes—as quirky as they may be—to receive a list of NPR programs that might appeal to them.
"After April, we will gather data from the campaign, hopefully build a success story, and seek additional funding to expand this program," Carrasco said.
NPR officials declined to say how much was being spent in each test market, but industry sources said NPR is spending close to $200,000 in Indianapolis. That's a big boost for WFYI, which spends far less than $10,000 annually on marketing its radio programming, according to station officials.
Following a competitive bid process last year, NPR hired Baltimore-based ad agency Planit to develop and help implement the campaign.
NPR has worked with other agencies in the past to develop branding and awareness campaigns for station use, but this is the first time funding to purchase media and pay other costs has been part of the effort.
NPR is a Washington, D.C.-based not-for-profit that produces radio content, such as news shows "All Things Considered" and "Morning Edition," and acts as an advocate for its member stations. But it does not have an ownership stake in locally operated stations such as WFYI, which is operated by local not-for-profit Metropolitan Indianapolis Public Broadcasting Inc.
In 2012, 50 percent of NPR's revenue came from the fees it charges its member stations for programming and distribution. NPR derived 6 percent of its revenue from federal, state and local government funding. The rest came from grants, underwriting fees and universities.•
 
Please enable JavaScript to view this content.