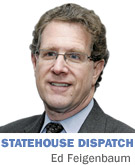 We're just a few short weeks from the mid-April revenue forecast, the critical non-political, non-policy factor that will shape the fiscal 2014-2015 budget—and a handful of other big-buck key bills.
Absent a finding of an immediate economic upswing by the Revenue Forecast Technical Committee based upon models provided by the state's contract economic forecaster, lawmakers will trudge back to their respective chambers to complete the bulk of the session's fiscal work in April's final two weeks.
While no one knows what the bipartisan consensus forecast will portend, the December outlook was a bit more optimistic than some had expected. While there was no display of "irrational exuberance" projected into fiscal measures, it gave Gov. Mike Pence cause to believe his signature 10-percent individual-income-tax-rate-cut proposal could be accommodated in the budget.
Of course, Republican legislative leaders assumed the role of ESPN college football analyst Lee Corso, echoing the famous "Not so fast, my friend" mantra of the former Indiana University head football coach. If the April forecast suggested sufficient cash would be generated over the biennium, they wanted to consider other priorities, including simply eliminating (instead of phasing out) the inheritance tax, and making additional corporate tax cuts.
But any serious decisions on significant tax cuts await the forecast, as do a multitude of other spending decisions.
The forecast will play a key role in determining how much money the General Assembly can add back to education funding.
While Pence has proposed a 1-percent increase in the K-12 budget over the prior biennium, lawmakers of both parties scoff at the amount, reminding him that the previous budget had cut education spending some $300 million, a shortfall that legislative Republicans are taking the lead in seeking to restore.
Democrats are largely just standing back out of the way on this issue, avoiding any partisan hangups and allowing GOP legislative leaders to tussle with the Republican governor over this one.
Ditto for higher education spending, which may be viewed with more legislative sympathy after major capital spending needs have in large part been postponed for several years, and state-supported colleges and universities have imposed spending and tuition-hike restraints sought by lawmakers over the past decade.
Aside from education spending and tax relief, lawmakers must address expensive Medicaid alternatives associated with health care reform—and tougher economic conditions that have forced greater reliance on the government for funding health care needs.
Pence does not want Indiana to develop a state-based health insurance exchange as part of the implementation of the Affordable Care Act. He also remains opposed to a partnership exchange with the federal government, and prefers to expand Medicaid via the Healthy Indiana Plan.
The U.S. Department of Health and Human Services, however, will not respond to the state's request to do so until some point in April at the earliest, leaving another huge—and expensive—question unanswered. A separate Medicaid-focused forecast in April will also tell lawmakers just how much they should expect to devote to these needs.
Employers will also likely be heard from on the issue. Even apart from the perceived onerous Obamacare requirements, states that fail to expand Medicaid leave employers exposed to higher "shared responsibility" payments under ACA beginning in 2014—federal tax liabilities that could run as high as $55 million annually.
Bear in mind, too, that a recent report commissioned by the Indiana Hospital Association revealed that expansion of Indiana's Medicaid program under ACA would generate up to $3.4 billion in new local economic activity—numbers touted by legislative Democrats.
Solons also continue to try to address the dramatic drop in gambling revenue, to which some suggest the state has become addicted after almost $11 billion in budget needs have been shored up with 17 years of river booty. Not only does the industry directly employ more than 12,000 people, but from casino gambling's inception through this February, the casinos have paid more than $9.4 billion in wagering taxes and $1.5 billion in admission taxes.
Lawmakers have been striving to strike a balance, weighing lost state revenue from casino industry tax breaks designed to help the gambling properties fight out-of-state competition against what it might expect to recoup from those stronger properties—and when.
As local government units unexpectedly saw their guaranteed admission tax revenue eyed by the state to compensate for lost state tax dollars, things became more complicated.
The plot thickened when February gambling revenue posted the steepest year-over-year decline in state history on both a percentage and real-dollar basis—even before the big, new, land-based Cincinnati casino now advertising on Indianapolis television and radio opened.
With unresolved big-ticket items including taxes, education, Medicaid and gambling hovering about the legislative agenda, the April revenue forecast looms larger than usual.•
__________
Feigenbaum publishes Indiana Legislative Insight. His column appears weekly while the General Assembly is in session. He can be reached at edf@ingrouponline.com.
Please enable JavaScript to view this content.