If you've played big-time sports recently, gone to Disney World, or visited one of Las Vegas' biggest casino resorts, you've likely stepped on, sat in, slept under or rolled dice over a product made by Anderson-based Coeus Technology.
And if, like tens of millions of Americans this week, you've watched NCAA basketball games, you've seen hundreds of athletes bolstered by Coeus' ingenuity.

Coeus founders Nate Richardson and David Parker have invented a chemical that kills dangerous bacteria, including potentially deadly staph. The product—marketed under the names MonoFoil and Ultra7—can be sprayed, wiped or electrostatically injected onto and into just about anything, ranging from uniforms and basketballs to building walls and bathroom stalls.
Like a lot of common cleaners, Coeus' products kill germs on contact. But what sets these cleaners apart is their ability to bond to just about any material to form a germ-killing barrier that lasts two weeks to six months. MonoFoil destroys bacteria and viruses, while Ultra7 kills mold and mildew.
The product is catching on fast: Sales are on track to grow this year more than 1,200 percent, to $4.3 million. Coeus has moved out of the business incubator where it opened shop in 2009 and into its own facility.
"With most cleaners, surfaces can become recontaminated two to four minutes after use," Richardson said. "That's the big difference."
MonoFoil can be used as a detergent additive in clothes washers, added to textiles during clothing manufacturing, or mixed with concrete or drywall during construction.
The product can even be applied to surfaces such as wrestling mats and—via a device with 8-foot booms pulled by a Gator—used to sanitize artificial turf.
"It's a product that lies in wait," Richardson said. "It sits there, and when a germ comes in close proximity, it draws it in and blows it apart. It's a physical killing process. Germs and mold cannot adapt to that type of mechanism."
An outbreak of cases of staph and other infections among athletes in the last half-dozen years—notably in Texas in 2007 and Florida in 2010—helped Coeus gain a foothold in the sports world. Athletes in contact sports such as football and wrestling are especially susceptible, but other athletes have also faced the problem.
Coeus clients include the NFL's Detroit Lions and NBA's Indiana Pacers and college programs including Auburn, Indiana, Notre Dame, Butler, Marian and Purdue.
Clients backed up Coeus' claims that its products wipe out staph infections, pink eye, MRSA and other illnesses in locker rooms, workout areas and playing venues.
"Their product has helped us keep our players on the playing field, no doubt," said Mitch Gudmundson, IU director of football equipment operations. "I've been in this business a long time, and I've never seen anything like this product before."
Since IU began using the product in 2009, Gudmundson said, cases of the common cold and flu "have been dramatically reduced." It also virtually wiped out cases of pink eye, which used to be a big problem.
Officials for Marian, one of the company's first clients, said they had 20 cases of staph infection among their football players yearly until they started using Coeus' cleaning solutions more than three years ago. Since then, Marian hasn't had a single case.
College and pro basketball teams report similar results.
The Indiana Pacers use Coeus products in the locker rooms and training areas at Bankers Life Fieldhouse. Josh Corbeil, Pacers head trainer, said the antimicrobial solutions have done everything the company promised.
Big growth plans

Richardson
Coeus has 16 employees, but the owners said they'll likely add 10 more within 12 months as revenue is projected to grow from $350,000 in 2012 to $4.3 million this year. If revenue hits projections, the manufacturer will sell 500,000 gallons of cleaning products this year.
The company's rapid growth in sports and prospects of expanding in the health care sector have spurred Coeus to move from the Flagship Enterprise Center, an Anderson business incubator, to its own 40,000-square-foot manufacturing plant.
Richardson and Parker, who grew up together in Bloomington, pooled their own money and borrowed from friends to come up with $500,000 in startup capital.
The duo is now pouring another $130,000 into Coeus' new plant and will invest $2 million by early next year in buildout and will add bottling and other manufacturing equipment. All the company's products will be made in Anderson, Richardson said.
Coeus sells its cleaners—for $33.95 a quart—direct-to-consumer, mostly through its own website, though it has a deal to sell through HomeDepot.com and is meeting with the home shopping television channel QVC later this year.
The company has done little marketing so far, but officials plan to hire a marketing firm and launch a formal campaign this year, Richardson said. Coeus and its products were featured on Fox News' national newscast earlier this year.
From the sports and janitorial worlds, word has spread, helping Coeus make sales to the likes of Disney, the MGM Grand Hotel & Casino and Aria Hotel & Casino in Las Vegas.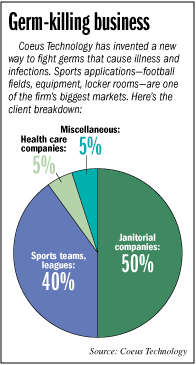 Skeptics turn into clients
Despite myriad endorsements and a number of signed contracts guaranteed to push sales, Richardson said the product wasn't initially an easy sell.
"Saying that it was extremely difficult to get a foot in the door with this product would be an understatement," said Richardson, the company's majority owner and CEO. "It was tough to get people to believe this wasn't pie in the sky. This is real technology."
Richardson and Parker, both 41, were military veterans who first thought of a long-lasting germ killer as ideal for the nation's armed forces.
The two native Hoosiers graduated from Indiana State University, Richardson with degrees in exercise physiology and biology and Parker in engineering. They used their backgrounds and collaborated with Anderson University chemistry and physics professor Scott Kennedy to invent their cleaners.
"We knew we had a really good product with a lot of applications," Richardson said. "But you can't visibly demonstrate the germ-destroying process. We've had to convince people to just give us a chance and over time we've been able to prove ourselves. Now, people are really starting to understand our products do everything we say [they do]."
"It sounds too good to be true," said IU's Gudmundson. "But it's not."
'Money to be made'
Coeus cleaners' ability to "blow up" cells from the inside out will be critical to their finding a following in health care, said Anne Thomas, dean of the University of Indianapolis School of Nursing.
"When cleaners and other agents try to kill germs without completely taking the cell apart, that allows a few cells to survive and evolve," said Thomas, a nurse for nearly 30 years. "That's how you get super bugs or resistant germs, and that's a huge problem in the health care industry."
The products have had a following among janitorial companies all along; that sector now makes up half of sales. The company's growing popularity in the sports industry is more recent; sales to teams and conferences are now 40 percent of revenue.
Richardson thinks sports and health care are the biggest potential markets. He said MonoFoil has passed final testing to be registered as a "hospital grade disinfectant" by the U.S. Environmental Protection Agency.
"We're just waiting for the paperwork to be finished," he said, likely in a few months.
With that certification in hand, sales to hospitals and other health care facilities could "explode," Thomas said.
"The spread of airborne illnesses and infections in hospitals is one of the most pressing in the health care industry," she said. "If this product does what they say, there's a lot of money to be made here."•
Please enable JavaScript to view this content.