Brian Payne popped his bicycle onto a curb and zipped down the sidewalk under the Virginia Avenue Parking Garage. Emerging back into daylight, he took a cell call as he pedaled, all the while staying close to a green line freshly marked on the pavement and street, indicating what would eventually become the Indianapolis Cultural Trail.
At the time, in 2007, the lack of pedestrians along Virginia Avenue didn't make his behavior much of a safety issue. Back then, the stretch between Fountain Square and downtown might as well have been the Forbidden Zone.
The Glick Peace Walk features glass sculptures celebrating "luminaries" including Albert Einstein and Booker T. Washington. (IBJ file photo)
Payne spent a significant amount of bike time in the mid-2000s trying to explain to anyone who would listen that the green painted line was not going to evolve into just a sidewalk or bike lane. It was going to be more—something that would revolutionize the city.
Six years after that ride, the trail will have its official ribbon cutting May 10 with a coming-out party on May 11, featuring entertainment throughout its nearly eight miles. And that's when boosters and skeptics alike will be watching to see what exactly Indianapolis is going to do with its difficult-to-grasp landmark.
Hatched in 2001, Payne's original idea for the Cultural Trail (full name: The Indianapolis Cultural Trail: A Legacy of Gene & Marilyn Glick) was to create an urban version of the Monon Trail, only connecting the city's newly designated cultural districts. He managed to get a feasibility study tucked into an already existing city contract. The result estimated the project—then a 5-1/2- to 6-mile idea—would cost $21 million.
Recalled Payne, "I thought, 'Wow. We should be able to raise that.'" His thought was that the majority would come from philanthropy and the rest from federal transportation dollars.
"I wasn't daunted," he said, "until $21 million became $50 million."
The total cost of the project eventually grew to $63 million, including a $6 million maintenance endowment. The funding split ended up at $35.5 million from the feds and $27.5 million from private donations. No local tax dollars were used.
The big ask

Payne
On paper, Payne wasn't the kind of person you might expect to pull off something of this scale. One of the many surprises about the project is that the city—from construction unions to philanthropists to the Mayor's Office—listened to a guy whose resume, through 2000, was populated largely by stints as managing director of two theater companies: Shakespeare Santa Cruz and then the Indiana Repertory Theatre.
Respectable organizations, yes, but hardly the stuff of transformative city planning. Yet Payne began rallying support for the Cultural Trail less than a year after he took over as president of the Indianapolis Foundation.
Of course, it helps that Payne approached Eugene and Marilyn Glick about the project. Payne's first pitch was to name the trail's west corridor, through IUPUI, after the couple. The price tag: $6 million.
Payne didn't get anywhere, though, until the Glicks' advisers tipped him off that the charitable couple wasn't interested in naming a slice of something. It was the whole thing or nothing. Payne upped the ask, landing a commitment for $15 million, with the mandate that the trail include the Glick Peace Walk.
"It was something my father always wanted to do," said Marianne Glick, daughter of Gene and Marilyn and chairman of the Glick Foundation board. "He'd been talking about it for over 20 years. Originally, we talked about having some kind of monument, but then Brian Payne talked to us about the concept of the Peace Walk as part of the Cultural Trail."
For the walk, on Walnut Street, between Capitol Avenue and Meridian Street, the Glicks agreed to pony up an additional $2 million above their $15 million pledge. The two-block stretch features glass sculptures celebrating "luminaries"—including Albert Einstein, Mark Twain and Booker T. Washington.
"We're very happy with how the trail turned out," said Marianne Glick. "There have been many times already that I've walked downtown on the trail and I get tears in my eyes. It's an amazing feat for Indianapolis to accomplish and I really think it improves the quality of life."
New leases on life
The Cultural Trail certainly has had an impact on real estate development. Early grant applications predicted the trail would generate $863 million in nearby development, a questionable claim since the study gave the project credit for anything within a half mile (essentially everything downtown).
But there has been activity. Indianapolis Cultural Trail Inc., which oversees everything from programming to snow removal for the trail, points to a list of businesses that specifically chose locations because of the trail, among them The Libertine, the 500 Festival Headquarters, Best Chocolate in Town, and, obviously, the apartment/retail complex dubbed Trail Side on Mass.
Architect and real estate developer Craig Von Deylen has found an unanticipated problem at The Hinge, the mixed-use apartment and retail building his company, Deylen Realty, built at 719 Virginia Ave.
"We're struggling to have room for all the bikes," he said. "We just had a conversation today about where to store additional bikes. The parking garage is full."
He's still hoping for a music venue and a grocery store to accommodate the young professionals and empty-nesters his development is attracting, but he credits the Cultural Trail project as a key in his decision to build at that location.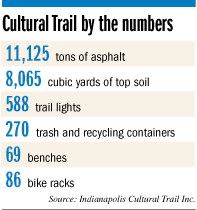 Heartland Truly Moving Pictures picked a spot in Fountain Square, in part, because the trail would provide a stronger connection between the neighborhood and downtown.
"It was a factor," said Tim Irwin, Heartland's artistic director, noting that the trail has already yielded economic development fruit. "Businesses keep moving in. Stuff gets flipped into something new. And, when the weather's good, we see people biking, running, walking. People are discovering Fountain Square and the trail makes it even more accessible."
Heartland has embraced its new street/trail presence by showing films during First Friday evenings and will also offer screenings during the May 11 festivities both in the office screening room and at Fletcher Place.
Other, pre-existing properties are taking advantage of the new amenity. Both The Alexander Hotel (which isn't even on the trail) and The Conrad Indianapolis, for instance, are offering complimentary bikes to their guests for trail riding.
But local bicyclists gripe about the Conrad's use of part of the trail for valet parking: Even Payne has ignored a walk-your-bike sign the city erected at the hotel's request, saying he's willing to risk "scratching a Bentley" rather than dismount.
In search of a definition
The trail itself has proven a tricky thing to define. While it's not too difficult to wrap your imagination around city icons like St. Louis' Gateway Arch or the Seattle Space Needle, the Indianapolis Cultural Trail faces explanatory challenges. "What is it?" visitors ask.
Payne's response: "… a buffered, beautifully paved, richly landscaped and artfully lighted pedestrian and bicycle path through downtown Indianapolis. It connects to the five downtown cultural districts and to every significant arts, cultural, heritage, sports and entertainment venue."
Marianne Glick is a bit more concise: "I just describe it as a beautiful way to walk and experience our city."
The people who have to be more specific are those marketing Indianapolis as a destination. Visit Indy has been aggressively trying to sell the Cultural Trail as story fodder, finding some success with recent placements in Midwest Living, Woman's Day, Cincinnati Magazine, Chicago Magazine and others. Away.com led with, "Indianapolis … really?" when including the city among its "Best Cities to See from a Bicycle Seat" and MSN.com put it on its "Happy Trails to You" list along with Flagstaff, Ariz.; Anchorage, Alaska; Atlanta; and others.
"When visitors fly in for the 500 on Delta," said Morgan Greenlee, senior communications manager for Visit Indy, "they can open their in-flight magazine and see a spread about the trail."
City planners in Paris, Copenhagen and Amsterdam are watching to see if we can pull this off, she said. In her pitches, she always talks about Project for Public Spaces, which said Indianapolis "is taking what may be the boldest step of any American city towards supporting bicycles and pedestrians."
"It's taking urban design and green infrastructure to an unprecedented level," Greenlee said. "There's 525 new trees. Five acres of new landscaping. $2 million in art commissions."
If anything, the trail's story is getting short shrift, said urban analyst Aaron M. Renn of Urbanophile.com.
"If it had been done in New York or Chicago, it would be seen as a paramount national project that everybody would be looking to imitate," Renn said. "I don't think it's gotten its due."
Artistic setbacks
The art commissioning has been one of the few glitches so far in the implementation of the trail vision. In addition to the Peace Walk luminaries, curated pieces have been placed along the trail, including Jamie Pawlus' whimsical "Care/Don't Care" mock street sign and Sean Derry's "Chatham Passage," which uses an underground "scent machine."
One piece you won't see is Fred Wilson's "E Pluribus Unum." That sculpture was to appropriate the image of the African-American slave from the Soldiers and Sailors Monument, standing him on his own pedestal holding a flag representing African nations. After relatively trouble-free early public meetings, an editorial in the Indianapolis Recorder sparked debate that eventually led to the cancellation of the project.
A different kind of problem faced Acconci Studio's "Swarm Street," featuring thousands of embedded LED lights designed to "follow" hikers and bikers heading through the Virginia Avenue parking garage. Unfortunately, designers didn't take into account how much rainwater finds its way into such garages, causing implementation delays. As such, it's one element of the trail that won't be ready for opening festivities.
As for the future, Karen Haley, executive director for Indianapolis Cultural Trail Inc., which is funded by the maintenance endowment, said a lot will be determined by what happens May 11.
"There's no precedent for programming a trail," she said. "I don't think there's ever been an eight-mile-long event. So we'll learn the logistics of doing something over the entire trail. We'll learn from the restaurants and businesses if they got more foot traffic. Should we have constant activity on the trail? Pop-up music players? Impromptu art? Or more interactive, thoughtfully planned activities? There are a lot of lessons to be learned."•
Please enable JavaScript to view this content.