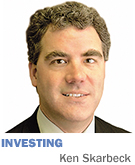 Economic and political spheres are abuzz with the recent discovery of a mathematical error made by Harvard professors Carmen Reinhart and Kenneth Rogoff in their seminal analysis of debt-laden economies.
Their paper, "Growth in a Time of Debt," was published in January 2010 and concluded that economic growth slows dramatically when a country's debt level rises above 90 percent of GDP. The professors, whom we'll call R&R, are also authors of the book "This Time Is Different."
Their research quickly became influential in global political circles and was often referenced by politicians supporting austerity measures to tackle high sovereign debt levels. That changed a few weeks ago.
It was then that a graduate student at the University of Massachusetts at Amherst, whose course assignment was to replicate the results of the Harvard research, discovered that the professors had selected the data of only 15 of the 20 countries in their Excel spreadsheet when calculating their key value for GDP growth.
The error left out the data for Australia, Austria, Belgium, Canada and Denmark. Also, four years of GDP rates for New Zealand, when its debt was above the 90 percent debt-to-GDP ratio, were missing. The average growth rate for New Zealand in that period was 2.6 percent, vs. the figure of negative 7.6 percent used by R&R in their overall calculations.
On April 15, the UMass group published their corrections to the Harvard professor's research, showing that the math errors significantly changed R&R's conclusions. Since then, a firestorm of rebuttals has shown up in the press. R&R were quick to acknowledge the math errors, but stood by their conclusions that too much debt leads to lower rates of GDP growth.
The UMass group claims there is "no definitive threshold for the public debt/GDP ratio, beyond which countries will invariably suffer a major decline in GDP growth." In fact, their data point to public debt's playing a key role in overcoming a recession and that the current environment is precisely when they would expect public borrowing to have positive effects.
Discovery of the errors has reignited the debate over whether austerity (in contrast to economic stimulus) is the best approach to tackle elevated debt levels and fight the economic malaise that continues to plague economies around the globe.
Dean Baker at the Center for Economic and Policy Research asks how much unemployment the R&R mistake caused. In Europe, R&R's work has been used to justify austerity policies that have pushed Eurozone unemployment over 10 percent.
Economist Paul Krugman calls R&R's mistake "a rare economic TKO." He and former Treasury Secretary Lawrence Summers have been advocates of further government stimulus. They argue that, by increasing borrowing and investing in the future, the economy will eventually generate enough growth to pay for itself.
Lessons gleaned from this affair point to the dangers of accepting academic studies as dogma. While rational observers would agree that elevated levels of debt are undesirable, the call for austerity policies has suffered a blow.
I must say, the events have altered my thinking to some degree. The new findings would also seem to endorse the policies being followed by Ben Bernanke.•
__________
Skarbeck is managing partner of Indianapolis-based Aldebaran Capital LLC, a money-management firm. His column appears every other week. Views expressed are his own. He can be reached at 818-7827 or ken@aldebarancapital.com.
Please enable JavaScript to view this content.