Once upon a time, before "Shrek" left his swamp, before "Rise of the Guardians" arose, and before "Grimm" battled "Once Upon a Time" to determine who would rule the revisionist fairy-tale kingdom on TV, there was "Into the Woods."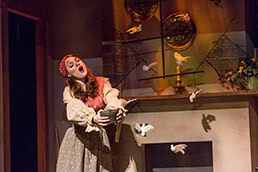 Julie Bonnett's Cinderella upgrades Civic's production of "Into the Woods." (Photo courtesy of Zach Rosing)
Stephen Sondheim and James Lapine's 1987 musical creatively mashed together the familiar stories of Cinderella, Rapunzel, Jack and the Beanstalk, and Little Red Riding Hood, baking in a new tale about a baker and his wife longing for a child. The first act resolved into a "Happy Ever After" that led some to believe the show was over.
A second, grimmer act dealt with the ramifications of fulfilled wishes. Do you really want to marry a prince you barely know? What are the psychological effects of you and your granny being eaten by a wolf? And what about the giantess whose husband was killed by the thieving Jack?
Heady stuff, indeed, especially when disguised as a children's show. Part of the pleasure of seeing Booth Tarkington Civic Theatre's production of "Into the Woods" (April 26-May 11) was sensing the audience's reactions when things started to go wrong—particularly when death enters the picture.
What was surprising about this avocational theater production wasn't boldness in casting or design (although the lighting by Ryan Koharchik is first class). Civic isn't known for unconventional stagings, and "Into the Woods" was played pretty much by the book. Rather, what was surprising was the palpable, not-watered-down sense of doom that hung over that second act.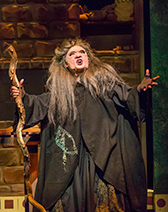 Nathalie Cruz as the haggard witch. (Photo courtesy of Zach Rosing)
Having seen multiple productions of "Into the Woods," including the Broadway original, you'd think I'd be immune to its tensions. But the Civic folks managed to make that second act appropriately troubling rather than troublesome. When the baker sang of "wondering what even worse is still in store," I felt that fear in the audience.
Most cast members—including a too-old Riding Hood and an uninspired Jack—offered variations on the readily available recording of the Broadway production. Standing out, though, were Nathalie Cruz—particularly in the first half when her haggard witch carried a desperation scarier than her spells—and Julie Bonnett, giving a rich truthfulness to Cinderella that I haven't seen in any previous production.
__________
In a talk-back discussion after a performance of his play "Our Experiences During the First Days of Alligators" in Garfield Park, David Hoppe noted that the play came to him in a dream in the 1980s. He promptly turned it into a novella before ultimately adapting it for stage.
Both those early forms—dream and prose—temper the effectiveness of the resulting play, given a gutsy world premiere by NoExit Performance through May 18. Creating original, site-specific theater, as evidenced here, is no walk in the park.
Still, it's a play worth experiencing. With a central metaphor so obvious that even the characters in the play comment on it, "Alligators" is set in a world where a plague of the titular beasts has descended.
We never hear of them actually mauling anyone. They are unsettling because of what they could potentially do, not because of what they actually do. As such, they represent our fears—fears that our main characters are attracted and repelled by, ultimately coming to terms with the beasts as yet another element in a crazy world they have to learn to live with. Adaptation, Hoppe seems to say, is humanity's strongest trait.
If only he had adapted his story with greater theatricality. "Alligators," as it stands (or slithers) still feels too tied to the page. A lengthy slow-motion opening—a silent overture of sorts—succeeds in separating us from the real world. But the opening, followed by story-theater-style monologues, resulted in too long of a wait before there was any engagement with the characters.
Once that happens, many of the moments work as storytelling but not often enough as drama. Compelling visual ideas, an artfully staged sex scene and some smartly written stretches are a plus, as is Andy Fry's original sound design and solid acting (particularly by Lauren Briggeman, who can generate distracted intensity without saying a word).•
__________
This column appears weekly. Send information on upcoming arts and entertainment events to [email protected]
Please enable JavaScript to view this content.