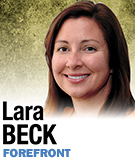 It's hard not to miss first lady Karen Pence these days. From reading to kindergartners to supporting the arts to visiting schools in Fort Wayne, she's everywhere.

Indiana loves its first ladies. I saw this firsthand when I served as former first lady Maggie Kernan's chief of staff and had the amazing opportunity to travel the state with her.

A first lady has a tremendous platform before her. She is a powerful surrogate for her husband. She can put forth issues she cares about, whether it's education, literacy, history, the arts, people with disabilities, or community-building. Judy O'Bannon tackled nearly all of these and more in her eight years as first lady.

Maggie Kernan focused on a passion near to her heart, mentoring. Her business background was invaluable as she led the development and implementation of Mentor Indiana, which targeted 15 schools in 12 Hoosier communities, and provided middle-school students with mentors from local businesses and organizations.

Becoming a first lady is a little like getting engaged. First, there are congratulations. Then, everyone asks, "What's your cause?" rather than, "When's the date?"

Every first lady finds a way to make it work. Maggie Kernan and Susan Bayh continued in their paying jobs. Cheri Daniels embraced the State Fair. O'Bannon likely visited every Hoosier town with her Millennium Toolkit, which got folks thinking about 2000, and later the state's upcoming bicentennial. Kernan also visited our National Guard members in Bosnia, a profound and humbling experience.

An educator who cares deeply about children, I look forward to what Pence chooses.

Issues aside, one of the most tangible—and visible—aspects of the unpaid first lady position is the Governor's Residence. The stately Meridian Street home is just that. A home. It's where Gov. and Mrs. Bayh raised their young family. Gov. Kernan shot hoops in the driveway and Maggie Kernan grew tomatoes in the garden.

An out-of-state reporter once called the office to inquire about the costs of maintaining the residence. He was comparing it with the governor's mansion in his state. At one point, he asked if we had a cook and was shocked when I told him no. "The governor makes his own toast," I said, cringing that my comment might end up in print.

The O'Bannons threw open the Residence doors and made it the "state's living room." Thousands of people visited every year at countless functions.

These functions prompted Judy O'Bannon to embark on the ambitious and challenging journey of renovating the Residence for accessibility purposes. Her guests with disabilities couldn't pass from room to room without someone carrying them. They had to use portable toilets outside, because the facilities were not accessible.

In December 2002, the Governor's Residence Commission approved the final plans for an accessibility project. The O'Bannons even moved to temporary housing at Fort Benjamin Harrison. Sadly, they never returned to the Residence to live.

The entire project was financed with private donations, and was completed for under $1 million. Approximately 130 individuals, organizations and businesses donated funds, while more than 20 made in-kind donations such as goods and services. Judy O'Bannon and her talented staff secured every donation.

I was thrilled when Gov. Pence and the first family moved into the residence this year. Like other governors and first ladies, they will determine how best to make it work for their family. However, if Karen Pence's first few months are any indication, she is off to a good start.•

__________

Beck served on the staffs of former Mayor Bart Peterson and former first lady Maggie Kernan. A resident of Irvington, Beck owns the strategic communications firm Beck Communications. Send comments on this column to ibjedit@ibj.com.