An internationally known architectural team chosen to design a proposed IndyGo transit hub is no longer on the project, to no surprise of local architects who insist the transit agency botched the selection process from the start.
IndyGo made quite a splash in November when it chose a team led by London-based powerhouse Arup and renowned design architect Daniel Libeskind.
But the honeymoon lasted about as long as a celebrity marriage, as IndyGo quietly dumped the team a few months ago in favor of one led by the Indianapolis office of San Francisco-based URS Corp. that also includes locally based Axis Architecture.

Terry
In the meantime, local architects who spoke on condition of anonymity continue to question IndyGo's decision to hire Arup, charging city officials let politics sway their decision. They contend Arup landed the job with the help of connections including Department of Metropolitan Development Director Adam Thies.
At stake was a contract to handle design and engineering for the roughly $18 million transit hub project.
The architects claim Arup's selection was aided by its plans to partner with the newly formed design firm Anderson+Bohlander. Before launching the local firm, principals Joshua Anderson and Jon Bohlander worked with Thies at Eden Collaborative.
Thies, who took over the top post at DMD in September, said he shut down Eden upon getting the DMD job and has no financial ties to Anderson+Bohlander.
"Did I advocate passionately for the Arup team? Yes. Arup is widely regarded as a national leader in transit design and engineering," Thies said in an email. "Did I contact any other member of the selection committee and try and influence their scores? No."
Arup is best known for its work on the Sydney Opera House and more recently the Bird's Nest Stadium for the 2008 Olympics in Beijing. Libeskind's credits include the Jewish Museum in Berlin, an expansion of the Denver Art Museum, and the redevelopment of the World Trade Center site in New York City.
Urban design aficionados lauded Libeskind's participation on the project as a coup for Indianapolis, which typically avoids hiring big-name architects to design significant downtown structures.
"I'm not saying it's right or wrong, but most cities have one building in their downtown designed by a Pritzker [Architecture Prize] winner, and Indianapolis has not embraced that model," said urban development consultant Aaron Renn, who writes the Urbanophile blog.
Still, the local architects insist committee members should have never selected the team of Arup and Libeskind since the fees they command likely would be too much to justify for a project costing less than $20 million. The firm's fees would have been at least $2 million, sources said.
A contract calls for URS and Axis Architecture to be paid about $1.4 million for their work—$1.2 million in design fees and $225,000 for construction services.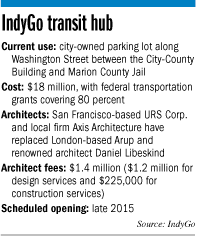 It's rare in Indianapolis for a chosen development team to fail to reach terms on such a deal. Other terms of the contract besides cost contributed to the failure to land Arup, said Michael Terry, the IndyGo CEO.
"We weren't able to come up with a contract that made sense, so we decided to part ways and move on," he said. "It was an amicable separation."
Arup officials did not return phone messages.
Local architects who spoke with IBJ said they weren't surprised the deal fell through.
"A number of firms and individuals suggested to the various people involved well ahead of time to be careful of being enamored with international stars, because it's inherently difficult to negotiate contracts," said one local architect who did not want to be identified. "The scale is such that it certainly could be handled by local teams."
An eight-member selection committee including city and local transit officials reviewed 14 submissions of qualifications. After Arup, the other finalists in order of score were URS Corp.; locally based Ratio Architects; locally based CSO Architects; and Columbus, Ohio-based Burgess & Niple Inc.
URS ultimately landed the design job in early March and brought on Axis Architecture. URS, which has an Indianapolis presence, is a massive engineering, design and construction firm with projects in nearly 50 countries.
Axis' projects include the Nature Conservancy headquarters, ExactTarget interior renovations, the Visitors Center at White River State Park, Wheeler Arts building and the Indiana Veterans Cemetery in Madison. Its portfolio does not include any transit projects.
The IndyGo transit hub is planned for a city-owned surface parking lot along Washington Street between the City-County Building and Marion County Jail. It would serve as a hub for IndyGo buses and future transit offerings, and include retail space and parking. Federal transportation grants would cover about 80 percent of the cost, with local matching funds covering the rest.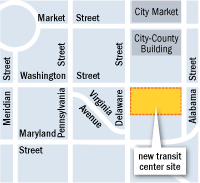 An environmental review of the site could be completed by the end of summer, with the design phase to follow. Construction is slated to start next year with completion by the end of 2015.
Though Renn of Urbanophile and others lament the loss of Libeskind's involvement, they still expect URS and Axis Architecture to produce a quality project.
"The key is still execution on a quality design," Renn said. "That's true regardless of whether or not there is 'starchitect' involvement."
Michel A. Mounayar, associate dean and professor of architecture at Ball State University's College of Architecture and Planning, echoed Renn's sentiments.
"Of course, there's always that star power that's very helpful," he said. "But ultimately, it's the quality of the design that's going to speak, and that's what's really critical."
Jim Schellinger, managing partner of locally based CSO Architects, said he hopes the city will consider local architectural firms first for future projects.
"I'm hoping that this doesn't become a trend, that they think the only ones who can deliver quality projects are out-of-state firms," he said.
Anyone dissatisfied with the selection process is free to file a formal protest, Terry noted.•
Editor's Note: This story has been updated to reflect a correction that ran in the June 10, 2013, issue of IBJ.
Please enable JavaScript to view this content.