Chris Barney is thankful he knows whom he knows. Otherwise, he might not be able to run his business.

Barney runs Team Cruiser Conversion Co. Inc., which buys chassis and installs equipment for dump trucks, garbage trucks and other work trucks.

The business model is lucrative, but it has a lot of upfront costs that require outside financing to pick up a contract. He at least has plenty of friends in banking and finance to help get the capital he needs.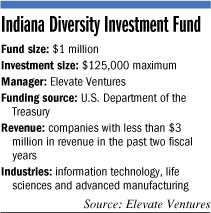 Having Minority Business Enterprise certification, while usually a boon for business because of its advantages with getting government contracts, scares off a lot of investors, said Barney, who has owned Team Cruiser for 20 years. If investors take too large a stake in a company, it can lose the mandatory 51-percent minority-ownership requirement.

Companies like Team Cruiser are why Elevate Ventures, a not-for-profit investment firm in Indianapolis, launched the $1 million Indiana Diversity Investment Fund in early June.

"I think too often, when we think of women and minorities … we often think they're hobby businesses," said Deborah Stephens, a San Francisco-based consultant and author Elevate recruited to steer the fund. "Some of them may be, but lots of them are viable businesses that employ people."

Investment funds for women have grown momentum in recent years, but the concept of a fund for minorities is almost unheard of, said Lesa Mitchell, a vice president at the Ewing Marion Kauffman Foundation, a not-for-profit in Kansas City, Mo., that studies entrepreneurship.

"I found it interesting you're from Indiana," she told IBJ. "I would have been less surprised if you were from L.A."

Indiana isn't exactly progressive when it comes to who runs businesses.

One in 26 women own firms in Indiana, while the rate is one in 20 nationally, according to the U.S. Census Bureau's most recent figures, from 2007.

Minority-owned businesses experience an even wider gap.

One in 12 white Hoosiers owns a company, while that rate is a meager one in 28 for minorities. Nationally, one in 19 minorities owns a business.

Veteran-owned companies are not even tracked on a state level by the census.

Indianapolis laid claim to the diversity fund largely because of Stephens' longtime friend and colleague, Billie Dragoo, who founded Indianapolis-based health care human resources firm RepuCare.

Dragoo is also a former president of the Indianapolis chapter of the National Association for Women Business Owners, and she will take over as chairwoman of the national office this month.

"One of our biggest challenges, which has never changed in I don't know how many years, is access to capital," she said. "It's hard for women to get money from other businesses."

So Dragoo pitched to Elevate the idea of an investment fund for women.

Elevate's leaders agreed with Dragoo, but decided they needed to include minorities and veterans, as well.

Dave Clark, a venture partner at Elevate, said the logic behind the fund goes well beyond being "the right thing to do."

Research shows businesses owned by women and minorities historically outperform male-owned firms in generating returns for investors.

"We view that whole area as underserved, obviously, but also undervalued," Clark said.

Elevate's interests

The $1 million earmarked for the Diversity Fund will be a fraction of the wealth put into Indiana companies.

Elevate, founded in 2011, typically takes only minority stakes in firms and uses its own investments to leverage funding from other investors.

Historically, every $1 that Elevate invests results in another $5 from other investors, Clark said.

The U.S. Department of the Treasury provides funding to the Indiana Economic Development Corp., which contracts with Elevate to manage the money.

For seed-stage investments, Elevate has $9 million in its Indiana Angel Network Fund, of which the Diversity Fund is a part.

Clark said Diversity Fund companies will need to meet the same qualifications and undergo the same due diligence as any other Angel Fund company.

Among the criteria, companies need to report less than $3 million in annual revenue for their past two fiscal years, and operate in markets of at least $500 million in sales opportunities.

"The angel fund is more for early-sales stage or 'ideation,'" Clark said, comparing it to the state's 21st Century Fund, which provides up to $1 million to early-stage companies ready to grow. "They're still shaping their plan or ideas, someone with a prototype ready for market."

Elevate invests only in health sciences, information technology and advanced manufacturing.

Individual investments from the main angel fund never exceed $500,000, but the ceiling is lower for the Diversity Fund at $125,000.

To be eligible for the Diversity Fund, businesses need to prove they are at least 51-percent owned by minorities, women or veterans.

Angels of affinity

Elevate and a handful of Indianapolis business leaders traveled to California in May to meet with some of the world's biggest forces in technology and investing—Google, Facebook and Pay Pal, to name a few.

Stephens, who in 1987 co-founded The Center for Innovative Leadership consulting firm in Silicon Valley, orchestrated the week-long trip to promote Indiana's investment prospects, especially the Diversity Fund.

The investment firm recruited her while she was traveling the country as a consultant, public speaker and author.

Per an invitation from Dragoo, Stephens—whom Dragoo described as having a "Rolodex of gold"—first met with Elevate in December to hear out the partners on their plan for a fund and offer guidance.

"I became so interested in what they were doing that they talked to me about possibly being a board member," she said. "I said, 'I want to get my hands dirty in this.'"

Now working as an internal consultant for Elevate, she spends her time finding companies worth considering for investments, as well as recruiting investors for Elevate's database of 2,000 angels.

She shied away from saying whether Elevate would zero in on women, minority and veteran investors to fund businesses led by people within their own demographics. The firm wants to keep the fund open to all investors, regardless of sex or ethnicity.

"What could happen is, we will bring really good deals before the investors, who might happen to be women or minorities," she said.

The concept, referred to as "affinity investing," has been around for decades, said Jeffrey Sohl, director of the Center for Venture Research at the University of New Hampshire. Notre Dame angels would find other Notre Dame people, for example.

There aren't many investment firms or angel networks for minorities. But women-focused firms, such as Golden Seeds in Philadelphia and Seraph Capital Forum in Seattle, have gained traction over the past decade, Sohl said.

Stephens said she did not want investors to see the Diversity Fund necessarily as a tool to give a leg up. It's as much a smart investment as anything, she said.

Overlooked get results

Backers say there is plenty of opportunity.

A September 2008 Kauffman Foundation report mentions "minority-oriented" venture capital investments started after 2001 and exited before 2006 had an "impressive" 29.1-percent internal rate of return.

And an American Express study showed the number of women-owned businesses increasing 50 percent from 1997 to 2011 while the overall rate was only 34 percent.

"A lot of companies run by women are more successful," said Mitchell, of the Kauffman Foundation. "My bet is, if we're betting, I'd bet on women.

"I don't think it's a dumb thing to do. I might not have said that five years ago. … We have a lot of data that show that women in leadership roles of these companies bring more successful companies to bear."

Sohl cautioned it can be hard to accurately gauge investment returns because a lot of results become discombobulated by small pools of data, especially for minority-owned businesses.

"Having said that, some of the research we did does show that women actually do pretty well, not in return rates, but in terms of survivability," Sohl said.

Whether a company will stay open is a big consideration for one of the riskiest types of investments, considering as many as 75 percent of all venture-backed startups fail, according to a Harvard Business School professor's research.

Clark said he could not discuss Elevate's own return rates because the firm, at less than 2 years old, has not exited any of its investments.

Applications roll in

Applications for the Diversity Fund began rolling in after IEDC announced the fund in early June, Clark said. The fund is large enough to support six to eight companies, maybe 10.

Those who don't receive money could still receive help from Elevate, he added.

The firm, as part of its economic development mission, frequently kicks investment leads to other potential financiers if it passes on a deal.

Elevate had found two or three companies as of early June that "look pretty promising," Clark said earlier this month.

Team Cruiser's Barney suggested Elevate consult with minority business owners, like himself, to guide themselves to deals.

"You've got to get people involved who understand the scaling of the business," he said. "If I had $3 million, I'd do it. And I wouldn't even blink."•