The IndyCar Series' quest to find a presenting sponsor that could eventually replace Izod as title sponsor—a task series officials earlier this year called their top sales priority—has taken a blow.

Greg Gruning, IndyCar's executive vice president of corporate sales and the series' point man in brokering big sponsorship deals, resigned in late June. Gruning could not be reached for comment.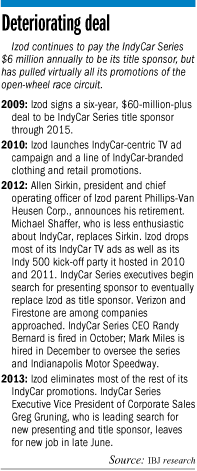 Izod's high-profile title sponsorship deal expires following the 2014 season, but many motorsports industry insiders expect the clothing maker will try to end the agreement early.

Some of the talks that began last year to bring in a new presenting series sponsor, along with some new ones, were heating up this summer when Gruning exited, sources close to the series said. Now, time may be running short to ink a deal.

"Right now is the peak of the selling season, so it's not too late by any means. But they need to be on it pretty hard," said Zak Brown, CEO of Just Marketing International, a Zionsville-based motorsports marketing firm that represents some of the biggest sponsors in NASCAR, Formula One and IndyCar. "I'd say they'd have to get a deal done within the next 90 days to have them in place for next season."

Miles
Brown is confident Mark Miles, CEO of IndyCar Series and Indianapolis Motor Speedway parent Hulman & Co., will ease the transition of the post-Gruning era.

"I'm sure Mark has a plan to replace, absorb or reassign those responsibilities so it shouldn't hamper sales efforts," Brown said.

Others are less certain.

"The task certainly becomes more difficult with the exit of Greg Gruning," said Ken Ungar, the former Indianapolis Motor Speedway chief of staff and IndyCar Series senior vice president before forming his own sports marketing consultancy, US Sports Advisors, in 2006.

"Greg is well-thought-of in this industry," Ungar added. "He'll be missed."

Miles said Gruning's departure was not part of his ongoing staff reorganization.

"He left to pursue other professional opportunities," Miles said.

In any event, Gruning's resignation increases the urgency for Miles to hire a president of IndyCar's commercial side. That search has been ongoing for months.

"We have a half a dozen excellent candidates, and I'm very optimistic in fairly short order, we'll have our person," Miles said. "I certainly want to have that role filled by the end of this season."

Former San Diego Padres President and CEO Tom Garfinkel has become a frontrunner to become president of IndyCar's commercial side, said motorsports industry sources.

Garfinkel, who resigned his position with the Padres on July 9, has had multiple conversations with Miles, sources said.

Before joining the Padres in 2009, Garfinkel, 44, was an executive with Major League Baseball's Arizona Diamondbacks for three years. Before that, he spent five years as executive vice president of Chip Ganassi Racing.

Miles said he will become more personally involved in sales efforts, adding that he is "bullish" on the series' prospects of landing new sponsors in automotive, financial services and technology categories as well as a presenting and possibly a title sponsor.

"I'm optimistic we can bring in new revenue that is meaningful," he said.

Instead of approaching companies with a singular pitch, Miles said IndyCar sales officials are showing them the series' "entire portfolio." This approach, he emphasized, "is a shift in strategy."

Although series insiders say Izod is on the way out, Miles said he isn't giving up.

"Izod may or may not be part of the series next year," he said. "We've not concluded talking to them about what next year would look like."

Izod replacement

Last summer, Gruning and then-IndyCar Series CEO Randy Bernard began quietly approaching companies to pitch them on a deal that would make them the open-wheel circuit's presenting sponsor and eventually elevate them to title sponsor.

The duo approached at least three companies with such an offer—including Verizon, Firestone and another unnamed technology firm—but those conversations have yet to bear fruit.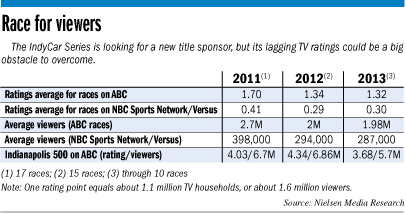 They were seeking a high-seven-figure sum with an additional mid to high seven figures spent on TV ads and other IndyCar-centric marketing.

Izod in 2009 signed a six-year, $60 million title sponsorship deal, but a management change at Izod parent Phillips-Van Heusen Corp. changed things.

In 2012, Michael Shaffer replaced IndyCar supporter Allen Sirkin as chief operating officer at PVH, and ordered a pullback in promotions related to the title sponsorship.

Last year, PVH pulled the plug on most of its IndyCar Series-related TV ads and other promotions, including its Indy 500 kick-off party Izod hosted with GQ magazine in 2010 and Spin magazine in 2011.

This year, the company dropped the majority of its remaining Izod IndyCar-related promotions—which had totaled $5 million annually in series marketing during the first three years of the deal.

While motorsports insiders said Izod has continued to pay the IndyCar Series $6 million annually, they are now refusing to promote the series. Izod, sources said, also has asked to have the deal terminated before it ends following the 2014 season. PVH officials did not return a call seeking comment.

While IndyCar officials don't appear to be obligated to find an early replacement for Izod, Gruning said before he exited that a title sponsor's willingness to spend on promoting the series is as important as the deal's cash value.

Growth obstacles

Gruning's exit is far from the IndyCar Series' only challenge in selling sponsorships.

Little growth in live attendance numbers at series races and declining TV viewership are giving sponsors pause about partnering with the open-wheel series.

The still-wobbly national economy hasn't helped.

North American-based companies will spend $3.8 billion to sponsor motorsports teams, tracks and sanctioning bodies in 2013, up 3.9 percent from 2012, according to Chicago-based research firm IEG LLC.

While that figure has come a long way from the dark days of 2008 and 2009, not all is rosy on the motorsports front.

The motorsports rebound lags IEG's projections of a 5.5-percent increase in overall sponsorship spending and 6-percent growth for all sports properties this year.

The IndyCar Series' future is likely more dependent on the direction Miles takes than any other factors, Brown said.

"A lot of sponsors are waiting to see what [Miles] does," Brown said. "So far, I think they like what they've seen."

Miles has been busy reorganizing his staff this summer, including promoting Doug Boles to president of the Indianapolis Motor Speedway and hiring Derek Walker as IndyCar Series president of operations.

The person Miles hires as IndyCar's commercial president is expected to lead sponsorship sales—including the hunt to replace the soured Izod deal. But Miles will have to get that person hired within 60 days for the new hire to make a big difference for 2014, sports marketers said.

TV ratings major concern

Before his exit, Gruning seemed optimistic the series could nail down not only a presenting sponsor, but also category sponsors in technology, financial services, and health and wellness.

"We've got some conversations going," he said last month. Now, sports marketers say, there's confusion about who will continue those conversations.

Gruning added that "there was interest out there" in series sponsorships, but conceded that TV ratings were a major concern.

IndyCar TV ratings have been down on network and cable TV this year, according to New York-based Nielsen Media Research. Through the first nine races, telecasts on ABC and NBC Sports Network were averaging 1.47 million TV viewers; that's a 24-percent drop from the same period in 2012. The Indianapolis 500 this year had 5.7 million viewers, down 16 percent from 2012.

Nine of the first 10 IndyCar Series races this year scored a rating below 1.0, according to Nielsen, with the Indianapolis 500 being the lone exception. But the 11th race this year—at Pocono—showed promise, scoring a 1.1 overnight rating. Each rating point means 1 million households nationally are tuned in.

"The series has to get its ratings consistently above a 1.0," Brown said. "That's what sponsors are looking for at the minimum."

Dave Moroknek, president and owner of MainGate Inc., an Indianapolis-based sports and licensed merchandising firm, sees a brightening future.

"I think the series is gaining a lot of traction all across the country," said Moroknek, who served as senior director of marketing and consumer products for the IMS and the IndyCar Series from 1992-2002. "We're seeing an increase in [IndyCar] merchandise this year and we've recently had a meeting with a national retailer with more than 8,000 stores that is interested in carrying licensed IndyCar products."

But Moroknek concedes that the lack of an "active" title sponsor is dragging the series down.

"Activation is paramount to the deal. It's more important than top-line cash," Moroknek said. "The series has to have a sponsor that will take them where the people are, whether in grocery store aisles, malls or wherever. If they don't have that level of awareness, it's going to be very difficult, if not impossible, to grow."•