About 2-1/2 months' worth of St. Patrick's Days ago, what is now McGinley's Golden Ace Inn (2533 E. Washington St., 632-0696) opened for business.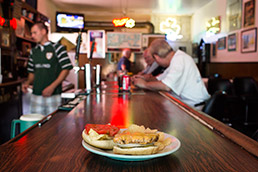 Quality and price are right at the legendary Irish bar McGinley's Golden Ace Inn.
(IBJ Photo/ Aaron P. Bernstein)
That was 1934 and, by the looks of it, the menu hasn't changed much—at least, price-wise. Factor in quality, and you'll agree that limiting your Golden Ace visits to that wearing-o'-the-green holiday is foolish.

At the Golden Ace, you don't have to spend much time thinking about what you are going to order. You've got five sandwiches, a trio of soups and fish (on Friday only, of course) to choose from. Come on the right night and you'll have to order over live Irish music—Paddy Reilly, Brigid's Cross, The Mickey Finns and many more have played through.

Come when we did, though—on a midweek lunch hour—and you are more likely to find pleasant conversation or comfortable quiet as recorded music gently, evocatively, plays. "Goodbye, my Boston beauty/Farewell my Boston rose …"

The music seems to come out of the walls, not the speakers—from the framed posters that could be from 1965 or last year, through the stained glass McGinley coat of arms, or from the World War II V-for-Victory sign behind the bar. That same authenticity permeates the justifiably praised, hand-formed, generously topped Hamburger ($3.75) or the piled-high Beef Bar B Que ($4).

Preceding them, we enjoyed the brothy Bean Soup ($1.50/$2), with plenty of floating onion shreds, and a meat-focused Chili ($2.25/$3.25). Sodas are poured out of a can into your glass. Cash is the only form of payment accepted. And the last Friday of the month means a conversion of the bar into the most intense trivia contest in Indy.

I returned on a Friday for the Fish Sandwich ($4.50), a perfectly cooked filet lightly breaded, fried and served hot with just enough lettuce, tomato and tartar sauce to accentuate without getting in the way. Like the burger, it put to shame most double-the-cost sandwiches elsewhere, even if the Golden Ace sides its versions with only a sprinkling of unpretentious potato chips.•

—Lou Harry

__________

Last in a month-long series of game-piece restaurant reviews (OK, we know—"Ace" is a stretch.) Next week, we explore new eateries in area malls—and chow down at the Indiana State Fair, of course.