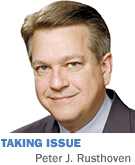 It's nice when a fellow Hoosier hits the big time. Latest is Princeton's Sydney Leathers, who exposed Anthony Weiner, ex-congressman and now New York City mayoral candidate, for continuing the "sexting" behavior that forced his House resignation.

Things started when the 23-year-old Leathers sent Weiner a message expressing disappointment in his conduct. Alas, this sparked a reprise. Ere long, there were intimate texts—Weiner's nom de l'amour was "Carlos Danger"—escalating to "phone sex" and trading nude photos. Leathers says Weiner never mentioned his wife, Hillary Clinton aide Huma Abedin, because "that would ruin the phone sex." Probably so.

Employing the charming patois of her generation, Leathers reflects: "Maybe I thought I was in love with him; in reality I wasn't, it was just the infatuation, and the whole situation was just really intense."

But she's developed insight. "I felt like, you know, he was saying one thing to me, saying another thing to his wife, saying another thing on the campaign trail. He is a liar." You think? Leathers learned Weiner was "just this needy little"—let's substitute "fellow" for her next word here—who "needs his ego stroked."

Leathers could be a psychoanalyst, but has higher aspirations. She told "Inside Edition" she'd been an Obama volunteer and was working on a political science degree. However, asked later by Howard Stern if she was "considering a porno," she said she'd talked with X-rated filmmaker Vivid Entertainment and was "keeping all my options open." Always wise.

Leathers is a perfect narrator for this, capturing the self-parody of such now-familiar soap operas starring public servants. Really, now. The texting protagonist is named "Weiner"? His handle is "Carlos Danger?" His inamorata is a 20-something named "Leathers?" She publicizes their exchanges on a website called "The Dirty?" Too much, even for a plot concocted by the Vivid folks.

Would that it were too much for anyone involved to remain in public life. But no; Weiner hangs on, supported by a loyal and/or ambitious spouse. Indeed, he's a victim. His sexting partners—several, though he assures "not dozens"—were people "I thought were friends, people I trusted when I communicated." Poor boy.

Now, he's battling political and media elites trying to force him out.

"If you'd like to help me fight back," he says, "please donate." And of course, this will make him a better leader. "I'm going to be a successful mayor because of it, because it's going to give me a level of independence."

Weiner's the most egregious, but far from the sole, example. Another is Eliot Spitzer, now running for New York City comptroller, who resigned as governor when disclosed as "Client 9," hirer of high-class hookers.

Spitzer, too, has emerged a better fellow: "I hope I have learned. I hope I have changed." And a philosopher: "Life has peaks and valleys. The peaks are more fun, but the valleys are more educational." But Spitzer says he won't vote for Weiner, and would fire anyone for such conduct. (Anthony, we Hoosiers say this is "being called ugly by a frog.")

Then there's San Diego Mayor Bob Filner, a serial groper since his congressional days. Filner confesses to failing "to fully respect the women who work for me and with me"—yeah, groping's a tad short of "full respect"—but suggests it's a generational thing: "Behavior that would have been tolerated in the past is being called out in this generation for what it is: inappropriate and wrong."

Filner now keeps up with the times. He won't resign, opting for "a behavior counseling clinic for two weeks of intensive therapy to begin the process of addressing my behavior."

On the GOP side, there's newly re-elected Rep. Mark Sanford, who in 2009 disgraced himself as South Carolina governor by darting to Argentina to visit his mistress, telling staff and media he was "hiking the Appalachian trail."

Ah, but the lessons he learned, announced on starting his 2013 campaign: "None of us go through life without mistakes, but in their wake, we can learn a lot about grace, a God of second chances, and be the better for it."

I hope Sanford learned a lot, and is indeed the better for it. The same may be true of Spitzer, and (someday) Filner and even Weiner. But they should put any lessons to use in some other field.

These stories have high entertainment value, but at high cost. Cynicism about politicians and our political system is off the charts. We've got to stop feeding it. Treating Weiner and his ilk as unfit for public office would be a good start.•

__________

Rusthoven, an Indianapolis attorney and graduate of Harvard College and Harvard Law School, was associate counsel to President Reagan. Send comments on this column to ibjedit@ibj.com.