An emerging network of angel investors from around the state will team with Indiana University next month on a workshop that will put them in the same room with entrepreneurs who'd like their backing.
In the end, high-net-worth individuals looking to put money into upstarts in exchange for an equity share will have polished their skills in vetting an entrepreneur's pitch.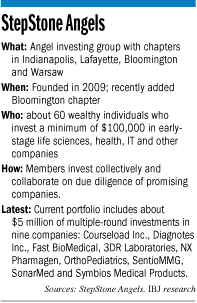 Angel-ready entrepreneurs, meanwhile, should walk away with more business smarts, a better understanding of how to make a pitch—and possibly with some angels with open checkbooks.
Indianapolis-based StepStone Angels, which has four chapters in Indiana totaling about 60 investors, had its first such Midwest E3 Summit last year. Then, the focus was on helping high-net-worth folks such as doctors to understand how angel investing works.
But this year's Sept. 25-26 workshop at The Montage in Indianapolis will have up to 20 companies in the same room with angel investors. Also on hand will be professors from IU's Kelley School of Business, who will cover topics from finance to marketing to operations management.
"This year we thought it really made sense to bring these groups together," said Oscar Moralez, CEO of StepStone. He's also founder of BioStorage Technologies, one of the largest repositories of biological samples.
Angel investment typically bridges the gap between early "friends and family" funding and venture funding that comes later.
"I'm a big fan of angel investment and the role it plays," said Todd Saxton, associate professor of strategy and entrepreneurship at IUPUI.
But Saxton said there remains a lack of knowledge about angel investing, which often is uncoordinated.
"Trying to bring a little more structure to that sector would be really, really positive for investors and entrepreneurs as well," said Saxton.
StepStone was launched four years ago in Indianapolis to herd angel investors by identifying potential investment opportunities while being careful not to act as an investment adviser.
Each member takes a role in researching investment candidates as part of a systematic approach to pool the collective expertise. The minimum investment is $100,000.
StepStone angels have invested about $5 million in nine companies including Indianapolis-based digital textbook firm Courseload and airway monitoring device developer SonarMed
One angel, Joe Muldoon, whose Fast Biomedical developed technology to monitor kidney functions and received funding from StepStone angels, has participated in eight deals.
"It's an expensive hobby but I'm kind of a business geek," said Muldoon, whose investments on balance "made a little bit of money," with help from a state tax credit available to investors.
"I'm far from having it all figured out," Muldoon said, but added that he's learned some basics, such as making sure to diversify his angel investment. One way to do that is to become part of an angel investing group, where participants collaborate on company analysis.
"It's critical that you spread the risk around," Muldoon said of the investment portfolio.
Many wealthier investors have been burned on traditional investments over the last five years, which has stoked interest in angel investing.
"Baby boomers looked to alternative investments after the vagaries of the stock market [upheaval] in the last several years," said Saxton.
That interest could be tamed by new rules proposed by the U.S. Securities and Exchange Commission, however.
The SEC wants to end a practice of allowing investors to "self certify" that they met legal eligibility to put their money at risk in such non-public offerings.
Instead, investors would have to provide detailed personal financial information to the entrepreneurs themselves or to third parties to verify the angel is accredited.
Critics say many would-be angel investors would balk at such disclosure. The angel industry is pushing for a number of alternatives that would satisfy the government while not scaring away potential investors.
"I'm very concerned about it. We're still trying to get our legal counsel to advise what to communicate to investors," said Moralez.
Nationally, angel investment last year rose nearly 2 percent to $22.9 billion, according to the Center for Venture Research at the University of New Hampshire.•
Please enable JavaScript to view this content.