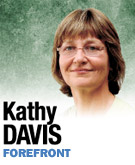 We welcome a new leader to town to take one of our most important jobs—superintendent of Indianapolis Public Schools.

This community cares about education. Whatever our personal feeling about what works best, we will rally around you, Lewis Ferebee, and help you deliver the learning experience every child deserves.

Around the world, people are trying to figure out what yields student success in the 21st century. The answer is not the same in every class and child, especially in schools where students have less than they need. How will we mobilize, use all we have, to make every school work for everyone?

There is a lot of commitment out there. We share a principle and value that every student is college- or career-ready when they finish school.

We have families and students who persevere under tough circumstances and help one another out.

We have schools with great teams of principals and teachers.

We have a place to live with excellent natural and built assets and people who work together to achieve goals.

We understand we need safety for engagement and engagement for learning, always in that order. And schools can't do it alone.

When we look at where we are, we see the need for improvement is urgent.

Performance is not good in two-thirds of IPS schools. The district has lost 10,000 students since my daughter Mollie, now a college freshman, started kindergarten. Peggy Hinckley and the board did a yeoman's task making budget cuts, but IPS has carried too much fixed cost for too long, spent down reserves, and still needs to cut $20 million from a $540 million budget.

If our commitment translates into improvement in IPS, we will attract new money. We will need to spend it to have kids start school younger and to enrich their experience.

My daughter had a good experience every year in IPS, excellent teachers and principals. But the administrative processes could be abysmal—a mandatory parent meeting on three days' notice with a 45-minute line outside on a cold night because of a single sign-up sheet at the door. Who does that?

New edicts handed down stopping good plans in their tracks because someone somewhere else made a bad decision. Poorly written communication. Guidance based on narrow assumptions. It's disheartening for a parent or community volunteer, worse for the teachers. Plus, teachers can be RIF'd or moved or worry over recurring notices of a pending separation until they are "rehired."

Fixing bad administration should be low-hanging fruit. But cracking this nut and breaking old, calcified habits has proven elusive. Please do it. Signal a new day for our students, teachers and community.

We need teachers to love their hard jobs. Good leaders and teams and the ingredients they need to succeed, with accountability and learning but no choking red tape.

Signal a new day, bring results and we will attract people to IPS.

Political strategies—reform, autonomy, charters, vouchers, portfolios or mayoral control—will ultimately shape the environment for schools, but not show us how to improve starting today.

We need you to protect the good things IPS has done and use each opportunity top down and ground up to make progress. Your message to students, your community call to action, your solution to the budget, your administrative design, how you measure student progress, evaluate teachers, design and manage schools.

Set the path and show us how to help; this community will deliver.•

__________

Davis is a former Indiana lieutenant governor who owns and operates the Indianapolis technology firm Davis Design Group LLC. Send comments on this column to ibjedit@ibj.com.