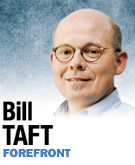 Brookings Institute researchers recently published a book called "Confronting Suburban Poverty in America" that profiles how quickly poverty is migrating from many urban centers to their surrounding suburbs. Metro-area poverty has grown fastest in the suburbs over the past 30 years—experiencing a 64-percent increase versus 29-percent growth in urban centers.
If this dramatic shift were occurring equally here in Indianapolis, it would force us to rethink how we provide social services throughout the region, potentially upending traditional community development.
However, Indianapolis continues to experience a concentration of poverty in urban core neighborhoods. It is critical that we focus seriously on growing the scale and quality of community development in these neighborhoods.
The Brookings study found that several factors spread poverty into the suburbs, resulting in 16.3 million suburban poor versus 13.3 million urban poor people.
The first factor is that the suburbs have just grown faster, increasing all income groups. Also driving up poverty in suburbs was HUD's de-concentration of affordable housing by shifting from massive public housing complexes to disbursed Section 8 rental vouchers. Yet another factor was the attraction of the rapidly growing number of suburban service jobs.
The alarming growth in national poverty is mirrored or exceeded here in Indianapolis.
Indiana is one of only seven states where the average income of those in poverty actually fell over the past 30 years. Suburban poverty in the metro area grew between 2000 and 2011—from 5 percent to 7.7 percent—and the suburbs also experienced a 57-percent increase in the number of children qualifying for free and reduced lunches.
Clearly, there is slow-growing poverty in our suburbs, particularly among families with children. Our slight growth in suburban poverty contrasts with the 25-percent increase in the total population of suburban Indianapolis, far exceeding the national suburban growth rate of 14 percent.
Indy's contrast with national population data is far greater when comparing poverty in Indy's suburbs and our city. The poverty rate in the city grew in the past decade from 12 percent to 21.4 percent, more than double the statistics for its suburbs. Poverty in our city actually rose faster than in all but seven U.S. cities.
So what does this mean for central Indiana policymakers?
The growing concentration of poverty in urban Indy calls for redoubled efforts. Some of our core neighborhoods have poverty rates as high as 40 percent, almost twice the city's overall percentage.
While the Indianapolis region has transitioned from its manufacturing economy to much more diversified sectors, urban neighborhoods bore the brunt of the closing of hundreds of old factories. Neighbors today often piece together part-time service jobs and public assistance to just survive.
Fortunately, we have great organizations like United Way, community centers, schools, and community development corporations working to create new opportunity for poor families and their neighborhoods. Efforts like the Super Bowl Legacy Initiative have shown partnerships between these groups and the broader community can dramatically change a neighborhood like the near-east side.
Urban neighborhoods can become places of opportunity again if we partner with neighbors to rebuild their economies, attract a more diverse range of residents, and create educational paths to living-wage jobs.•
__________
Taft is Indianapolis executive director of Local Initiatives Support Corp., a not-for-profit that invests in neighborhood redevelopment projects. Comment to ibjedit@ibj.com.
Please enable JavaScript to view this content.