The downtown apartment market is so hot that developers are adding thousands of units at a dizzying pace, leading to concerns over whether the market will become saturated.
Saturation is nowhere on the immediate horizon, said George Tikijian of apartment brokerage Tikijian Associates, but a slowdown will be difficult to avoid.

"Looking beyond the next 12 to 24 months, I think due to downtown's desirability, the market will be fine," he said. "It may just be a slower couple of years as these projects get absorbed."
The number of apartments downtown as of last year topped
4,700, a 70-percent increase from 2000. At the same time, square-foot rents grew from 90 cents to $1.24, Tikijian Associates data show, adding to fears that rents might be getting too expensive.
Pricier downtown projects are beginning to demand higher rents of $1.75 to $2, helping drive up the average rate.
One such project, Flaherty & Collins Properties' plans to build a sleek, $81 million, 28-story skyscraper on part of the former home of Market Square Arena, calls for 300 luxury apartments renting for $1.75 to $2 per square foot.
"How deep is the market for these very high rents?" Tikijian asked. "At what point do we hit the wall on rent levels?"
That remains to be seen. But a downtown residential broker sees the trend toward apartment projects taking precedence over condominiums, mainly because apartment developments are easier to finance because construction isn't dependent on units selling in advance.
"I wish we had a greater supply of quality condominiums," lamented Kurt Flock, a principal of Flock Real Estate Group. "That's one of the challenges we face as real estate agents."
Several of the condo projects built before the apartment trend are becoming dated, he said, and not as appealing as some of the new rental developments.
Home ownership waning
Once part of the American dream, home ownership doesn't carry the cache it once did.
Relatively low interest rates have helped push a recovery in the housing sector. Yet the number of Indianapolis residents owning homes stood at just 64 percent in the second quarter, according to Census Bureau data, nearly identical to the national figure of 65 percent—the lowest level in 18 years.
Developers are opting to build rental units and forgoing condominiums to cash in on the craze. With no slowdown on the horizon, industry experts expect the building boom to continue for several years.
"A lot of people have fundamentally decided that home ownership is not a key investment in their life and apartments are no longer a place to live while you save up money for a house," said Aasif Bade, president of Ambrose Property Group, during IBJ's Sept. 13 Commercial Real Estate & Construction Power Breakfast.
Jeffrey Hagerman, president of The Hagerman Group and who also served on the panel, concurred, noting that renting is ideal for many young professionals who change jobs more frequently than their older counterparts.
"So buying a home and settling down versus renting doesn't seem as much of an option compared to the opportunity to rent and move on to the next opportunity," he said at the breakfast.
More than 1,400 apartment units were built downtown last year at a total cost of $176.7 million, a 32-percent increase from 2011 and a whopping 3,500-percent increase from 2000, according to Indianapolis Downtown Inc.
Another panelist, John Crisp, a principal of Cassidy Turley, said buying a home indeed is no longer part of the American dream, as it was when he graduated college.
"It doesn't seem like that's the case anymore," Crisp said. "It seems like it's a big risk."
But the most telling statistic illustrating demand for downtown rentals is the vacancy rate, which fell from 6.9 percent in 2009 to 3.5 percent last year—despite the slew of units coming online.
Driving much of the demand is pure demographics, said Flaherty & Collins CEO David Flaherty.
"The people that rent in these higher-density properties tend to be empty-nesters and young professionals," he said. "And you also have people waiting longer to get married and have kids. That lends itself to more urban living."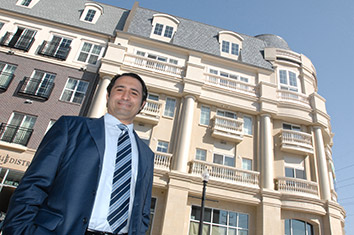 Keystone Group President and CEO Ersal Ozdemir has developed apartments in Carmel and near downtown Indianapolis, and isn't concerned about glut. (IBJ file photo)
Trend reaching suburbs
Flaherty & Collins is making a splash downtown with huge mixed-use projects under construction or in the planning stages.
In addition to the apartment tower on Market Square Arena announced by Mayor Greg Ballard in July, the firm's projects include the $85 million Axis at Block 400 on the south side of Michigan Street between Capitol and Indiana avenues. That project, which is under construction, will include a Marsh store and 500 apartments, and a parking garage to replace OneAmerica's surface lots.
IBJ.COM EXTRA
To read an unedited transcript of the Power Breakfast,
click here.
To see videos from the Power Breakfast, click here.
But the allure of downtown apartment living isn't limited to large cities like Indianapolis. Flaherty & Collins' ambitious, $33 million project in Fishers, dubbed The Depot at Nickel Plate, calls for 241 apartments, 16,000 square feet of retail space, and a 406-space parking garage on 3.4 acres north of 116th Street and west of Municipal Drive, in front of the Fishers Town Hall.
It would be the town's first major mixed-use project and the first phase of a long-term plan to build an active town square for the Hamilton County community, which is in the process of becoming a city.
In Carmel, Flaherty & Collins has pitched two proposals for a seven-acre parcel on the edge of its downtown.
The possibilities: a $33.2 million, 265-unit apartment building with ground-floor amenity space that eventually could be converted to retail use, and a $65 million mixed-use project with about 450 apartments, 5,000 square feet of retail space, and a 500-space parking garage.
"This is a trend that's coming, and it's only getting stronger, where people can walk to work and the store and entertainment," Flaherty said. "And that lends itself to these properties."
Variety of projects needed
A few more factors are contributing to the boom.
Just as low interest rates have fueled a rebound in the single-family housing market, the rates also are helping boost activity in the multifamily sector, said Ross Reller, director of land services for Colliers International's Indiana region, and another panelist at the IBJ breakfast.
The bottom line, Reller said, is that lenders view multi-use as a good investment.
"Right now, the financial services industry is telling the real estate developers that we think multifamily represents a fairly low risk, high return for our shareholders," he said.
Reller sees no signs of a slowdown anytime soon. One reason: Young professionals carry a lot of student loan debt that prevents them from saving for a down payment on a home and affording a mortgage.
Ersal Ozdemir, president and CEO of Keystone Group, is another who isn't worried about a glut of apartments. In fact, he thinks the market can absorb many more units.
"What they're building right now, I don't think it's enough," Ozdemir said. "They didn't build anything for so many years."
The key is to build in different parts of downtown and offer a variety, whether high-rise or low-slung, and at different price points, to keep from overbuilding, he said.
On a small scale, Keystone in May finished Madison Lofts, a 19-unit apartment project at 1430 Madison Ave., about a mile south of downtown. It was leased in less than a month.
"The numbers are still very strong," Ozdemir said. "The next year and the year after that, it's not going to change."
Bade at Ambrose Property Group concurred. Ambrose's downtown projects include a 72-unit rehab of the American Building, 333 N. Pennsylvania St., that it's helping TWG Development LLC, formerly The Whitsett Group, convert to apartments.
Ambrose and TWG also bought the 15-story Consolidated Building at 115 N. Pennsylvania St. with plans to convert it into 98 apartments, and the former Litho Press building at 800 N. Capitol Ave. to convert into 111 units.
"The question really isn't will the market become saturated," Bade said during the IBJ breakfast. "All of those units are going to absorb, and the question's going to be: 'What's the price point.'"•
Please enable JavaScript to view this content.