Jeff Pinyot admits it doesn't sound exciting to say his company supplies the parking garage industry.
"If you're ever really bored, over there are stacks of things that will really excite you," he joked as he waved his arm at a tower of commercial parking trade publications.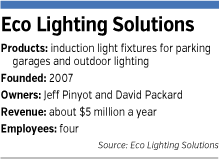 Pinyot, co-founder and CEO of Eco Lighting Solutions in Fishers, and partner David Packard said their lighting technology—induction—has gained ground because it costs less to install than LED and requires less energy than fluorescent.
As they explained the technology on a recent visit, Packard and Pinyot—both of whom have engineering degrees—took jabs at each other's college football teams—Pittsburgh for Pinyot and Ohio State for Packard. And they also made wisecracks about the company swear jar—an attempt to reduce profanity that has funded multiple pizzas for the office.
The laid-back tone was one that Pinyot said the company did not always have as it sweated through the first few years, which paralleled the onset of the recession. Many potential customers considered Eco's products a luxury during those lean times.
Pinyot, 53, and former partner Steve Little, 44, launched Eco in 2007. Packard, 48, joined a few months later as a partner and vice president of operations.
Eco designs the lighting, and contracts with an Anderson manufacturer to produce the bulbs and fixtures. Induction lights work a lot like cheaper fluorescent ones, but don't burn out as quickly.
The company has found multiple uses for its fixtures: streets, parks, factories. But parking garages are the big focus.
Eco's light fixtures—metallic containers housing a half dozen bulbs—cost about $500 apiece, and the typical order is for about 300, or $150,000. Eco pitches that its products result in net savings after two or three years because the more efficient technology can cut energy bills in half.
But even the energy-savings sales pitch wasn't enough to counteract bad timing for the company's launch. Instead, the company took a brief detour, keeping its own lights on by installing heating, ventilation and air-conditioning systems.
"We would have just gone straight in the tank if we didn't have any business [from HVAC]," Pinyot said.
The lighting business gained traction with a series of sales to major universities and corporations—including a seven-figure deal to install all parking lighting at Ohio State University.
The partners eventually spun out the HVAC business into a company called Level Solutions led by Little, allowing Eco to focus on lighting.
College payouts
Pinyot, Packard and Little headed into an industry they knew nothing about when they started the lighting fixture business. They researched the market, though, and saw prospects—at least once costs came down for customers.
"At the time we started, it was several years away from being a viable product … and we knew it," Packard said. "But we also knew that, ultimately, it was going to be the future."
Universities helped a lot because they began implementing campus-wide energy-savings programs as a way to be more environmentally friendly and save money.
The 50,000-student Texas A&M began a conservation program in 2010 that aims to cut energy usage 20 percent by 2015. Parking garage lighting was part of the plan.
The university was using an older type of light, powered by high-pressure sodium, before the College Station, Texas, campus switched to Eco's induction fixtures. The changeup cut energy usage 40 percent, said Peter Lange, executive director of transportation services for the university.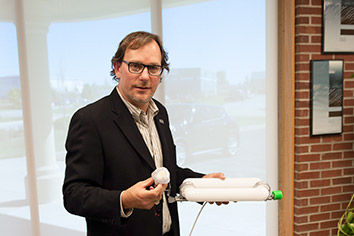 Jeff Pinyot's induction lights work like fluorescent ones, but don't burn out as quickly. (IBJ photo/Eric Learned)
Multiplied across several hundred fixtures in five garages, the $2 million upgrade—of which Eco received $1 million—translates to about $175,000 saved on electricity bills each year.
Eco also has landed $2 million in business with Ohio State University through a subcontract with Hartford, Conn.-based Laz Parking, the largest parking company operating in the United States.
Eco has also installed lighting at IUPUI, Bradley University in Peoria, Ill., and the University of North Carolina at Charlotte.
Universities are Eco's biggest niche, at about 40 percent of revenue. Privately owned parking garages produce 30 percent; municipalities are 20 percent; and hospitals, 10 percent.
In Indianapolis, Eco nabbed contracts to retrofit lighting at Indianapolis International Airport, the Indianapolis Museum of Art and Claypool Court's garage.
Pinyot estimated the company supplied lighting to two dozen garages in the city, which is a fairly tough market because energy is relatively cheap and the demand for efficiency is not so high.
"Anywhere else, you go to Baltimore or you go to New York or places like that, where the energy's three times as much money, well, the payback is so rapid," he said. "So if we can sell in Indianapolis, a payback that's three to five years, we should be able to sell anywhere."
Still small
Eco, at four employees, pulls in $5 million a year after six years in business.
Besides Pinyot and Packard, a director of product development and an applications engineer work out of the Fishers office. Temps and contract workers handle the rest.
Eco plans to stay in its Fishers office. It still shares the space with five people working for Level Solutions.
About four to eight assembly workers handle production at Continental Inc., a 250-employee contract manufacturer in Anderson.•
Please enable JavaScript to view this content.