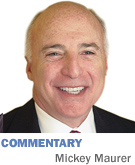 What to wear? What to wear? You are probably having difficulty trying to decide on a costume for Halloween. Lady Gaga and Darth Vader are passé. Here are some better choices:

• President Obama. You can wear that Obama mask again this year, but you won't scare anybody. No one on either side of the Syrian civil war is frightened by our president since Bashar al-Assad called his bluff on the use of chemical weapons. (All is really not fair in love and war.) Obama drew a new line in the desert sand when he threatened military action if Assad does not cough them up. If that bluff is called, find something else to wear. I empathize with our president. There are bad guys on both sides of the Syrian conflict. Many commentators have implored America to let the opposing armies continue to attrite, but how can we ignore the human atrocities in that country? America has no good options.

• Freddy Krueger ("Nightmare on Elm Street"). But why wear a mask at all? In Indianapolis it is not necessary. Measuring murders per capita, a recent FBI table of U.S. crime rates ranks Indianapolis sixth-worst out of 33 cities with populations greater than 500,000. According to a current issue of NeighborhoodScout, Indianapolis managed a crime index score of 3 on a scale of 100. That means 97 percent of the cities in America are safer than our backyard. If you wear a Mayor Ballard mask, be prepared to defend those statistics.

• Andrew Luck. After more than a decade, it's time to discard the Peyton Manning mask and tattered number 18 jersey in favor of the new hero in town, Andrew Luck. Judging by the big throwdown at Lucas Oil Stadium, the Luck outfit should garner treats for many years. It is time to make the transition.

• Mickey Mouse. Don those big ears and pose as an Indiana state legislator. The constitutional amendment to ban gay marriage that will be considered this session is Mickey Mouse. It is expensive, time-consuming, divisive and totally unnecessary. Indiana already has a law on the books sticking it to the gays. The only argument I have ever heard proffered by those in favor of this amendment is that "the Bible tells me so." You guys wearing the Mickey Mouse masks need to know that God does not give us the right to discriminate. You should emulate Indiana Sen. Joe Donnelly and rethink this issue. Doff your Mickey Mouse mask and the Lord will love you even more.

• Tea Party congressional clown. This costume comes with a firecracker that will blow up in your face. As a Tea Party congressional clown you can demand a Halloween treat or threaten to bring our country to a stop, besmirch Congress, extort the president and destroy our beloved democracy and the time-honored process of legislation and fair compromise. This is not so much about Obamacare as it is the classless tactics used by a few to embarrass us all. Those clown antics cost our country billions of dollars. Sadly, some in our Indiana delegation are in this get-up.

Discard those old Batman and Wonder Woman capes. I have a new hero costume for you to wear:

• Eugene White. The former superintendent of Indianapolis Public Schools was appointed interim president of Martin University by a unanimous vote of the trustees. This organization, founded by Father Boniface Hardin in 1977, is the only predominately black institution of higher learning in the state. White has distinguished himself at every stop in his career, although some might say that the Indianapolis school system superintendency was not his best work. I would reply that under its present configuration, the problems at IPS are intractable. If White can be induced to remove that interim tag, the growth and achievement of Martin University will be scary.

HAPPY HALLOWEEN!•

__________

Maurer is a shareholder in IBJ Corp., which owns Indianapolis Business Journal. His column appears every other week. To comment on this column, send e-mail to mmaurer@ibj.com.