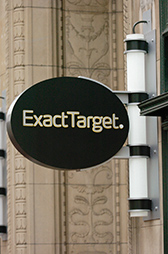 ExactTarget didn't stay public for long, attracting a huge buyout in 2013. (IBJ file photo)
ExactTarget Inc. sold for more than $2.5 billion after a bidding war among some of Silicon Valley's biggest players.
Salesforce.com, the cloud-computing software giant based in San Francisco, beat out at least three other undisclosed suitors in June by offering a hefty 53-percent premium on ExactTarget's publicly traded shares, barely a year after the Indianapolis digital marketer's stock market debut.
The deal capped one of the city's favorite success stories, which began in 2000, when brothers-in-law Scott Dorsey and Chris Baggott teamed with Peter McCormick.
The trio started selling email-marketing software out of a Greenfield business park. The firm, now headquartered in downtown Indianapolis, broadened its products to other digital marketing services over the years and acquired several smaller businesses. By the time Salesforce closed the ExactTarget deal in July, the company had grown to 1,800 employees worldwide, with more than 1,000 people working locally.
The multi-billion-dollar deal, combined with generous benefits that gave stock options to all employees, has local tech leaders predicting an entrepreneurial flurry over the next several years.
Executives have tried to assuage some concerns about ExactTarget's future in Indianapolis, publicly saying Salesforce intends to invest in its new subsidiary. The company lists 47 local job openings, and it recently leased an additional two floors in the Century Building, one of its downtown outposts.
Salesforce spent the latter half of the year trumpeting its purchase. That included placing Dorsey and his executive team in charge of Salesforce's entire marketing cloud, one of the company's four main divisions. In a gesture of its confidence, Salesforce named the business unit the ExactTarget Marketing Cloud.