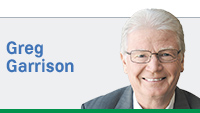 Folks in the business of passing laws and enforcing them must, of necessity, impose somebody's idea of what is good on the rest of us. It has to be thus if we are to be and remain a nation, state and community of laws. And I'm OK with that—mostly.
However, it is also true in post-modern America that more and more of the time the imposition upon the people of what someone else thinks is a good idea gets separated from even the most basic of constitutional or moral authority.
We must all have and maintain health insurance; we have to wear helmets when we ride motorcycles; and, if you listen to the Chosen One, if you earn $250,000 in a year, that's enough.
The common thread therein is the imposition of someone else's notion of a good idea, creating a requirement on us all. From such officiousness come awful laws and foundational philosophies like "wealth redistribution" and my favorite (not), fairness.
Of course we don't have room herein to wade into all that social justice gas-baggery (I know, that one's not in your Funk & Wagnalls), but at least permit me to observe that such ideas can only come from the bilge pumps of socialist prattle.
Society is not just. Never was and cannot be, especially if that "justice" is defined to include taking property from one person and giving it to someone who has done nothing to earn it.
Let's go local for a minute. Officialdom decided in this month's storm that things were so bad outside that cops should be empowered to issue traffic citations against citizens who—here's the kicker—according to the opinion of the officer, didn't need to be out. I'm not kidding. That's what was said.
And lest we fall prey to the protestations of our leaders that they really didn't mean it, at least two local counties did just that. My talk show listeners reported being hassled by IMPD officers who didn't like their reasons for being out, and in Johnson County the High Sheriff's deputies wrote several such citations, even including people who were traveling from afar on the interstate highway while having no clue that the sheriff had determined he had the authority to issue such charges.
Again, someone decided for the rest of us what he thought was a good idea and enforced it against folks whose only sin was deciding for themselves what was safe and/or important enough to cause them to venture out in bad weather.
A critical distinction must be made at this point: Having governors, mayors, sheriffs and police chiefs, etc., admonish folks not to travel or to expose themselves to the harsh conditions is fine. Laudable. Commendable. We all appreciate the advice, and for the most part it was well worth the effort.
But presuming to impose fines and penalties based upon the subjective analysis of a law enforcement officer is quite another.
The line between official and officious can be thin and is often blurry; leadership implies more than just determining what is a good idea. It implies knowing where the advice stops and the imposition of arbitrary limitations commences.
So maybe I'm being a grumpy old man here, but remember, even paranoids have enemies. A public crisis, whether natural or manmade, requires decisive leadership; it does not permit the imposition of one man's opinions on others by exercise of an authority not conveyed by rule of law.•
__________
Garrison is a partner in Garrison Law Firm LLC in Indianapolis and a talk show host on WIBC-FM 93.1. Send comments to ibjedit@ibj.com.
Please enable JavaScript to view this content.